Even after using an aggressive conditioner, does your hair feel coarse and rough? If you want silky locks, the answer could be in your water, not in the products you're using. Whether you shower in hard or soft water can make a big difference.
When people wash their hair with hard water, their hair appears oily and limp, with rough, dry roots. This is because when you wash your hair, the calcium and magnesium in hard water collect on your roots and scalp. These minerals form a protective layer on your hair shafts, preventing shampoos and conditioners from accessing the cuticle.
It may appear that you have no option but to live with the harmful effects of hard water on your hair if you reside in a hard water location, but there is a solution to soften hard water for washing your hair.
The minerals that hardness the water in your area are removed by using a water softener. Calcium and magnesium are trapped via an ion-exchange resin, leaving your home with clean, softened water. Soft water affects the texture of your hair by removing calcium from your water source, making it soft and lustrous.
The Importance of Using the Right Shampoo for Soft Water
Soft water, free from the high mineral content commonly found in hard water, might sound like the dream solution to your hair care routine at first. However, it brings its own unique set of challenges. The lack of minerals that generally add volume and texture to the hair in hard water can often leave your hair looking limp and lifeless when washed with soft water. Your hair might also feel slippery and may struggle to retain curl. Furthermore, the chemical reaction between soft water and soap or other cleansing agents is different, leading to an overuse and, consequently, an unwanted build-up of product in the hair.
Choosing the right shampoo is a crucial step in adapting to the complexities of soft water, as regular shampoos often fail to perform optimally in these conditions. They can leave the hair overly "slick" or excessively greasy due to product build-up, as they are not designed to work well in the absence of the minerals present in hard water. In contrast, shampoos that are specifically formulated for use in soft water have been designed with a different balance of ingredients, allowing them to maintain their cleansing properties and ensuring your hair is left feeling clean and free from that slippery texture.
It's therefore important to choose a shampoo that not only cleanses effectively but also helps to counteract the effects of soft water. The ideal shampoo will help to maintain the balance of pH in your hair, remove excess oil and product without causing dryness, and add volume and texture to your locks. All of this can be achieved by selecting a shampoo designed for use in soft water, creating an effective and refreshing hair washing routine, despite the soft water challenges.
Effects of Soft Water on Hair
If you are currently looking for obvious and noticeable signs that soft water is damaging your crowning glory, here are some of the effects that you might want to watch out for:
Hair feels slippery after washing
Hair looks very glossy and oily
Scalp flaking
Less hair volume or sparse hair
Hair becomes hard to manage and style
Best Shampoo for Soft Water
Navigating the world of hair care can be tricky, especially when considering factors like the type of water you use during washes. Soft water, while considered a luxurious commodity by some, can also present certain challenges for maintaining healthy, voluminous hair.
Fortunately, there exists a range of shampoos specifically designed to tackle these unique challenges. Join us as we explore these expertly formulated products that turn soft water struggles into a thing of the past. Learn more about the best shampoos for soft water and discover which one would fit your hair's unique needs. Let's embark on the journey towards more manageable, radiant, and healthier hair – even in soft water!
| Shampoo for Soft Water | Best For: | Key Ingredients: |
| --- | --- | --- |
| Malibu C Hard Water Wellness | Dry and lifeless hair | L-ascorbic acid, Allantoin, Flax Protein |
| TRESemmé Shampoo For Instant Lift and Body Fiber Full Volume | Lifeless hair | Collagen |
| Nexxus Keraphix Shampoo for Damaged Hair | Damaged hair | Keratin protein and Black Rice |
| Aveeno Apple Cider Vinegar | Color treated and lifeless hair | Apples, Oats, and Vinegar |
| OUAI Detox Shampoo | All hair types | Chelating agents, Apple Cider Vinegar, and Hydrolyzed Keratin |
| Neutrogena Gentle & Soft Healthy Scalp Shampoo | Sensitive scalp, color-treated hair | Citric acid, Hydrolyzed Potato Starch |
| Live Clean Shampoo, Hydrating Fresh Water | Dry hair | Lavender |
| OGX Extra Strength Refreshing Scalp + Teatree Mint Shampoo | Oily hair | Tea tree oil |
| Hairprint – Natural Plant-Based Chelating Shampoo | Dull and lifeless hair | Lactic acid |
| Love Beauty And Planet Volume and Bounty Thickening Shampoo | Fine hair | Coconut water and Mimosa Flower |
Malibu C Hard Water Wellness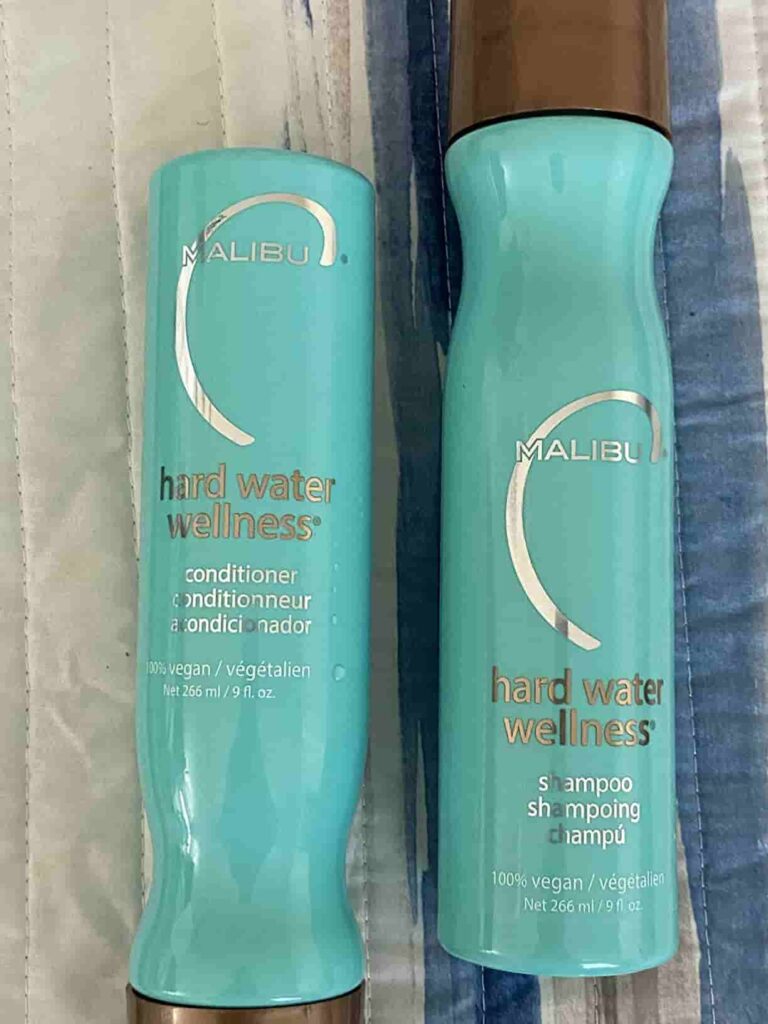 Use on a daily basis to gently remove stubborn mineral deposits that cause discolouration, dryness, and dullness, returning your beautiful shine and bounce.
To restore your hair's smoothness and gloss, protect it from harsh hard water minerals. Without sulfates, parabens, or gluten, restore the look and texture of your hair. Toxins and pollutants are removed, allowing your hair to be thoroughly cleansed.
Other Features:
Protect your precious hair
Soft and simple
Detoxify and cleanse
Naturally removed hard water damaged
Moisturize hair
TRESemmé Shampoo For Instant Lift and Body Fiber Full Volume
The TRESemmé Fiber Full Fiber Volume shampoo and conditioner system with Collagen & Peptide Complex is designed to provide lightweight hydration and increased grip for quick lift and body in your hair. This volumizing shampoo for hair creates links between hair fibers to provide volume and provide long-lasting grip without weighing hair down.
Our unique Collagen & Peptide Complex technology creates links between hair fibers to add volume and hold without weighing hair down. To use, saturate damp hair with a generous dose of shampoo. From the roots to the tip, massage softly. Rinse the dish well.
Other Features:
Dedicated to creating hair care
Salon Quality
Great for all hair types
Gentle from roots
Long lasting
Nexxus Keraphix Shampoo for Damaged Hair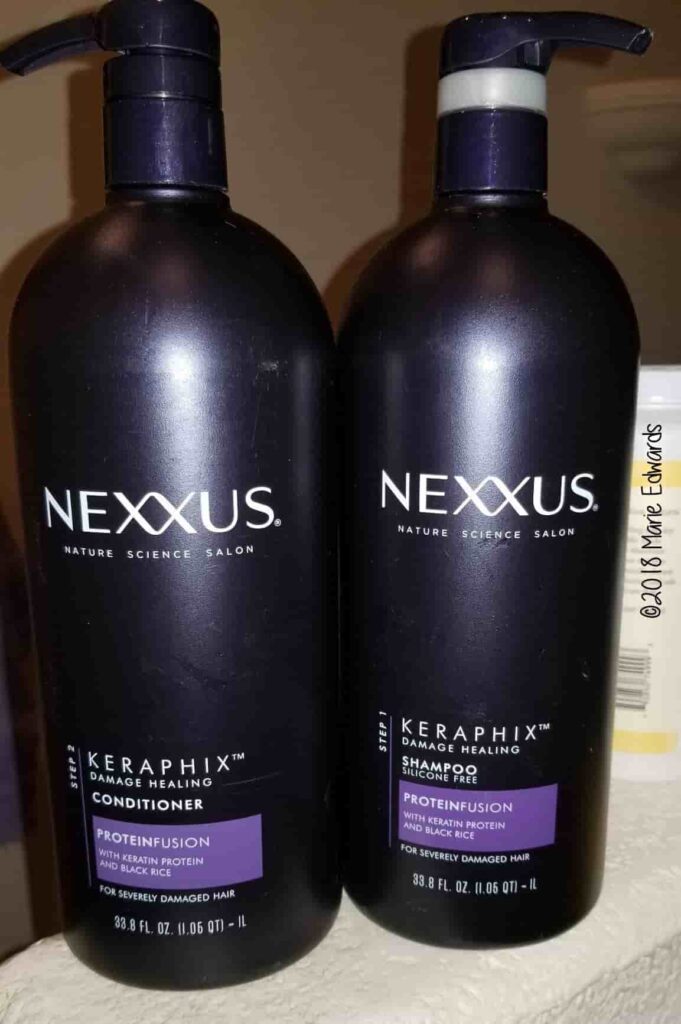 Nexxus Keraphix Shampoo for Damaged Hair is the first stage of a powerful protein-infused keratin treatment that dramatically repairs signs of severe hair damage with only one usage, giving you the salon experience at home.
Nexxus shampoo helps cure rough and brittle hair and has been clinically proved to give internal restoration to severely damaged hair from the first application.
This hair treatment for damaged hair contains our highest amount of proteins, including Keratin, Collagen, and Elastin, in a concentrated composition. Nexxus blends black rice with Keratin Protein and other key elements to build healthy-looking hair that has been clinically verified.
Other Features:
Safe and formulated
Chemically treated hair
Heal damaged hair
Protein at high levels
Precious ingredients
Aveeno Apple Cider Vinegar
Beautiful hair, we believe, begins at the root. This farm-to-shower Apple Cider Vinegar Shampoo will soothe and clarify your scalp while giving great shine and volume to your strands. The first ingredient, oat, aids in the promotion of a healthy scalp environment.
This shampoo, which is infused with apple cider vinegar, cleans and cleanses your scalp while also adding gloss to your hair. A wonderful, fresh smell is created by combining the ingredients. This product is free of sulfates, parabens, and dyes, making it suitable for color-treated hair.
Other Features:
Clarifies scalp while adding high shine to dull hair
Formulated with oat
Promote a healthy scalp
Nourishes hair
Sulfate free
OUAI Detox Shampoo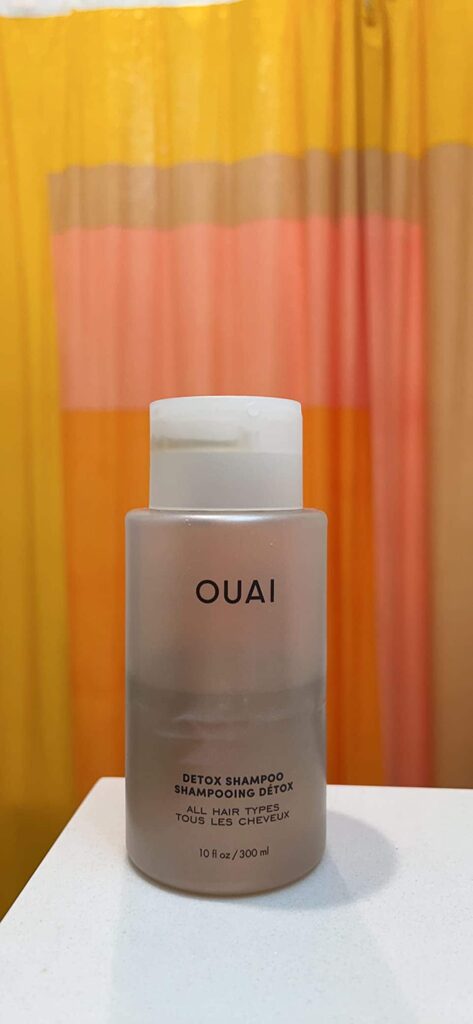 This intense shampoo with apple cider vinegar puts your overworked tresses back on track. Wet hair, lathers, and rinse thoroughly. To soften your squeaky clean hair, use any OUAI conditioner.
All OUAI products are designed to save you time while also nourishing your hair. They just put the good stuff in and leave the poor stuff out, never compromising on quality. They are constantly striving to make the world a better place.
Other Features:
Cruelty free
Color safe
Paraben free
Sulfate free
Helps strengthens hair
Neutrogena Gentle & Soft Healthy Scalp Shampoo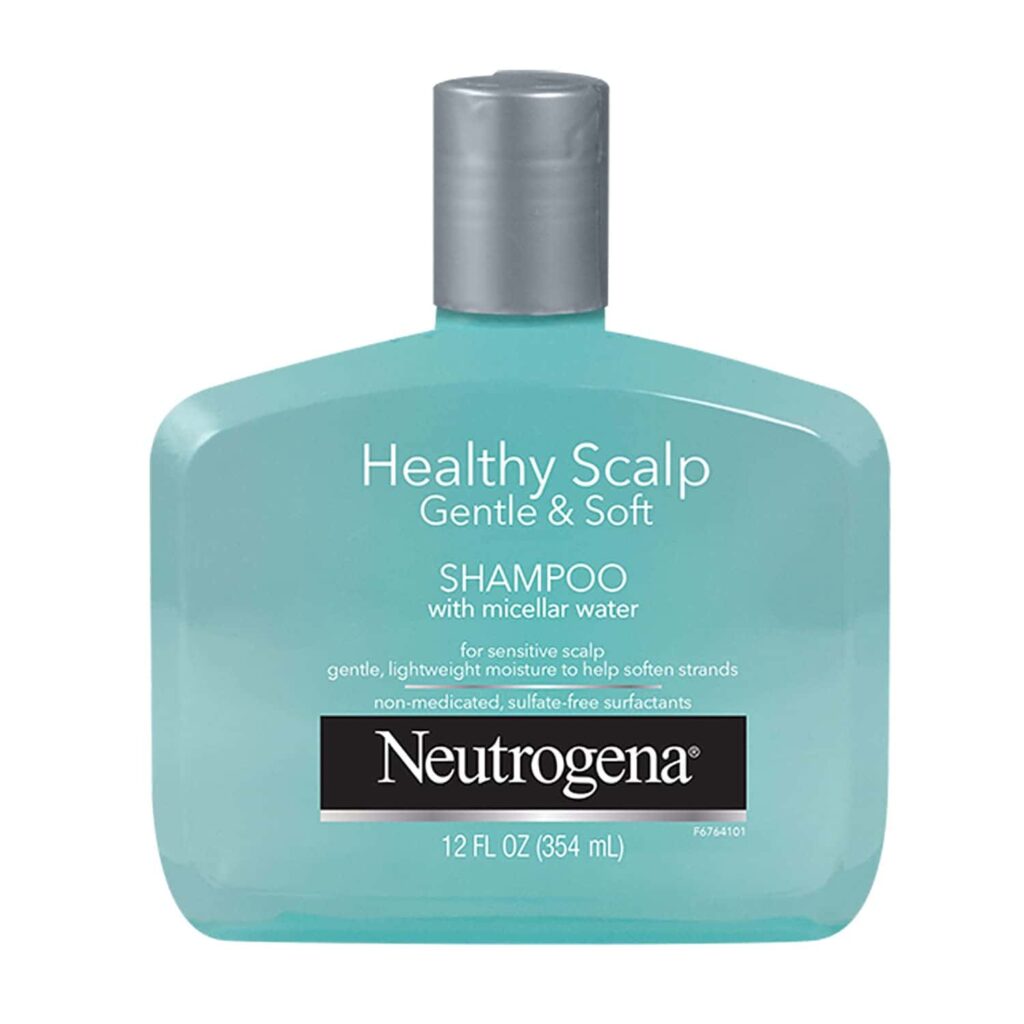 With our micellar water shampoo, you can gently cleanse your scalp without stripping your hair. As it cleanses, this paraben-free shampoo gives soothing, lightweight moisture to strands. It's excellent for all hair types, including straight, wavy, and curly hair, and it's formulated for sensitive scalp. It's also color-safe for color-treated hair.
Other Features:
Cleanse without stripping
Ideal for sensitive scalps
Helps soften strands
Remove dirt
Scalp refreshed
Live Clean Shampoo, Hydrating Fresh Water
We believe in making decisions that benefit ourselves and the world around us. What we put on our bodies, on our children's bodies, and in our homes matters. Live Clean set out on a mission to create a line of personal care and baby care products that use high-performing chemicals to contribute to a greener earth.
When you choose Live Clean, you are choosing a personal care brand that is inspired by nature. Live Clean formulas contain at least 97 percent plant-derived and water-based components. They're just as wonderful for the environment as they are for your body. Better would be excellent for the environment as well as your health.
Other Features:
Hydrating shampoo
With vitamin E
Gently cleanse hair
Moisturize hair
Plant based
OGX Extra Strength Refreshing Scalp + Teatree Mint Shampoo
Indulge your senses in a rush of freshness by invigorating the scalp with a minty tingling. This scalp cleansing shampoo's mild formula cleanses away dirt without stripping strands for a deep clean and a long-lasting clean that will re-energize your locks.
This refreshing shampoo is made with sulfate-free surfactants and is paraben-free, leaving behind an appealing sweet peppermint and iced vanilla smell as well as lustrous, nourished locks.
Other Features:
With tea tree oil, peppermint and witch hazel
Deeply cleanse with a burst of freshness
Helps deliver a long-lasting clean
nourish the scalp
Cold pressed argan oil + water based silk proteins
Hairprint – Natural Plant-Based Chelating Shampoo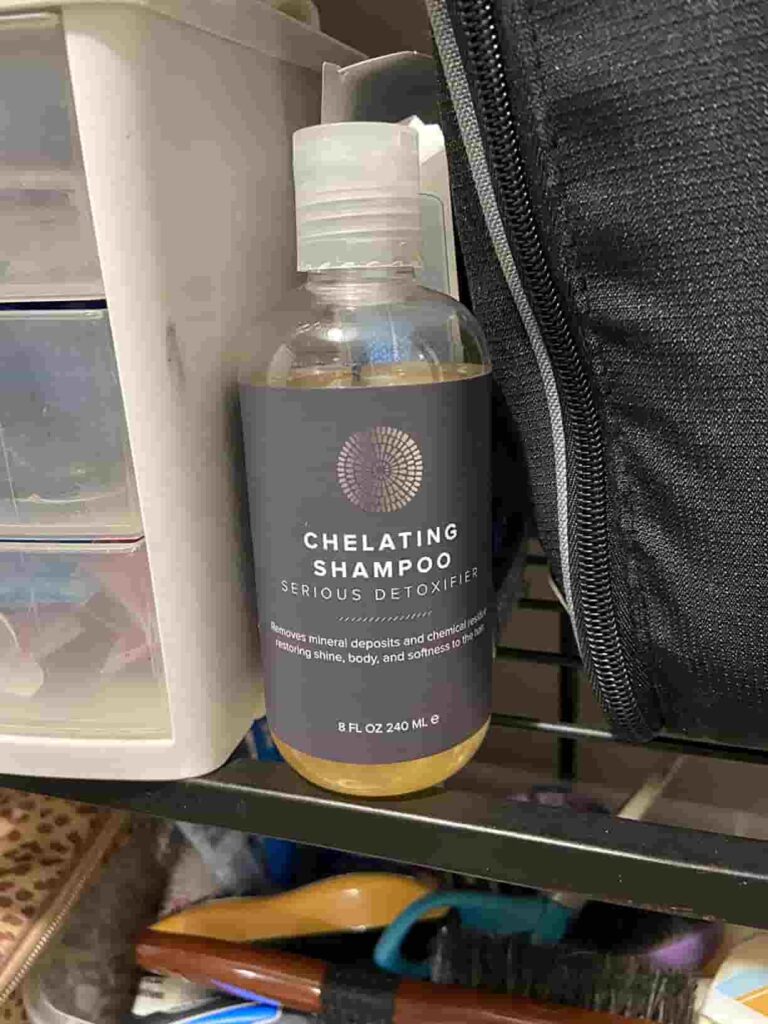 It's great to see someone take a more honest approach in a world where hair care firms advertise their product as the one you can't live without, with "cutting-edge" technology that can reverse your hair loss, grow new hair, and offer you a solid return on your investment portfolio.
Hairprint's creators have designed a line of products that cut through the hype to help us attain healthier hair and scalps. Only by radically changing our hair care techniques, ceasing to douse our scalp with chemicals, and altering our nutrition will our hair quality improve.
Other Features:
100% plant based
Scent Free
Paraben Free
Sulfate Free
Remove buildup from the hair
Love Beauty And Planet Volume and Bounty Thickening Shampoo
With our Coconut Water And Mimosa Flower Sulfate Free Shampoo for Fine Hair, you can add bounce to your fine hair! Our volumizing shampoo is vegan and produced with plant-based cleansers. It's also enriched with coconut oil for hair.
With an energizing aroma of beautiful mimosa blossoms sustainably harvested from the Region of Khemisset in Morocco, flaunt your luscious, overflowing locks. What is the best way to use it? Simply squeeze this volumizing shampoo into damp hair, lather it up, and rinse well.
Use this vegan shampoo with our thickening hair products and our Coconut Water and Mimosa Flower Volume and Bounty Conditioner to soften and untangle hair for spectacularly beautiful hair.
Other Features:
Refresh your hair
Silicone Free
Nourished and hydrates strands
Safe for color treated hair
Cruelty Free
How to Choose the Right Shampoo for Soft Water
Choosing the right shampoo for soft water requires some consideration. The following factors can help guide you in the selection process:
Consider Your Hair Type
Just as with any hair product, the type of hair you have plays a major role in determining the best shampoo for you. Whether your hair is dry, oily, fine, thick, curly, straight, colored or natural will definitely alter which type of shampoo is best suited for you. For instance, if your hair is especially dry, a moisturizing or hydrating shampoo can be beneficial. Hence, look for shampoos specifically designed for your hair type in conjunction with suitability for soft water.
Price
While it is tempting to spring for the most expensive shampoo in hopes of achieving the best results, remember that price does not always equate to quality. An affordable shampoo can sometimes outperform a pricier counterpart. Therefore, set a budget that you're comfortable with before you start shopping. Of course, investing in good hair care products can pay off in the long run, but find a balance that works for your wallet too.
Ingredients
Some shampoos for soft water are made with certain ingredients to counteract the effects of soft water. Sodium lauryl sulfate, for instance, can help remove excess oil and product build-up. However, be cautious as some ingredients might be harmful to your hair or skin. It's worthwhile to research different shampoo ingredients and their effects or consult a hair care professional for advice.
Brand Reputation
Lastly, consider the brand's reputation when choosing a shampoo for soft water. Companies with a long history of producing high-quality hair care products or shampoos designed for soft water are often a safe bet. The experience from other users can provide insights into the product's effectiveness. Check out online reviews or ratings to see how others have found the shampoo's performance.
In essence, the perfect shampoo is one that strikes a balance between these factors and works best for your specific hair needs and conditions.
FAQs about Soft Water
Why does soft water make hair slippery?
The reason behind your hair getting slippery after washing it with soft water is that soft water contains less minerals compared to hard water. Less minerals mean that there is also less friction to the hair, making it softer and slippery after every wash.
What hair type is ideal for soft water?
If you currently have dry and curly hair, treating and washing it with soft water can be your best option. There are a lot of real life attestation that their curly and dry hair feels bouncier and softer after washing it with soft water.
On the contrary, having oily hair means that you are not advised to use soft water for bathing and washing your hair. Washing your oily hair with soft water can lead to more greasy looking and slippery hair. Also, soft water make shampoos lather more, so it can be pretty hard to rinse off especially if you have oily hair.
How can I prevent myself from having slippery hair?
To prevent your hair from getting slippery if you have soft water at home, the best thing to do is to use a clarifying shampoo. You can also try using sea salt sprays or dry shampoos to lessen the grease and oil on your hair and scalp.
Getting the Best Shampoo for Soft Water
To combat the impacts of hard water, many individuals purchase pricey items such as clarifying shampoos. As the development of hard water minerals prevents your hair from absorbing the shampoo and conditioner, your hair becomes coated with excessive oils. Your hair will become lifeless and lose its natural, healthy shine as a result.
After washing your hair, one recommendation is to rinse it with bottled water or rain water. This isn't a long-term solution because it's both expensive and time-consuming. Using bottled water generates a significant quantity of trash in the form of plastic bottles.
Soft water also saves you money by allowing your shampoos and conditioners to lather up more richly and thickly. This enables cleaning your hair follicles simpler during washing, allowing you to use fewer products. Try those products I have listed above and make your hair beautiful!
Read More:
Best Dry Shampoo Without Butane and Propane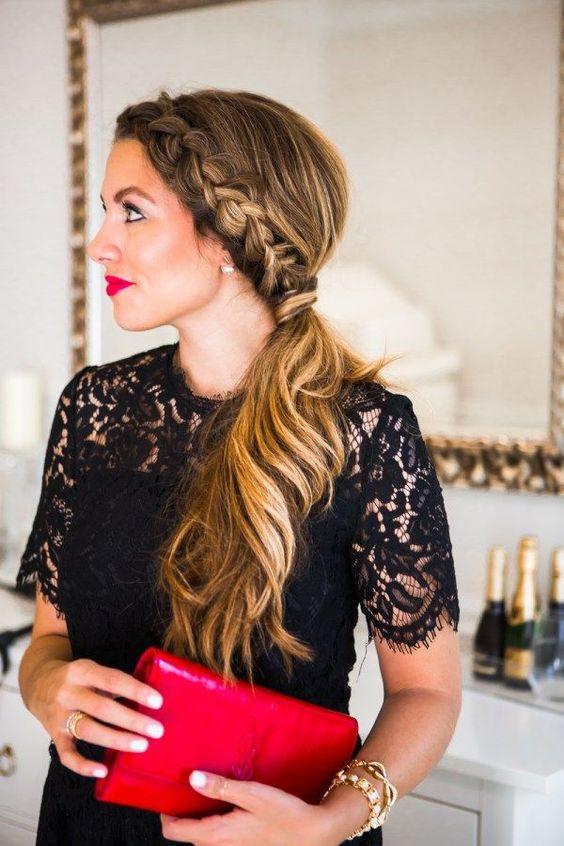 From hair care to soaring hair trends, we cover it all. We make sure you nurture your hair and stay on board with hairstyles and new hair trends. So hop on and make every day count with some of our creative and sassy hair trends.