We have set balayage as our ultimate hair goal for today. It is only with balayage that we can produce the most personalized hair colors, fine-tune the palette to lighten up our complete appearance, and show our individuality.
Everything is done freehand with a balayage, stylists will take pieces of hair, backcomb them, and then paint on the bleach with their hands. When the hair is backcombed and the bleach is applied using a certain technique, the outcome is a faultless mixture (not all of the hair is highlighted)
For those of you who wish to obtain stunning balayage-style hair but aren't sure what will work best with your Asian raw hair, we've put up a list of recommendations that will work well with your natural hair!
What is balayage?
Balayage is a French term that refers to a hair coloring technique that requires hand-painting in a salon setting. This aims to create hair colors that are natural-looking, multi-dimensional, and worthy of being worn by celebrities.
A balayage done by a professional colorist is less hazardous to the hair, requires less maintenance, and appears to be more expensive than a solid color application. However, the hair color you see on someone and fall in love with is far more enticing than these advantages. This year's hair color is obviously a balayage, which means it is multi-dimensional, gorgeous, and special.
Is a balayage worth it?
Balayage is the process of lightening certain portions of your hair; the outcome is permanent, though the color may fade a little after a few months if the hair is not properly cared for after the procedure. Your roots will eventually show through your hair color, no matter how thoroughly you color it at the time.
You're going to require some touch-ups at some time. The frequency with which you'll require one, on the other hand, is dependent by the type of highlight you choose as well as the color of your dye job.
It is possible to go three to six months without touching up your balayage, depending on how high you place them on your head at first.
Is balayage good for asian raw hair?
Balayage is perfect for working women because it is designed to appear natural and does not necessitate frequent salon touch-ups and maintenance. In addition to lightening your complexion and adding texture and vibrancy to dark Asian hair, these attractive colors are quite suited for the workplace.
In addition to the fact that balayage highlights do not require completely soaking your hair in bleach or color dye, the fact that the technique is simplified means that your hair will be healthier as a result of the fewer procedures involved. You will notice a difference in the softness, silkiness, and health of your hair as a result.
Does balayage ruin your hair?
Because Balayage highlights do not entail totally submerging your hair in bleach or color dye, you will have healthier and more beautiful hair as a result of the reduced amount of processing required on your hair. The result is softer, silkier hair that has seen less damage and dryness as a result of the treatment.
How long will the balayage last?
Balayage hair could last for up to 4 months if it is maintained properly.
There are no foils involved. The goal is to get a natural, sunkissed look, and it can be achieved on any length of hair, from long waves to short pixie haircuts, as well as on any color of skin.
List of Balayage Hair Style that is Good for Asian Hair
Balayage is known for creating a natural, sun-kissed look, perfectly complementing a variety of Asian hair types and complexions. We understand how crucial it is to find the best balayage styles that work well with your unique hair and features. In this guide, we've curated a list of stunning balayage hair styles that will not only enhance the beauty of Asian hair but also inspire you to transform your look and make heads turn.
1. Cinnamon Brown Balayage
Cinnamon has a medium brown tint that is warm and inviting. The cinnamon color code is #D2691E is the hexadecimal color system used by web designers and developers. Spices like cinnamon are darker than tans and beige, but they aren't quite as dark as chocolate or real brown. Because of the color's warm undertones, it may seem reddish or orange-tinged at certain times of day.
The technique of intermingling highlights on dark brown hair is the way to go if you're wanting to give your locks a summery feel. To demonstrate the extra contrast and body you'll receive after mastering the look, Sue Tyrell, a professional hair artist and educator, styles her dark brown hair in balayage.
2. Greige Balayage (grey + beige)
Greige is just the combination of beige and gray. With the addition of gray to beige, the hue becomes deeper and more versatile, allowing it to be used in both cold and warm color schemes.
This is defined by a natural, well-balanced foundation with a smoky meets beige finish. Cool ash colors and warm gold tones combine to create a sophisticated blonde that can be worn at any time of year, regardless of the season.
With balayage strokes, this ash gray is transformed into a creamy ecru-vanilla color. In the fall and winter seasons, it creates a rich mix of frosty tones that we find particularly appealing.
3. Red Melted Balayage
The good news is that your wish for a sizzling makeover to spice up your look but not the time-consuming upkeep that red hair requires has finally been fulfilled: you can have red hair without the commitment!
A red balayage is a type of hair color that uses a freehand painting technique to create highlights or ombres in the hair by dying it with red tones, which is then highlight or ombre. Every fierce female's desire has come true with this opportunity!
If you use this delectable mixture, you will notice a noticeable improvement in the brightness and dimension of your hair. If you want your strands to shine with ruby hues, choose one of these gorgeous red balayage hair colors.
According to various colorists I've spoken with, red is a notoriously difficult color to retain since the red dye molecules are the biggest and rinse out faster than any other hue. The first piece of advice you'll receive on how to keep red hair healthy is to wash it with cold water after every wash.
4. Pumpkin Spice Balayage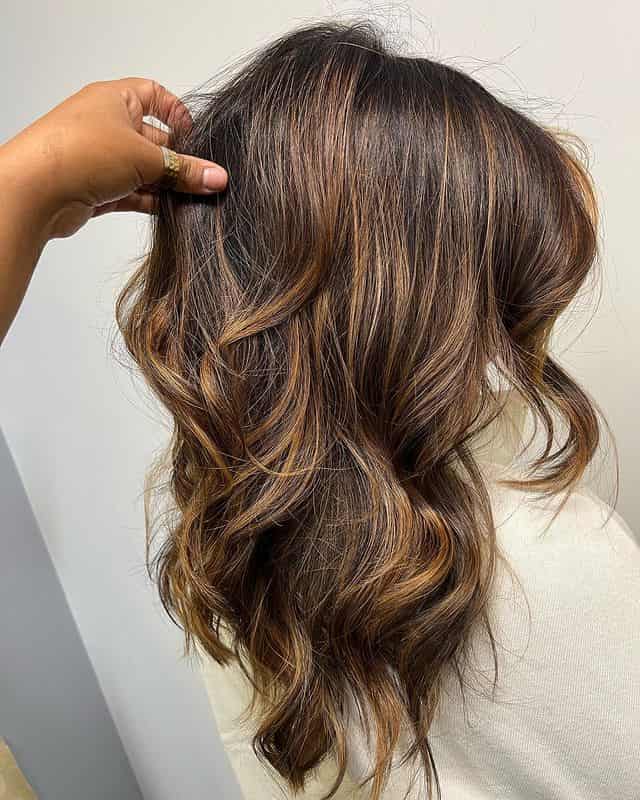 Pumpkin spice hair has quickly become our new favorite autumn beauty trend. Take a look at the pumpkin spice hair trend that's now conquering Instagram and other social media.
Consider taking a look at this before rolling your eyes into the back of your head, even if the words pumpkin spice make you squirm a little. It has been model-tested and approved.
It was the delightful pumpkin-spice scented coffee beverages served at your favorite café that encouraged you to dye your hair this coppery shade. If you're concerned that your pumpkin spice hair is turning too orange, reconsider.
A warm brown color with red and copper undertones, pumpkin spice hair is a warm brown tint that resembles autumn foliage. It is also available in a number of depths and tones to accommodate a wide range of skin tones.
One of the most appealing aspects about pumpkin spice hair is that it is fully customizable, allowing you to create a look that is completely unique to you. Use your skin tone as a guide to choose which shade of pumpkin spice hair is the most suited to your complexion.
You should go for pumpkin spice hair that has copper and orange tones if you have a fair complexion. For those of you who have a dark skin tone, opt for pumpkin spice hair that has honey and deep amber tones.
You can also add golden blonde highlights to your hair to give it a more complex appearance. If you're planning on heading to the salon, ask your colorist about balayage highlights to lighten up your pumpkin spice hair.
5. Classic French Brown Balayage
A balayage can be used on any hair color, including black hair, because it is so versatile. It's all about finding the right shade to complement your natural hair as well as the aesthetic you want to attain. A traditional french brown can be used to lighten up your look if you prefer something a little more muted and unobtrusive in appearance.
The balayage hair is absolutely lovely, especially with hints of classic brown in the wonderful waves. Wavy for special occasions, straight for a more casual look, either way, this balayage will enhance your appearance.
Conclusion
When you want to switch up your hairdo and go for a more vibrant look, balayage is the perfect alternative if you want to go for a more natural look. Balayage highlights, as opposed to regular highlights, often only require touch-ups every 8-12 weeks, saving you both money and time in the process.
Regular highlights, on the other hand, may require touch-ups as soon as six weeks after the initial application.
In the event that you are confused of which color would be appropriate for your natural asian hair, this list will assist you in selecting a lovely hue that will complement your asian hair.
Read More:
Which Sulfate free Shampoo is for Balayage Hair
7 Best Lightener For Balayage 2023 | Keep Your Hair Color Fresh
10 Best Sulfate free Nourishing Conditioners For Color Treated Hair 2023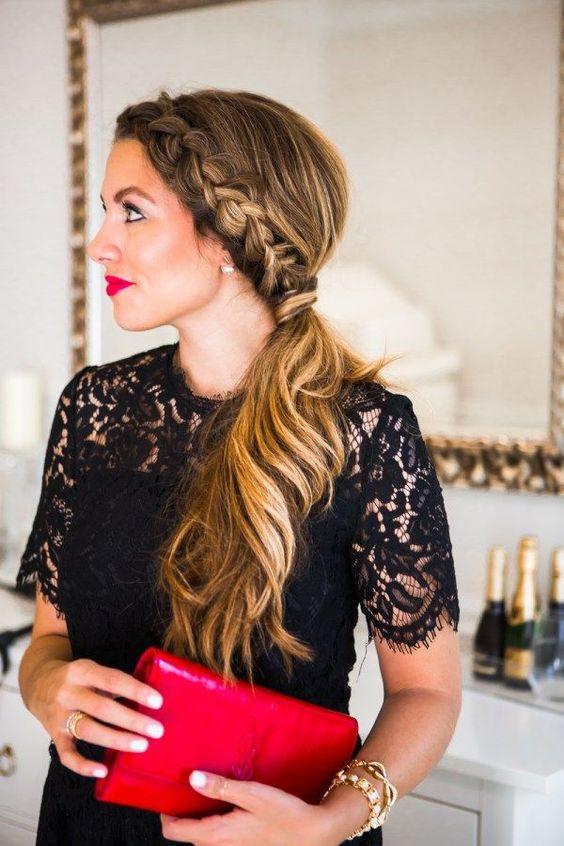 From hair care to soaring hair trends, we cover it all. We make sure you nurture your hair and stay on board with hairstyles and new hair trends. So hop on and make every day count with some of our creative and sassy hair trends.