If you have colored hair or higlights, you should try these top conditioners for color treated hair to protect hair dye from fading and your tresses from becoming unruly and damaged.
One of the most common issues faced by color-treated hair is dryness. This is because when you colour your hair, the peroxide and ammonia in the hair color open up your hair cuticles.
This leads to loss of moisture and keratin that can be very damaging to your strands. Usage of heat tools and constant hair styling on color-treated hair can take a toll on your hair's moisture levels. 
Related: Best Conditioner For Frizzy Hair
Related: Best Shampoo and Conditioner for Dreadlocks
Related: Best Deep Conditioners for Natural Hair
If your coloured hair feels dry like a straw when you touch it, it means that you need to focus on providing hydration to your hair.
Conditioners, hair masks, oils and other hair treatments can provide relief to dry and damaged hair.
Top Conditioners For Color Treated Hair 2021
We have curated a list of the best conditioners for color treated hair that you can incorporate into your everyday routine to provide nourishment to your coloured hair.
L'Oreal Paris Moisture Conditioner
This conditioner has been formulated for dry and coloured hair. It has the goodness of Rosemary which is known to promote hair growth and reduce hair fall.
This conditioner is gentle enough for everyday use and it lathers well. It has a non-stripping, anti-fade colour care system that makes sure that your hair colour stays intact.
This is a vegan, sulphate-free, paraben-free and gluten-ingredient-free conditioner. It promises to replenish dry hair and provide two times more moisture.
It also leaves a fresh aromatic fragrance that contains notes of Jasmine and Juniper Berry. For best results, leave it on for two minutes on your hair before washing it off.
Related: Best Hair Moisturizer Sprays
Tresemme Keratin Smooth Colour conditioner
This contains Moroccan Oil which is an excellent hydrator for your dry and dead hair.
Moroccan oil is also packed with vitamins, minerals and antioxidants which helps in bringing your dull and damaged hair back to life.
This conditioner also makes your hair smooth while intensely hydrating, so you get both the benefits in one bottle. 
The conditioner also protects the colour by boosting radiance, ensuring the longevity of the colour, extending the time between colouring and increasing the shine on your colour treated hair for up to sixty days.
This is a salon-quality conditioner that tames your flyaways and keeps your hair looking fresh while removing frizz.  
Nexxus Colour Assure Conditioner
This conditioner is salon crafted to protect the colour treated hairs vibrancy and moisture. It also helps in brightening the colour and restoring the shine of your hair.
The main ingredients in this shampoo are elastin proteins and quinoa that are highly nutritious to your hair. It acts by creating a defence layer to protect the proteins in the hair.
It claims to extend colour vibrancy for up to forty washes. Quinoa contains vegetable proteins and amino acids that repairs damaged hair and strengthens it.
The elastin proteins help in moisturising the hair. Apply the conditioner and let it sit for about three minutes before rinsing to get the best results.
SheaMoisture Purple Rice water conditioner
Shea moisture hair products are renowned for their hydrating properties. They are usually packed with nourishing ingredients, and this one is no exception.
It contains the goodness of sweet violet extract, wild orchid extract and purple rice water. Purple rice water repairs damage and locks in the moisture into your hair. 
It also softens and detangles your hair while protecting its colour. This product is free from sulfates, parabens, phthalates, mineral oil, animal testing and petrolatum.
The violet pigment in the conditioner helps in neutralising the brassy tones on your strands. This is a gentle conditioner that you can use on a daily basis. 
OGX Fade defying Orchid oil conditioner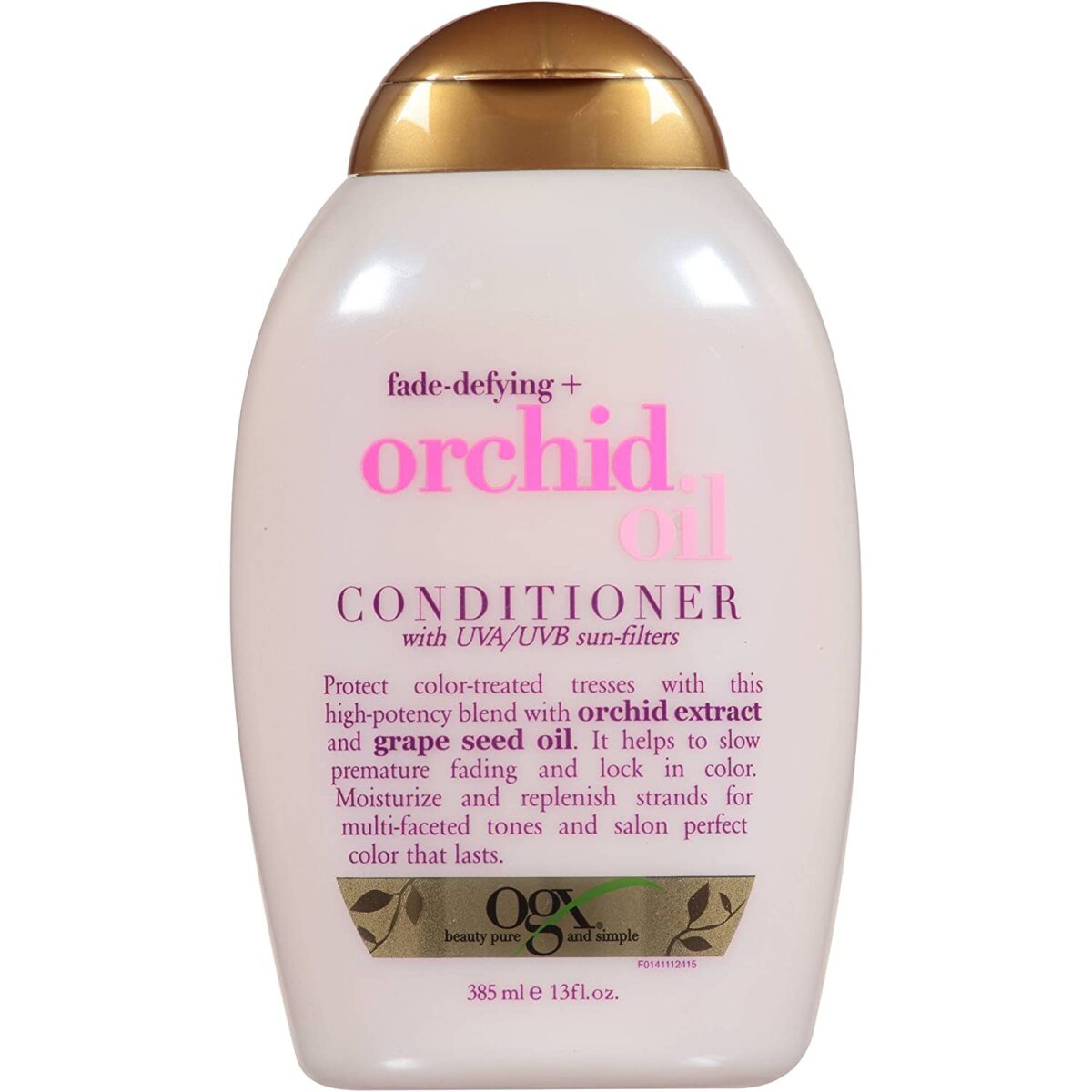 This is a great conditioner to protect your coloured hair from the harmful UVA and UVB rays of the sun which could prove to be extremely damaging and drying to your hair.
It has a special blend of Grapeseed oil extract and Orchid oil extract which nourish the hair. Grapeseed oil helps in fixing brittle and dry hair.It locks in hair colour and makes sure that there is no premature fading. 
This conditioner can be used on all hair textures and it leaves your hair super soft, smooth and easier to style.
This product is free of parabens, phthalates, microbeads and sulfated surfactants. This is an environmentally friendly brand that focuses on using and developing sustainable methods of package and production.
Goldwell Kerasilk Colour conditioner
If you are someone who feels that your brand new hair colour has been fading fast, this conditioner would be a great choice.
It makes sure that your hair colour stays for longer while moisturising your locks and providing them nourishment. The shampoo makes your hair look radiant and moisturised with the help of its specially formulated ingredients.
If your hair is coarse and you are looking for ways to make it smooth and silky, You should definitely try this out since it is infused with keratin.
This luxury hair conditioner helps in smoothening your strands while giving your hair beauty, strength and protection. This is a sulfate-free, paraben-free, gluten-free conditioner. 
Olaplex No. 5 Bond maintenance conditioner
This is a product that a lot of stylists swear by because of the magical result it delivers. When you colour your hair, it damages the hair bonds because of the chemicals present in the hair colours.
This helps in repairing the bond of the hair and maintains it while intensely moisturising your hair. If you are facing issues like frizzy hair, split ends and dryness, this could be your miracle product.
This conditioner can be a part of your everyday hair care routine and can transform your hair for the better. It is also suitable for hair types.
Make sure you focus on the dry areas of your hair, especially the ends while applying it to get the best results. This is a vegan conditioner that is free of  phthalates, parabens, gluten, nut, animal cruelty, phosphates and sulphates.
Maria Nila Luminous colour conditioner

This colour conditioner helps in treating static electricity while detangling, softening and moisturizing your hair. It contains pomegranate extracts which strengthen the hair follicles and help in hair growth.
The colour guard complex in it helps in preventing the loss of colour due to washing, sun damage, heat styling and free radicals.
This conditioner is sulphate-free, paraben-free, 100% vegan and cruelty-free. This is a gentle conditioner that is suitable for daily use.
And this shampoo leaves a soothing scent of Apple, Blackberry, and peach which makes you feel fresh throughout the day. It also uses CO2 compensated packaging which makes it an eco-friendly option.
 Kerastase Reflection Fondant Conditioner
This conditioner increases the radiance of colour-treated or hair with highlights. It has a chelator complex that protects the colour treated hair from external damages caused by water or sun damage.
This conditoner has UV filters that help in shielding it from the  harmful UV rays of the sun. The Vitamin E infused in it provides nourishment to the hair with the help of antioxidants. 
It also has Rice Bran oil that is rich in Omega 3 and 6 fatty acids which are highly nutritious for your hair. It also helps in reducing frizz. This is a conditioner that doesn't weigh down your hair and it gives your smooth and sleek hair
Aveda Colour Conserve conditioner
This is a plant-based conditioner that helps in maintaining the colour and shine of your hair. It also protects your hair from damages caused by environmental stresses.
This is a cruelty-free and vegan brand that you can incorporate into your daily routine to maintain healthy colour treated hair.
It contains ingredients such as Castor seed oil and Jojoba seed oil which are highly nutritious to your hair. They also follow responsible packaging practices.
So that was our list of the best conditioners for color treated hair. I hope these reviews helped you find the right products for your colored tresses.
Colored hair is more prone to breakage as it's in a fragile state after being exposed to hair dyes. So a good conditioner can bring it back to life after a hair coloring session.
Also read
Best hair vendors on Aliexpress
Homecoming short hairstyles for women
Ponytail hairstyles for black hair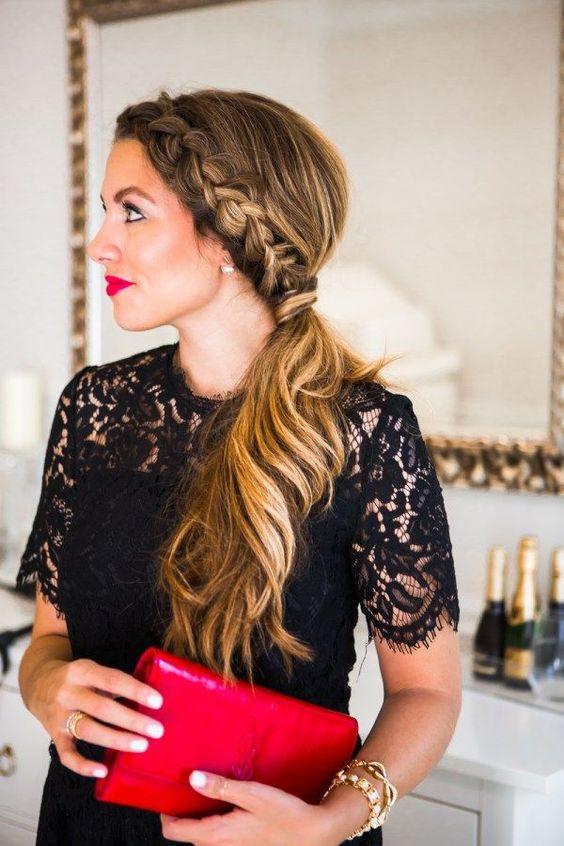 From hair care to soaring hair trends, we cover it all. We make sure you nurture your hair and stay on board with hairstyles and new hair trends. So hop on and make every day count with some of our creative and sassy hair trends.
Aveda Color Conserve Conditioner
Here are some of the best conditioners that are perfect for color treated hair. The Aveda Color Conserve Conditioner is suitable for all hair types
Product SKU: FKPO6489HU8
Product Brand: Aveda
Product Currency: USD
Product Price: $75.70
Price Valid Until: 2022-08-13
Product In-Stock: InStock