If you have colored hair or higlights, you should try these top conditioners for color treated hair to protect hair dye from fading and your tresses from becoming unruly and damaged.
One of the most common issues faced by color-treated hair is dryness. This is because when you colour your hair, the peroxide and ammonia in the hair color open up your hair cuticles.
This leads to loss of moisture and keratin that can be very damaging to your strands. Usage of heat tools and constant hair styling on color-treated hair can take a toll on your hair's moisture levels. 
How to pick the best conditioner for Color treated Hair
Before looking at the best shampoo for color treated hair, let's look at what to look for in a such a shampoo.
Check it out:
Sulfate-Free
Most regular shampoos are packed with sulfates. While this is generally bad for your hair (Asian or not), sulfates become a bigger problem with color-treated hair.
The most common sulfates are Sodium Laureth Sulfate and Sodium Lauryl Sulfate. These are surfactants that cleanse your hair and leave them squeaky clean.
Related: Best Dry Shampoos For Color Treated Hair
If your coloured hair feels dry like a straw when you touch it, it means that you need to focus on providing hydration to your hair.
Conditioners, hair masks, oils and other hair treatments can provide relief to dry and damaged hair.
How I tested the other top conditioners for color treated hair?
I tested these shampoos on the factors that I've listed below and then gave them on a score out of 5. These factors inlcude:
Color Protect – I firstly checked if the conditioners had UV filters or ingredients that protect hair color from fading or extend it's life.
Moisturization – After all a conditioner should detangle and moisturize hair first. So I looked at if the product contains nourishing ingredients and makes hair soft and shiny.
Ingredients – I also noted if the ingredients are harmful. I looked for certain alcohols, silicones, synthetic fragrances and colorants, etc.
Using the right conditioner for colored hair is another fantastic way to prevent hair color from fading early.
Top Conditioners For Color Treated Hair 2023
We have curated a list of the best conditioners for color treated hair that you can incorporate into your everyday routine to provide nourishment to your coloured hair.
L'Oreal Paris Moisture Conditioner
What I loved about this L'Oreal conditioner is that it's been formulated for dry and coloured hair. So you don't have to compromise on moisturization to help protect your hair color.
I found this conditioner light enough for everyday use and it smells good too. It has a anti-fade colour care system that makes sure that your hair colour stays intact.
I used it for 4 weeks and I could see how bright it made my hair dye and my hair felt so much softer too.
It has the Rosemary which is known to promote hair growth and reduce hair fall. But honestly I couldn't see this effect.
It's great for dry, frizzy hair though!
I also liked that this is a vegan, sulphate-free, paraben-free and gluten-free conditioner. So if you have scalp inflammation or any kind of sensitivity, it's a great product for that!
It also leaves a fresh aromatic fragrance that contains notes of Jasmine and Juniper Berry. I'd suggest that for best results, leave it on for two minutes on your hair before washing it off.
Pros:
Salt-free formula is safe for keratin treated hair
Apricot oil helps nourish hair and adds shine
Wax-free formula is lightweight and suitable for thin hair
Vegan and eco-friendly conditioner
Cons:
Contains added colorants and perfumes
Polyquarternium can buildup on hair over time
My Ratings:
Color Protect – 4.5/5
Moisturization – 4/5
Ingredients – 3.5/5
Tresemme Keratin Smooth Colour conditioner
I wanted to try this shampooo for two reasons. Firstly, it's a very reasonably-priced drugstore shampoo and most products for colored hair tend to be so expensive and secondly because it contains Moroccan argan Oil which is an excellent hydrator for your dry and dead hair.
Moroccan oil is also packed with vitamins, minerals and antioxidants which helps in bringing your dull and damaged hair back to life.
On using I was pleasantly surprised to see that this conditioner works well.
This conditioner also makes my hair smooth while intensely hydrating, so you get both the benefits in one bottle.
The conditioner also protects the colour by boosting radiance and ensuring the longevity of the colour.
I could see that it extends the time between my hair coloring and increasing the shine on my colour treated hair for up to sixty days.
Oh and another thing I liked about this product is that it tames your flyaways and keeps your hair looking fresh while removing frizz.
So what are the downsides? For one thing it contains dimethicone, a form of silicone that is guaranteed to buildup on hair.
And a lot of people with color-treated hair do not use sulfate-free or clarifying shampoos so this can make things worse.
I highly suggest deep cleansing hair in between hair coloring sessions if you're using this conditioner.
Pros:
Affordable pricing
Contains argan oil that nourishes hair and controls frizz
Keratin helps repair damage on color-treated hair
Cons:
Dimethicone can lead to buildup on hair
Contains added perfumes which can dry hair if used often
My Ratings:
Color Protect – 4/5
Moisturization – 4.5/5
Ingredients – 3.5/5
Nexxus Colour Assure Conditioner
What really found interesting about this conditioner ist hat it is salon crafted to protect the colour treated hair's vibrancy and moisture. It also helps in brightening the colour and restoring the shine of your hair.
I also loved how the main ingredients in this shampoo are elastin proteins and quinoa that are highly nutritious to your hair. It claims to create a defence layer to protect the proteins in the hair.
But does it live up to its promises? Well, yes and no!
I found that it did increase my colour vibrancy for up to forty washes. And I also saw my hair looking much softer and shinier.
It did reduce some amount of damage as I found less hair breaking off. But it's not a wonder product for damage-repair.
However, if you're only interested in protecting your hair dye for longer, then this is a great product.
The problem however, is that there are several shampoos that do the same job and at a considerably lower price.
In fact expect for a few extra ingredients like sweet almond oil, this shampoo's ingredient list is more or less the same as that of the Tresemme conditioner.
So yeah it's a good conditioner. But it doesn't offer anything more than others and it's pricier for no reason.
Pros:
Elastin proteins in formula help moisturize hair and add elasticity to strands
Sweet almond oil and argan oil help nourish hair
Extends hair color for a few extra washes
Cons:
Contains silicones that can cause buildup on hair
It has synthetic perfume that is drying in the long run
My Ratings:
Color Protect – 4.5/5
Moisturization – 4.5/5
Ingredients – 3.5/5
SheaMoisture Purple Rice water conditioner
Shea moisture hair products are renowned for their hydrating properties. They are usually packed with nourishing ingredients, and this one is no exception.
It contains the goodness of sweet violet extract, wild orchid extract and purple rice water. Purple rice water repairs damage and locks in the moisture into your hair.
It also softens and detangles your hair while protecting its colour. This product is free from sulfates, parabens, phthalates, mineral oil, animal testing and petrolatum.
The violet pigment in the conditioner helps in neutralising the brassy tones on your strands. This is a gentle conditioner that you can use on a daily basis.
OGX Fade defying Orchid oil conditioner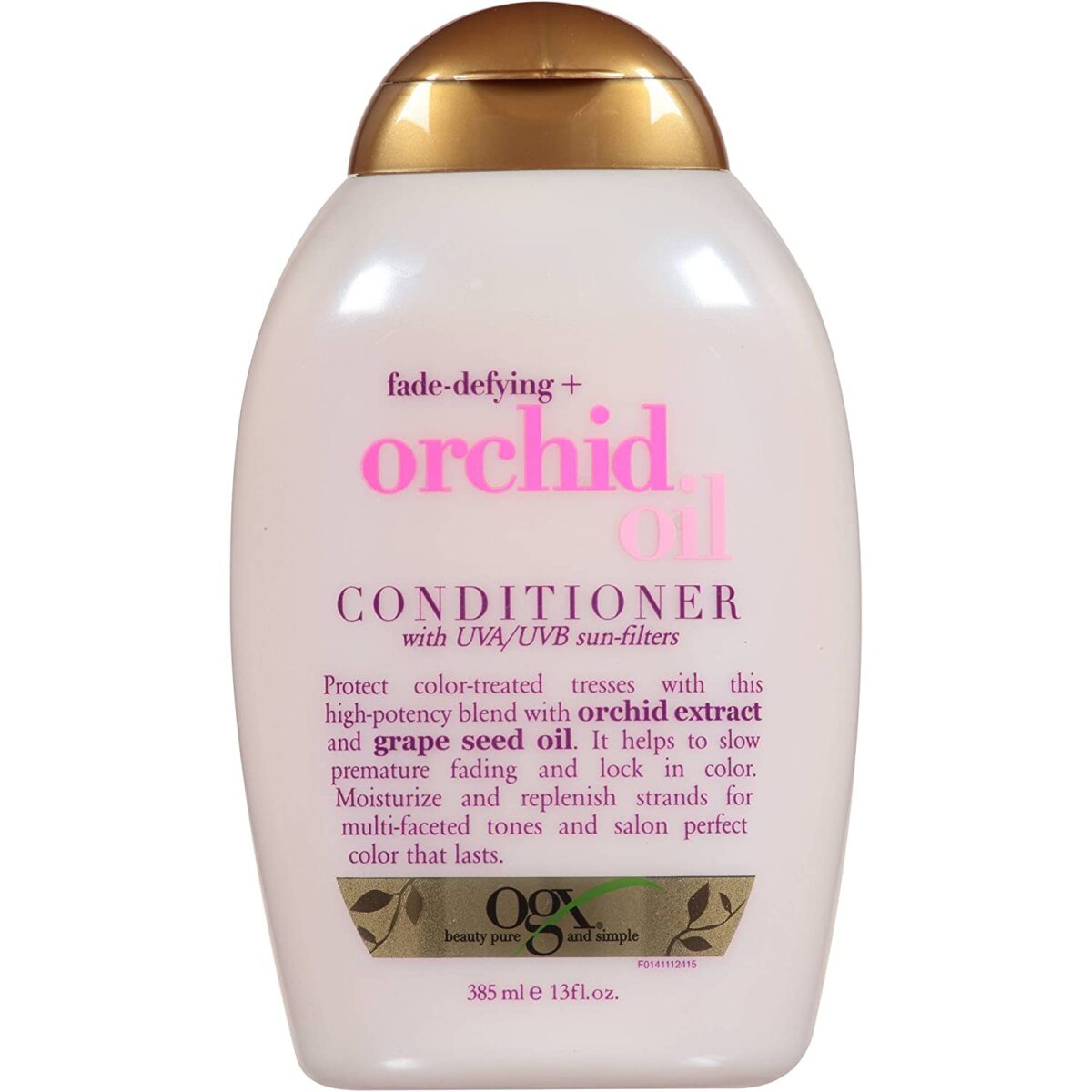 This is a great conditioner to protect your coloured hair from the harmful UVA and UVB rays of the sun which could prove to be extremely damaging and drying to your hair.
It has a special blend of Grapeseed oil extract and Orchid oil extract which nourish the hair. Grapeseed oil helps in fixing brittle and dry hair.It locks in hair colour and makes sure that there is no premature fading.
This conditioner can be used on all hair textures and it leaves your hair super soft, smooth and easier to style.
This product is free of parabens, phthalates, microbeads and sulfated surfactants. This is an environmentally friendly brand that focuses on using and developing sustainable methods of package and production.
Goldwell Kerasilk Colour conditioner
If you are someone who feels that your brand new hair colour has been fading fast, this conditioner would be a great choice.
It makes sure that your hair colour stays for longer while moisturising your locks and providing them nourishment. The shampoo makes your hair look radiant and moisturised with the help of its specially formulated ingredients.
If your hair is coarse and you are looking for ways to make it smooth and silky, You should definitely try this out since it is infused with keratin.
This luxury hair conditioner helps in smoothening your strands while giving your hair beauty, strength and protection. This is a sulfate-free, paraben-free, gluten-free conditioner.
Olaplex No. 5 Bond maintenance conditioner
This is a product that a lot of stylists swear by because of the magical result it delivers. When you colour your hair, it damages the hair bonds because of the chemicals present in the hair colours.
This helps in repairing the bond of the hair and maintains it while intensely moisturising your hair. If you are facing issues like frizzy hair, split ends and dryness, this could be your miracle product.
This conditioner can be a part of your everyday hair care routine and can transform your hair for the better. It is also suitable for hair types.
Make sure you focus on the dry areas of your hair, especially the ends while applying it to get the best results. This is a vegan conditioner that is free of phthalates, parabens, gluten, nut, animal cruelty, phosphates and sulphates.
Maria Nila Luminous colour conditioner

This colour conditioner helps in treating static electricity while detangling, softening and moisturizing your hair. It contains pomegranate extracts which strengthen the hair follicles and help in hair growth.
The colour guard complex in it helps in preventing the loss of colour due to washing, sun damage, heat styling and free radicals.
This conditioner is sulphate-free, paraben-free, 100% vegan and cruelty-free. This is a gentle conditioner that is suitable for daily use.
And this shampoo leaves a soothing scent of Apple, Blackberry, and peach which makes you feel fresh throughout the day. It also uses CO2 compensated packaging which makes it an eco-friendly option.
Kerastase Reflection Fondant Conditioner
This conditioner increases the radiance of colour-treated or hair with highlights. It has a chelator complex that protects the colour treated hair from external damages caused by water or sun damage.
This conditoner has UV filters that help in shielding it from the harmful UV rays of the sun. The Vitamin E infused in it provides nourishment to the hair with the help of antioxidants.
It also has Rice Bran oil that is rich in Omega 3 and 6 fatty acids which are highly nutritious for your hair. It also helps in reducing frizz. This is a conditioner that doesn't weigh down your hair and it gives your smooth and sleek hair
Aveda Colour Conserve conditioner
This is a plant-based conditioner that helps in maintaining the colour and shine of your hair. It also protects your hair from damages caused by environmental stresses.
This is a cruelty-free and vegan brand that you can incorporate into your daily routine to maintain healthy colour treated hair.
It contains ingredients such as Castor seed oil and Jojoba seed oil which are highly nutritious to your hair. They also follow responsible packaging practices.
What is the best conditioner for color treated hair?
I found the Aveda Color Conserve conditioner the best condtioner for color treated hair as it contains UV filters that protect hair dye from fading. This hair conditioner is also free of silicones that tend to cause product buildup on hair. So it's suitable for thin hair as it won't weigh it down. It's helps add moisture to tresses as it contains jojoba oil. But what really impresses me is that it's a cruely-free and vegan brand.
So that was our list of the best conditioners for color treated hair. I hope these reviews helped you find the right products for your colored tresses.
Colored hair is more prone to breakage as it's in a fragile state after being exposed to hair dyes. So a good conditioner can bring it back to life after a hair coloring session.
Also read:
Best Shampoo For Black Colored Hair
Best Hair Color For Green Eyes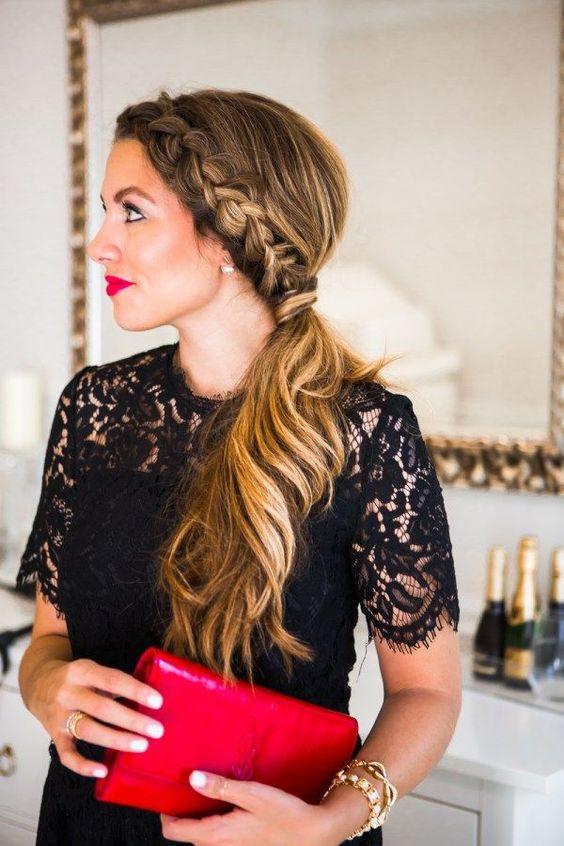 From hair care to soaring hair trends, we cover it all. We make sure you nurture your hair and stay on board with hairstyles and new hair trends. So hop on and make every day count with some of our creative and sassy hair trends.