They say having brown eyes is very sexy, and they are true! To be honest, from all the hair color articles that we did, brown eyes are the easiest to pair with any hue.
You can actually go for dark to light hair colors without worrying about your eyes looking strange.
You can experiment with different hair colors for your brown eyes easily. Because brown eyes have specks of green and gold, it will truly capture anyone who looks at you. We have gathered all the hair color that will surely fit your brown eyes. 
Understanding Brown Eyes
Despite being the most common eye color worldwide, brown eyes possess a unique charm and allure that stems from their diverse shades and depths. In this section, we'll uncover what makes brown eyes stand out and explore the colors that perfectly complement them. Whether you're using these hues for fashion, makeup, or hair color, knowing which shades harmonize with your brown eyes can truly enhance your natural beauty. So, let's dive in and discover the captivating world behind those bewitching brown eyes.
What Makes Brown Eyes Unique?
Brown is the most common eye color worldwide. Yet, many people don't realize the depth and variety present within this single descriptor. From light honey shades to a rich dark espresso, brown eyes are incredibly diverse. Unique beauty is hidden in their depths due to the amount of melanin present in the iris, which renders the depths and complexities usually found in brown eyes. Interestingly, brown-eyed people often have better resistance to certain lighting conditions, such as sunlight and glare, due to the melanin's protective properties.
Colors That Compliment Brown Eyes
Brown eyes are versatile and harmonize well with a vast spectrum of colors. However, certain hues can particularly accentuate their allure.
Earthy tones: Colors like forest green, maroon, mustard, and gold can enhance the richness of brown eyes.
Jewel tones: Bright and bold jewel tones create an appealing contrast. Colors such as royal blue, purple, and emerald green get brown eyes to stand out.
Metallic shades: Silver, golden, copper, and bronze shades can make brown eyes sparkle due to their reflective properties.
Warm neutral colors: Beiges, creams, and soft pinks subtly complement the warmth of brown eyes without overpowering them.
Experiment with these colors in your wardrobe, makeup, and certainly, the dyed strand to beautifully complement your brown eyes. Remember, the colors that work best for you may also depend on your skin tone and personal style.
Best Hair Color for Brown Eyes
Take a look at the top and most popular hair colors for women who are born with sultry and tantalizing brown eyes:
Natural Brown
If you have brown eyes, the natural brown hair color will definitely match your eye color. So, going for a natural brown color is the safest answer for your hair color dilemmas!
This hair color is perfect for a casual or semi-formal look and looks natural. The hair is kept sleek and moderately short to compliment the color of the hair.
It is also great for women with soft facial features like a thin and skinny face. Since we have an all natural look, a no makeup traditional look will always be great especially for people who are not a fan of makeup.
Lilac or Lavender
Looking for a dreamy and unique way to match your brown eyes? Lilac or lavender can be your option. Since these colors are very subtle and light, your brown eyes would definitely stand out every time.
This hair color works best for people who have a light skin tone because the vibrance of the hair color accentuates the skin well. It is also recommended that you apply prominent makeup to make your brown eyes pop even more.
Red or Burgundy
Apple red is a distinctive tint and one of the most vivid hair colors. Any eye color will stand out more with this hair color, especially the lighter tones.
To match the vibrant hair color, the hairdo is kept tidy and smooth. You can use dark makeup. The purpose of the hair color is to allow it to be worn with any type of attire and accessories.
Honey Blonde
The honey blonde hair color is ideal for those who prefer gentler tones in their hair. If you alsi have naturally brown or black hair, switching to honey blonde can make your facial features pop and your eyes more alluring.
This hair color can be worn easily with minimal jewelry and semi-formal clothing for any event.
Caramel
Hair that is caramel in tone produces a really cozy impression. This color looks good with brown eyes since it complements them.
The roots remain dark, and the hair color is mostly concentrated on the ends of the hair strands which makes your eyes stand out more to enhance your facial features.
Light Blonde
Having a light blonde hair color can make any eye color look more vibrant so it's a great choice for undecided women. This hair color never goes out of style too, and it's great for people of different ages.
The best makeup look for this hair color is nude, and you can add some glitter to your eyes to make them look more brilliant and brown.
Sandy Blonde
Sandy blonde creates a very chic and beachy vibe for women with brown eyes. It's perfect for women who love having a casual effortless look, all you need to do is add some volume to your hair and you're all set!
Ash Blonde
A very understated yet eye-catching hair color is ash blonde. Given its lightness, the color would highlight the eyes' natural brown hue.
The hair is kept in a lengthy style. The ash blonde hair color is kept lighter at the tips and darker at the roots.
For your makeup, you can simply go for light makeup with some nude lipstick. You can also match some contrasting dark colored clothes to highlight your hair even more. Your date will surely be stunned when he sees you!
Auburn
The color auburn is great for people with dark and light complexion. Since this color is also between warm and deep in hue, this will suit people of all skin tones. You can keep your hair sleek and straight for a chic look.
If you're planning to attend a formal occasion and you're looking for a change of hair color, Auburn will never fail you. It gives your brown eyes more depth and it would be perfect for a casual or formal look.
Pink
When it comes to your hair, there is no such thing as too much pink! Rock a lovely pink bob with lots of gentle waves for women with brown eyes. This strong color adds more depth to your eyes, but this hair color might be a little challenging to pair up with formal attires.
Ginger for Curly Hair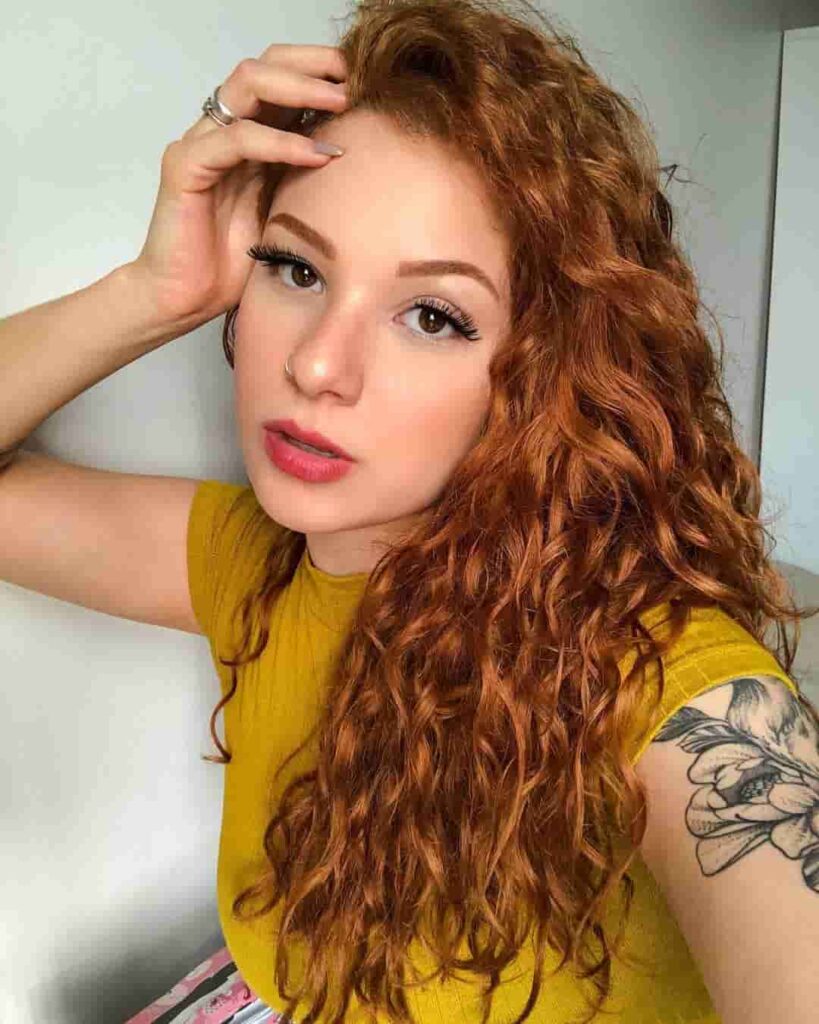 If you have brown eyes and pale or very light complexion, red or ginger hair color is a must-try. Additionally, the rich color will bring life to thick, curly hair. Finger comb your hair into a high side ponytail for a quick look.
Rich Strawberry Blonde
Getting the perfect strawberry blonde hue can be tough, but the results are always stunning when done right.
A warm skin tone is key for both red hair and brown eyes. Close on to red on the color wheel, brown eyes enhance the warmth of this look.
Brunette
Brown eyes and brunette hair are a traditional pairing because they are both very popular worldwide. However, you don't have to have plain hair. Subtle highlights can be added to give your hair rich character.
Key Takeaways
Finding a hair color that matches brown eyes is not difficult. Just remember the advice we've given you, and express your creativity while working with your wonderful hair. Everything matters, whether you are platinum blonde or golden brown.
Read More:
What is the Most Face Slimming Hair Color
10 Best Hair Color For Green Eyes | For Different Skin Tones
8 Best Hair Color For Grey Eyes 2022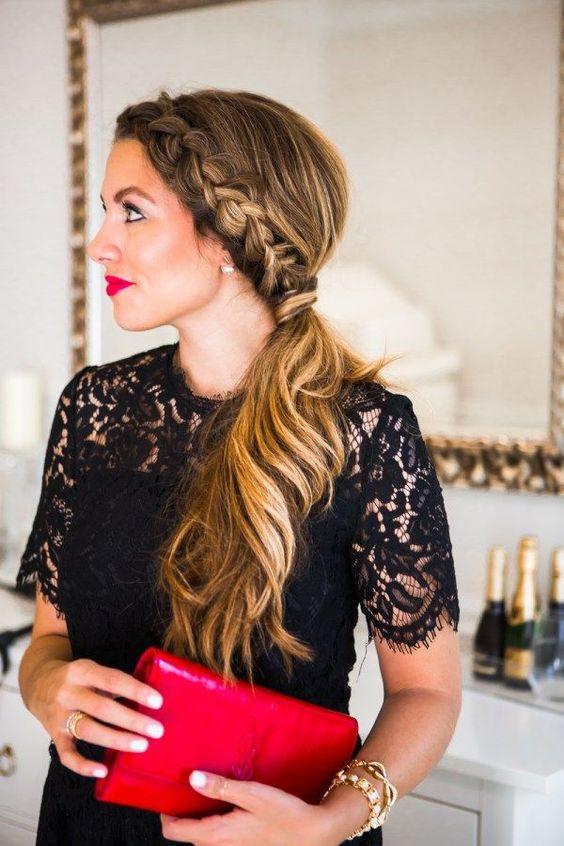 From hair care to soaring hair trends, we cover it all. We make sure you nurture your hair and stay on board with hairstyles and new hair trends. So hop on and make every day count with some of our creative and sassy hair trends.