In this article, you'll find the reviews of the best selenium sulphide shampoos today for scalp infections and dandruff.
Selenium sulphide is a very popular ingredient because it is one of the most common ingredients found in anti-dandruff products.
This is an antifungal agent that effectively helps in relieving itching, flaking, scaling and dry scalp.
Related: Top Tea Tree Oil Shampoo
Related: Top Ketoconazole Shampoo
Related: Top Pyrithione Zinc Shampoo
Selenium Sulphide is also known as an anti-infective since it works by slowing the growth of the infection-causing yeast.
This ingredient is found mostly in anti-dandruff lotions, shampoos and other treatments.
So here are some of the top selenium sulphide shampoos.
Top Selenium Sulphide Shampoos 2021
Mountain Falls Maximum Strength Shampoo

This is the no. 1 shampoo recommended by dermatologists worldwide and it is recommended for those suffering from extreme stubborn dandruff.
It is a strong formula that effectively prevents flaking of your scalp. This shampoo guarantees dandruff relief from the first wash with the help of its 3-Action system.
The first step involves the removal of oil and flakes from your scalp followed by protecting your scalp from dandruff.
Finally, it nourishes and moisturises your strands to encourage healthy hair growth. The main ingredient is 1% Selenium sulphide which is an important ingredient to combat dandruff issues.
This is a gentle shampoo that can be used every day and it leaves your hair squeaky clean and manageable. It aids in getting rid of itchiness, dryness and scalp irritation.
The product is cruelty-free and they follow sustainable practices in production and packaging.
They use reusable and recycled materials and energy-efficient systems by reducing their carbon footprint and fuel consumption.
Selsun Blue Max Strength Shampoo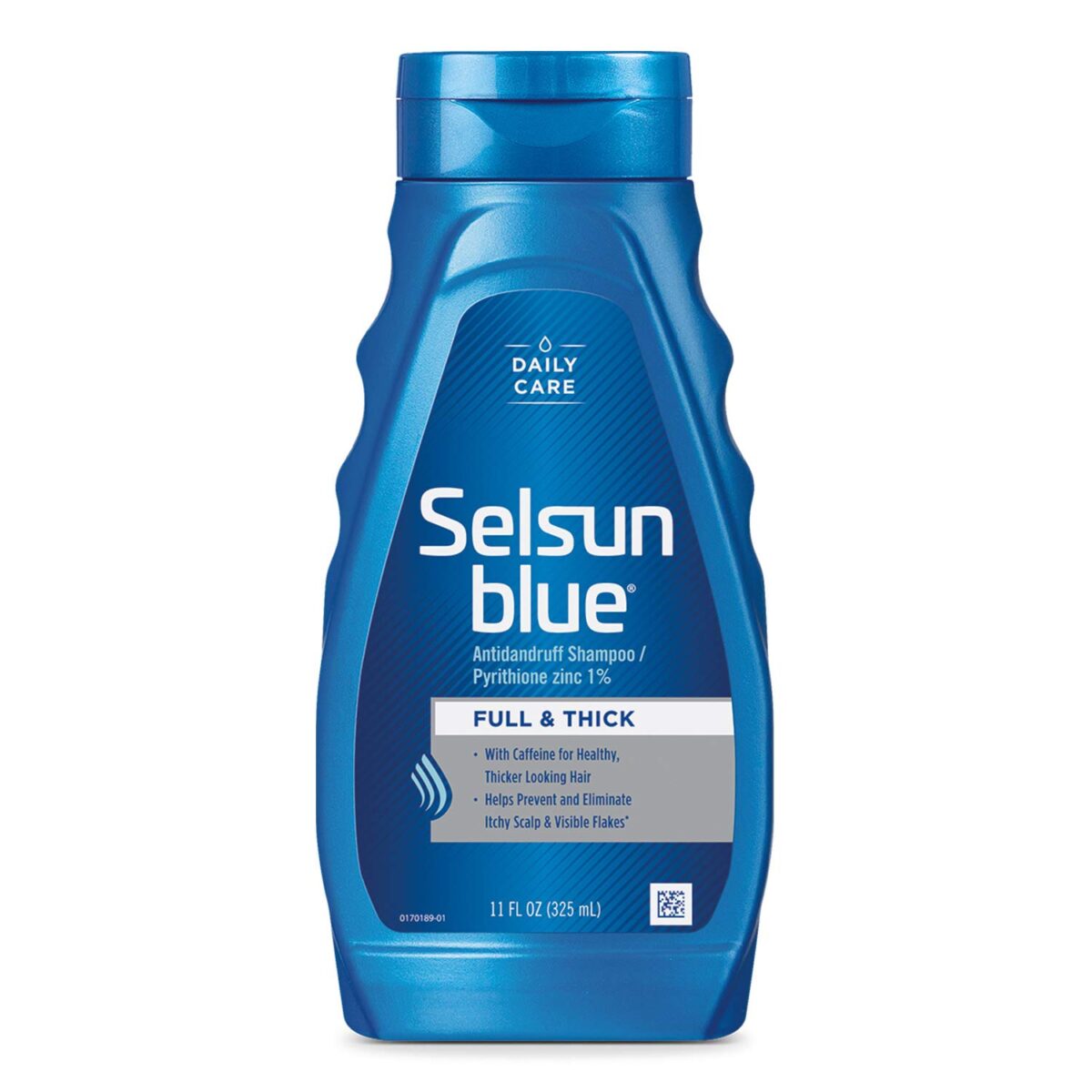 This is a doctor-recommended shampoo that helps in eliminating the severest of dandruff problems and scalp irritation.
Its active ingredient is selenium disulphide and it is extremely effective in dealing with flakiness, scaling, itching and scalp inflammation.
This shampoo can be used on all hair types, so it will not have adverse effects on those with a sensitive and inflamed scalp. It is a 2-in-1 product.
It means that this is a shampoo and conditioner in one bottle so you do not have to follow up with a deep conditioner or hair treatment to get the benefits of conditioning.
This product is the right option for you if you do not want to spend time conditioning your hair everyday and wants to get rid of all the dead cells in the scalp.
Additionally, it also helps in relieving skin conditions like seborrheic dermatitis and tinea versicolor.
Head and Shoulders Clinically Proven Solutions Shampoo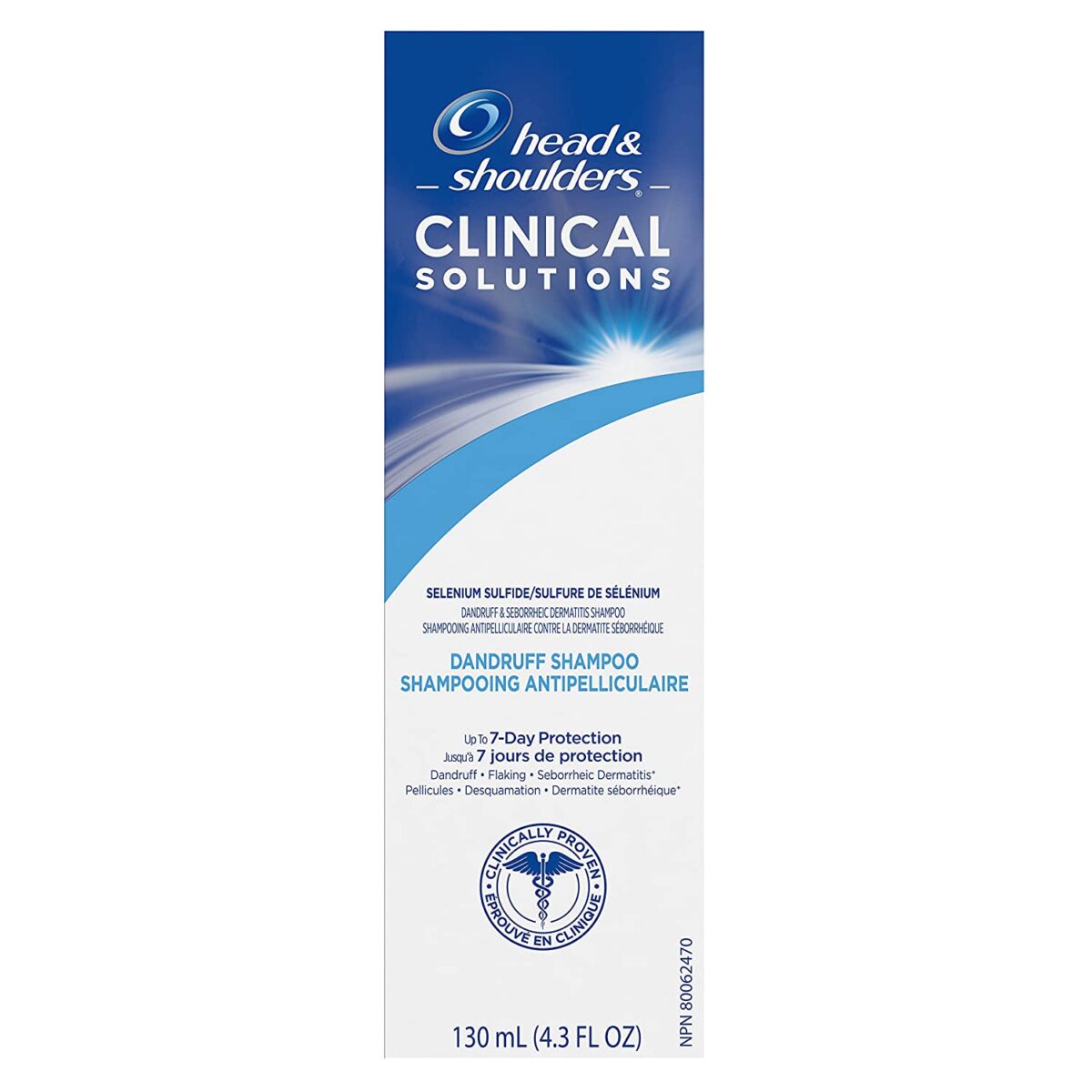 Head and Shoulders is well known for their anti-dandruff products and a lot of its products contain Selenium Sulphide.
This shampoo also proves to be an excellent anti-dandruff product from Head and Shoulders. The relatively higher price tag of the shampoo is later justified by its excellent results.
This is a clinically proven shampoo that guarantees up to 7 days of protection from issues like itching, dryness and flakiness. It contains 1% Selenium Sulphide and helps in soothing seborrheic dermatitis.
This shampoo has a creamy consistency. And although Selenium Sulphide shampoo scents are not generally appealing, this leaves a soothing scent of lavender and citrus on your hair.
So that leaves you smelling great throughout the day. If you are someone with mild dandruff, this shampoo might be too strong for you.
Selsun Blue Moisturising Shampoo
This is a good option for those with dry hair.
The Active ingredient in this shampoo is 1% Selenium sulfide and it is especially recommended for those with tough and stubborn dandruff on their scalp. It targets the various symptoms of dandruff such as itching, inflammation and flaking.
It is enriched with the goodness of Aloe vera which is an excellent ingredient for your hair.
Aloe vera has numerous benefits for the hair. It is a natural anti-dandruff ingredient that helps in relieving itching on the scalp and reducing dandruff.
It also aids in accelerating hair growth and conditioning dry hair to make it look more soft and shiny.
However, this shampoo has an unusual smell that is very strong and citrusy.
Some people might not enjoy it, so if you are smell sensitive, you might wanna check the smell before buying it. This is a good choice for people who are looking for effective dandruff control without spending big bucks.
Head and Shoulders Clinical Strength Shampoo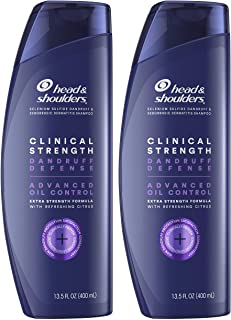 This is another excellent anti-dandruff product made by Head and Shoulders.
The active ingredient in this shampoo, which is Selenium sulphide, helps in effectively eliminating seborrheic dermatitis and severe dandruff. It has been clinically proven to eliminate the toughest symptoms of dandruff, like flakiness.
It has a pH-balanced formula, so it is neither acidic nor alkaline. It also means that the ingredients of this shampoo are unlikely to react with other compounds in your scalp and hair.
This also makes Head and Shoulders a suitable shampoo for chemically treated or colored hair that is proven to effectively fight dandruff.
This is a prescription-strength anti-dandruff shampoo that is gentle enough to be used every day.
It moisturizes and cleans the scalp by getting rid of dead cells.
The scent might be a buzzkill if you are not excited about the prospect of your head smelling like medicines but you could combat it by using a conditioner with a smell that overpowers the smell of the shampoos.
Divines purifying shampoo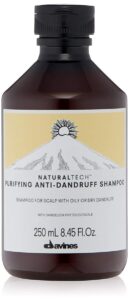 This is a sulfate-free, paraben-free, and MI-free shampoo that contains Selenium Sulfide.
It works well for people with dry and greasy dandruff, so if you think that your hair grows greasier quickly after a wash, this might be a good option to treat your dandruff woes.
The Ingredients of this shampoo are packed with anti-inflammatory and antimicrobial polyphenols and sugars. It also has a unique ingredient which is dandelions.
They help in effectively cleansing your hair while stimulating circulation on the scalp and encouraging hair growth.
This doesn't look or smell like your conventional anti-dandruff but there is no doubt about its effectiveness.
It has been proven to offer relief to various symptoms of dandruff such as itching, redness, and flaking.
Also, this Davines Selenium Sulphide shampoo has a soothing smell and makes your hair shine.
Selsun Blue Medicated Shampoo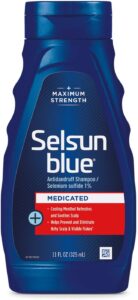 Selsun Blue has a list of excellent anti-dandruff shampoos, most of which has Selenium sulfide as an active ingredient.
This is also a medicated shampoo that is recommended for stubborn dandruff that has severe symptoms such as inflammation, visible flakes, redness and itching.
It leaves your hair feeling clean and cool with the help of Menthol, which is another ingredient in this shampoo.
Menthol also helps in increasing the blood circulation of your scalp and opens up the hair follicles, thereby promoting healthy hair growth.
The cooling properties of Menthol also play a role in relieving inflammation and itching caused by dandruff. It makes your hair more manageable by softening it.
It also helps in preventing and eliminating seborrheic dermatitis, which is a skin condition that causes an itchy rash with flaky scales.
The fragrance is the pleasant scent from the menthol that leaves you feeling fresh throughout the day.
You can use this shampoo twice a week to get the best results. This shampoo can also be used to treat sunspots and skin discoloration.
BENEFITS OF SELENIUM SULPHIDE
It helps in relieving various symptoms of dandruff such as itching, flaking, dryness, inflammation and redness.
The scalp sheds a number of dead cells every day. It makes your scalp clean and healthy since it prevents cell accumulation by removing the dead skin cells on your scalp.
Our scalp has a lot of bacteria and fungus on it which might be harmful and cause serious conditions such as dandruff, seborrheic dermatitis. Selenium sulfide stops the breeding of such fungus, bacteria and other undesirable yeast formations on your skin.
The flakes caused by dandruff on our scalp can escalate to a point where it starts falling on our clothes and become extremely visible on our head, Selenium sulphide shampoos can help you tackle this issue.
It helps in relieving various conditions of the skin. Tinea versicolour is a condition that can cause discolouration of the skin.
Seborrheic Dermatitis is another scalp condition which can be healed with the help of Selenium Sulfide. It caused flaky scales and itchy rashes. It also causes redness on lighter skin tones while causing white patches on darker complexions.
FAQs – Selenium Sulphide Shampoos
How often should I use selenium sulphide shampoo?

To use a dandruff shampoo or any shampoo one must always follow the instructions given on the label. If you have any concerns, you can talk to your doctor before use.

Dr. Matthew Zirwas, founder of Bexley Dermatology in Bexley, Ohio recommends trying a shampoo for at least a month.

This is because if your old shampoo contained ingredients that were causing a dandruff rash it will take minimum four to eight weeks for it to get out of your body.

Selsun 2.5% instructs you to massage into the scalp for 2-3 minutes and then rinsing it twice a week for a period of two weeks to keep symptoms under control.

Vichy Dercos recommends massaging shampoo gently to wet hair, washing it thoroughly with water and avoiding eyes and finishing it off using the Dercos Conditioner.



Are there any risks of using Selenium Sulfide shampoos?

Selenium sulfide shampoos contain the most common reactions including oiliness, redness, scalp irritation, burning sensations in skin, dry hair and scalp, and blistering (if the shampoo is left on the skin for too long).
They also are known to discolor dyed hair, and can discolor metallic jewelry so they should be removed before use.
Selenium Sulfide shampoos should not be ingested, and only used in accordance with the recommended dosage instructions.
However, many people have no side effects or only have minor side effects.
Call your doctor or get medical help if any of these side effects bother you or do not go away.

Also read:
Best herbal shampoo for dandruff and hair loss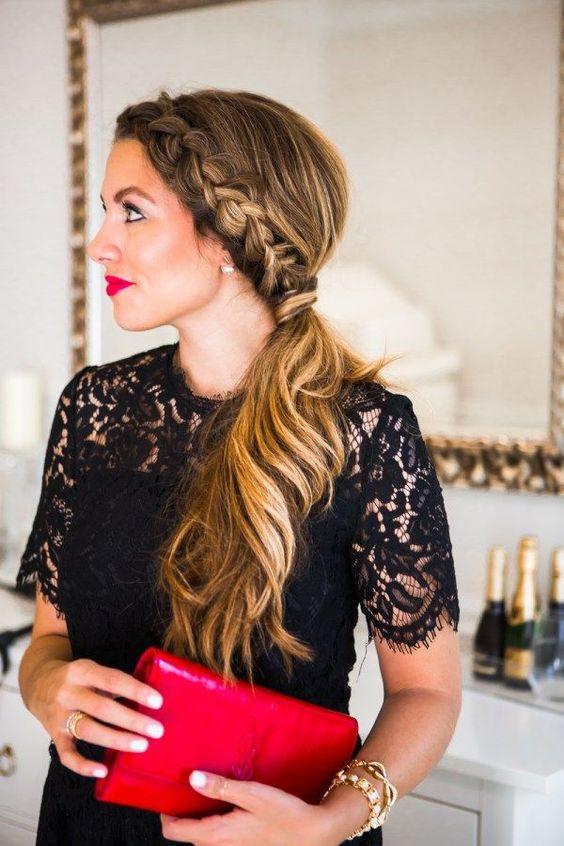 From hair care to soaring hair trends, we cover it all. We make sure you nurture your hair and stay on board with hairstyles and new hair trends. So hop on and make every day count with some of our creative and sassy hair trends.