The most common symptoms of seborrheic dermatitis, which is a skin disease are itchy rashes, redness on the skin and flaky scales. It is also known as dandruff, seborrheic eczema and seborrheic dermatitis.
The people who are affected by it are usually young adults and those over the age of 50. It affects around 3% to 10% of the general population.
Seborrheic dermatitis might go away on its own, but to manage symptoms you can use the top Seborrheic Dermatitis shampoos.
There are chances that it might recur. Some people have to go through repeated treatments to get rid of it. If your symptoms escalate or become stubborn, it is recommended to visit a doctor.
Related: Best Shampoo For Psoriasis
Related: Best Shampoo For Folliculitis
Related: Best Shampoo For Dry, Itchy Scalp
There are a lot of products that you can find in your local supermarket that can help you treat seborrheic dermatitis without consulting a doctor. Various shampoos, creams and lotions with powerful ingredients can help you deal with the issue. We have put out a list of the best shampoos that will help you cure this common scalp issue:
Check out the top seborrheic dermatitis shampoos.
Best Seborrheic Dermatitis Shampoos 2021
Nizoral Anti-dandruff shampoo
This is a popular anti-dandruff shampoo that has proven to be effective in treating seborrheic dermatitis. It helps in controlling the different symptoms of seborrheic dermatitis such as itching, flaking and scaling. If you are someone with severe symptoms, this shampoo will help in successfully eliminating them. 
The active ingredient in this shampoo is 1% ketoconazole which is an antifungal agent. This ingredient has proved to be ten times more powerful at fighting the fungus that causes infections such as seborrheic dermatitis and dandruff.
It is recommended to use this twice a week and it leaves a clean and fresh scent. This shampoo also helps in controlling hair fall with the help of its powerful active ingredient. This shampoo has a gentle formula that is suitable for chemically treated, coloured and grey hair.
DHS Zinc Shampoo
The main ingredient in this shampoo is 2% Pyrithione zinc which is an amazing ingredient for seborrheic dermatitis. It has excellent antibacterial, antimicrobial and antifungal properties which makes it an effective ingredient to fight skin conditions like seborrheic dermatitis.
The formula of the shampoo has been clinically proven to kill the fungus that causes the condition. It also effectively relieves symptoms like itching, flaking and dry scalp. The shampoo has a mild formula that soothes and nourishes your scalp and helps in improving hair growth.
It also helps in treating conditions like dandruff, eczema etc. Leave the lather on your scalp for 2 minutes before rinsing for best results. It is recommended to use this shampoo twice a week to get a healthy and clean scalp.
Matrix Biolage Scalp sync
The main ingredient of this professional shampoo is 1% Pyrithione zinc which has proved to be extremely effective for seborrheic dermatitis. It effectively removes visible dandruff flakes and
Fixing dry and flaky skin.
This is an over-the-counter dandruff shampoo that also helps in treating issues like seborrheic dermatitis and eczema. It is infused with mint extracts that help in fighting the fungus that causes seborrheic dermatitis.
Mint also has antioxidants and helps in soothing your irritated scalp. It leaves you feeling fresh throughout the day.
This is a paraben-free shampoo that can be used on all hair types including chemically treated and coloured hair. It thoroughly cleans and removes product build-up on your hair while balancing your scalp and making it nourished and healthy.
As I am Dry and Itchy Scalp Care shampoo
This shampoo contains the goodness of Olive oil and Tea tree Oil. Olive oil nourishes your hair and helps in relieving scalp irritations. It makes your hair healthy, moisturised and speeds up your hair growth. Tea tree oil helps in removing the buildup and dead skin cells on the scalp which may cause flakiness.
This is a 100% vegan shampoo that contains 1% Zinc Pyrithione. It is an efficient active ingredient that helps in relieving the symptoms of seborrheic dermatitis such as dryness, redness and itching.
It also has the goodness of natural ingredients such as olive, tea tree, linseed and peppermint oils that nourish the hair and assist in hair growth. It also has omega-3 fatty acids. This shampoo is sulphate and paraben-free.
Neutrogena T/gel Therapeutic Shampoo
This is a dermatologically tested shampoo that helps in tackling three major scalp issues. It helps in relieving dandruff, seborrheic dermatitis and psoriasis. This shampoo is formulated with 2% Neutar that demonstrates complete scalp normalisation.
It helps in reducing inflammation and slows down the overproduction of skin cells on the scalp. The shampoo helps in relieving various symptoms of seborrheic dermatitis such as itching and flaking. This is a mild shampoo that is alcohol-free and it has a soothing fragrance.
The shampoo also contains coal tar extracts that cause the skin to shed dead cells and slows down the growth of skin cells. It is recommended to use this shampoo once a week to eliminate dandruff and visible flakes on your scalp for an entire week.
Selsun Blue Moisturising Anti Dandruff shampoo
This shampoo helps in dealing with stubborn seborrheic dermatitis symptoms such as itching, flaking and redness. The main ingredient of this shampoo is Aloe vera which is a nourishing ingredient for the hair.
It also helps in moisturising your hair, soothing irritation on the scalp and strengthening your hair strands.
The active ingredient in this shampoo is 1% Selenium sulfide which is an anti-infective agent. It helps in effectively relieving the symptoms of seborrheic dermatitis and removes the dry, scaly particles on your hair.
This shampoo is suitable for all hair types and lathers quickly to clean your hair and get rid of any buildup.
Solimo Therapeutic Dandruff Shampoo
This shampoo contains 2.5% Coal tar. It is a very effective ingredient that helps to solve issues like itching, drying and flaking caused by seborrheic dermatitis. It helps in slowing down the growth of skin cells by shedding the cells in the top layer of the skin.
The shampoo lathers well and thoroughly cleans your scalp. It has a soothing scent that leaves you feeling fresh throughout the day. It also helps in treating issues like dandruff and eczema. This is recommended for those with dry strands.
For those looking for a pocket-friendly option, this is a good choice. This is a cruelty-free and paraben-free shampoo. However, this shampoo is not recommended for those with thin hair.
Jason Dandruff Relief Shampoo
This shampoo has a gentle formula that thoroughly cleanses your hair and leaves it nourished. This shampoo is recommended for those with a mild case of Seborrheic Dermatitis and psoriasis.
It has a blend of natural ingredients that makes your scalp healthy and assists in hair growth.
The main ingredients in this shampoo are Sulphur and Salicylic acid. Sulphur helps in dealing with several scalp issues such as psoriasis, eczema, seborrheic dermatitis and folliculitis.
It treats, relives and decreases their occurrence. Salicylic acid helps in getting rid of the oily buildup on your scalp and hair. It also helps in stimulating hair growth while preventing any hair fall.
This shampoo also contains ingredients like Rosemary, Olive oil and Jojoba oil that helps in nourishing, soothing, healing and moisturising your scalp.
This product is free of Phthalates, Petrolatum, Sulphates, Parabens, GMO'S, artificial colours and animal byproducts.
Wild Naturals Eczema and Psoriasis shampoo
This shampoo effectively treats, relieves and decreases the occurrences of skin conditions such as eczema, psoriasis and seborrheic dermatitis. It has a lot of ingredients that help in effectively tackling these issues. The main ingredient is Aloe vera which works wonders on your hair's overall health. 
Another ingredient in the shampoo is Manuka Honey which provides numerous benefits to your hair. It promotes collagen growth, balances skin ph, calms redness, reduces the appearance of scars and blemishes, naturally moisturises, soothes, hydrates and nourishes with Vitamins and minerals.
The foaming agent in this shampoo is coconut oil which does not dry out your hair. This shampoo is free of parabens, SLS, fragrance, harsh chemicals and animal testing.
Does seborrheic dermatitis cause hair loss?
Technically, seborrheic dermatitis in itself doesn't cause hair loss. This condition can however, trigger inflammation on scalp and lead to dandruff.
The itching associated with these conditions make you scratch your head often. And the friction and damage resulting from this scratching can lead to hair loss.
Also, seborrheic dermatitis can trigger sebum production on the scalp making it extremely oily. This can cause build-up blocking hair follicles from receiving nutrition.
It also leads to Malassezia, a type of yeast infection that can prevent hair from growing.
What ingredients to look for when buying a shampoo for seborrheic dermatitis?
There are certain ingredients that help control seborrheic dermatitis that are common in over the counter (OTC) shampoos. These include:
Selenium Sulfide
Ketoconazole
Zinc Pyrithione
Salicylic Acid
Coal Tar
Should I wash my hair everyday if I have seborrheic dermatitis?
Experts agree that if you have seborrheic dermatitis it's best to wash your hair daily. This condition can trigger excess production of sebum on the scalp, making hair extremely oily.
Not washing hair often can lead to fungal infections as well.
We suggest washing hair daily with ketoconazole or zinc pyrithione shampoo everyday until you see reduction in symptoms.
Then, you can use these medicated OTC shampoos once a day and continue with milder, sulfate-free shampoos for daily use.
Read also
Genuine and note worthy lace wig hair vendors on Aliexpress
DHgate hair vendors are cheap and of top quality
Alibaba hair vendors that you must check out right now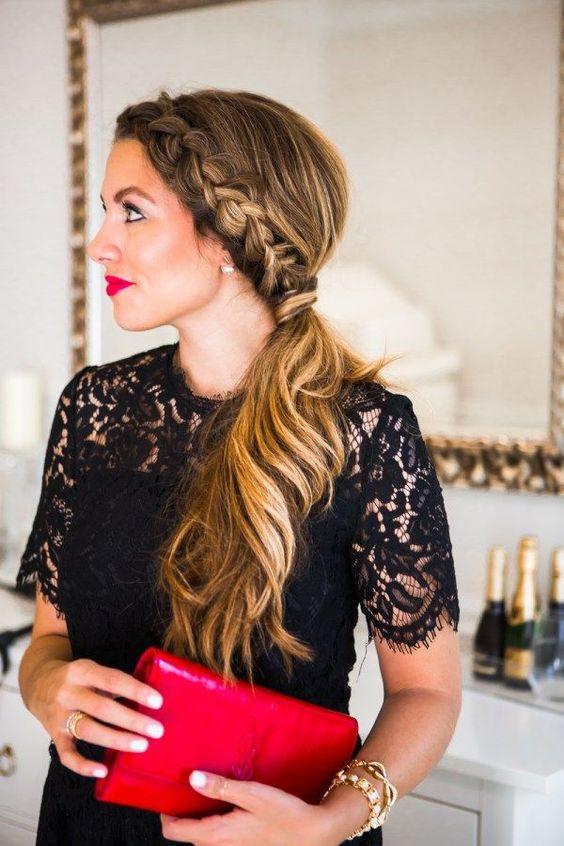 From hair care to soaring hair trends, we cover it all. We make sure you nurture your hair and stay on board with hairstyles and new hair trends. So hop on and make every day count with some of our creative and sassy hair trends.