Dandruff is one of the most common hair conditions that affect people irrespective of their age or geographical factors.
Over 50% of the world's population claims to have suffered from dandruff at some point in their lives.
There are a lot of dandruff treatments available in the market in the form of shampoos, conditioners, scalp lotions, hair masks etc that give short term and long term relief.
Related: Best Dandruff Brushes
Related: Best Herbal Shampoo For Dandruff
Related: How To Get Rid Of Dandruff
As compared to other anti-dandruff ingredients like salicylic acid and coal tar, Pyrithione zinc provides long term relief to your dandruff woes since it tackles the root cause of the issue.
It plays a major role in wiping off dandruff along with other scalp irritants, as well as prevents the formation of dandruff.
To simplify it for you we have listed out the top Pyrithione Zinc Shampoos that work the best. Have a look!
Best Pyrithione Zinc Shampoos 2021
To come to the aide of people who have trouble getting rid of dandruff from their scalp we have made thorough research on the best available in the market.
Dead Sea Spa Magik Mineral Shampoo
This shampoo is gentle and is recommended for those with mild dandruff symptoms. It contains Pyrithione zinc and Salicylic acid, two main ingredients for tackling dandruff and scalp issues. It also includes seaweed, chamomile and has a mild fragrance.
Although this product is suitable for all hair types, it is especially recommended for those with a dry and itchy scalp. It also helps in soothing psoriasis/eczema-prone scalp.
This is a cruelty-free, paraben-free product that is vegan and they follow sustainable methods of packaging by using bottles made up of bio-based sugar cane plastic.
Pros:
Affordable
No chemical smell
Exfoliates scalp
Cruelty-free and vegan
Cons:
Can leave hair dry
Added fragrance
How to use: Apply to wet hair. Lather and massage all over the scalp and hair. Rinse with warm water.
Related: Here are some of the best biotin shampoos and conditioner suitable for all hair types.
Alpecin Dandruff killer shampoo

This dandruff shampoo has four different active ingredients that act in four different mechanisms to tackle your dandruff.
It guarantees to relieve scalp irritation, remove dandruff and provide a 4-fold defence mechanism against dandruff that could reappear. 
Zinc pyrithione and piroctone olamine are the main active ingredients that stop the development of new dandruff. Salicylic acid and fumaric acid helps in eliminating existing dandruff.
This shampoo is recommended for daily use and is most suitable for oily dandruff.
Pros:
Extremely powerful
Good for psoriasis
Works in one wash
Cons:
Leaves scalp dry
Can cause hair fall in long run
How to use: Distribute a walnut-sized quantity evenly in wet hair and massage in. Rinse out immediately.
Related: Best Selenium Sulfide Shampoos
Bioderma Node DS+ dandruff shampoo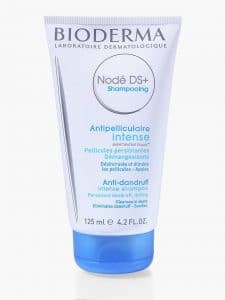 This shampoo acts on the root cause of dandruff with the help of Pyrithione zinc, which is the main ingredient in it. It also makes sure that dandruff doesn't return by eliminating stubborn dandruff.
Its patented technology minimises the secretion of sebum which promoted the overgrowth of dandruff-causing yeast.
It has a creamy texture with a mild fragrance. The brand also follows sustainable practices in packaging by using recycled bottles and their outboxes are made up of 100% recyclable paper from sustainably managed forests.
Pros:
Recyclable packaging
Helps with fungal dandruff
Mild scent
Cons:
How to use: Lather Node DS+ into your scalp and lightly massage. Rinse the scalp. Repeat the application and leave it for 5 minutes. Rinse thoroughly.
Related: Best Shampoo for Folliculitis
DHS Zinc Shampoo

This product contains 2% Pyrithione Zinc that claims to provide immediate relief to dandruff symptoms such as itching and dry scalp. It has a powerful formula that provides long-lasting results for your irritated scalp.
Its gentle properties will help you reduce irritation and inflammation while soothing and nourishing the scalp. It is also a PABA (para-aminobenzoic acid) free product and the shampoo has a very mild medicated scent.
Pros:
Dermatologist recommened shampoo
It is sulfate free
Very powerful as it contains 2 percent pyrithione zine
No added perfume
Cons:
Will strip your hair color
Can leave your hair dry
Will cause hair loss in the long run
How to use: Shake well before using. Wet hair thoroughly; apply a liberal quantity of DHS Zinc Shampoo and massage into a lather. Allow lather to remain on the scalp for several minutes. Rinse thoroughly and repeat application.
PURA D'OR Scalp and Dandruff Premium Organic Argan Oil treatment Shampoo
This shampoo contains a number of natural substances to heal the scalp along with Pyrithione zinc, which is the active ingredient.
The shampoo has several essential oils such as Tea tree oil, Peppermint oil, Lemon oil, Cedarwood oil, Lavender oil, Clary Sage oil, Avocado oil and Patchouli oil.
These ingredients help in dealing with a lot of scalp pain because of their antibacterial, anti-fungal, anti-inflammatory nature.
The shampoo also has the goodness of aloe vera and grapefruit seed extracts. It is a sulphate-free, SLS-free and paraben-free shampoo that lathers well.
Pros:
Natural ingredients in the shampoo
Blend of essential oils for natural fragrance
No added perfumes
The shampoo doesn't contain sulfates or parabens
It helps deal with inflammatory scalp conditions
The shampoo has antibacterial properties
Cons:
Not very effective against severe dandruff cases
How to use: Apply to wet hair. Work into a rich lather. Massage and leave on the scalp for two minutes.
Head and Shoulders Green Apple 2-in-1 Anti-Dandruff Shampoo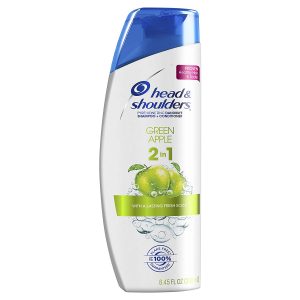 This is a paraben-free shampoo that is clinically proven to protect against oiliness, flakiness, itchiness and dryness on the scalp.
The Green Apple Shampoo promises to nourish your hair and scalp and protect it from heat, sweat and pollution. 
It contains 1% Pyrithione Zinc that promises to clear dandruff from your scalp and prevent it. It also leaves a soothing green apple scent that lingers in your hair.
The shampoo not just gives you a healthy scalp, but also leaves your hair looking shiny and vibrant.
Pros:
Very reasonably priced
Pleasant green apple fragrance
Cons:
The shampoo contains sodium laureth sulfate
It contains added perfume and artificial colorants
Can leave your hair dry and frizzy
How to use: Shake well before use. Wet hair and massage an adequate amount of shampoo onto the scalp. Repeat if necessary.
Biolage Scalpsync Anti-Dandruff Shampoo
This shampoo targets dandruff and controls the appearance of visible flakes that are common in dry and itchy scalps.
Its main ingredient is Pyrithione zinc but it also contains antibacterial properties derived from mint leaves that gives you relief from scalp irritation and dandruff.
It leaves your hair super soft and smooth. It also has a creamy formula and a mild scent that is very soothing. It is usually used by professionals in salons because it suits all types of hair.
Pros:
Leaves fresh, tingly sensation on your scalp

Pleasant natural fragrance

Contains coconut oil that moisturizes scalp
Cons:
The shampoo contains sodium laureth sulfate
It contains added perfume and artificial colorants
How to use: Apply onto wet scalp/hair and massage gently. Rinse thoroughly.
Ion 2-in-1 Anti-dandruff Shampoo and Conditioner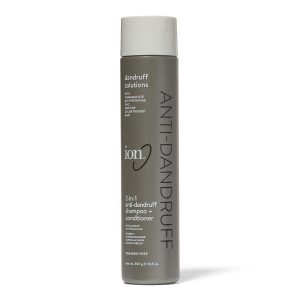 This  Pyrithione zinc shampoo is suitable for those with chemically treated or colored hair.
It is a shampoo plus conditioner in one bottle so you don't need to follow up with a separate conditioner after use.
It contains 1% Pyrithione zinc and Pomegranate extract and guarantees to cleanse your scalp while simultaneously conditioning it.
This is a 100% vegan and paraben free product that has a gentle cleansing formula suitable for daily use. It claims to relieve itching, flaking and irritation caused by dandruff.
How to use: Shake well. Wet hair and massage onto the scalp. Rinse. For best results, use at least twice a week or as directed by a doctor.
Selsun Blue Dandruff shampoo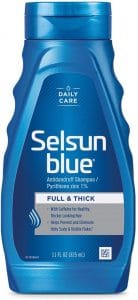 This shampoo lathers well while eliminating the visible flakes on the scalp. It also helps in soothing an itchy scalp. The main ingredients are Pyrithione zinc, Selenium sulphide and salicylic acid, which are excellent for eliminating dandruff.
It contains caffeine and hair proteins that claim to promote hair growth and give healthy, thicker-looking hair in one week. It has a gentle formula that is suitable for daily use and a mild soothing smell.
How to use: Wet hair. Apply an adequate amount onto the scalp and massage. Rinse.
What is the best Pyrithione Zinc shampoo?
Biolage Scalpsync anti-dandruff shampoo is the most effective shampoo for those suffering from an itchy scalp and flakes. This shampoo is chemical and paraben-free and is made up of soothing ingredients that will cleanse the surface of the skin. The price of the product is $19 which is cost-effective.
Even though it's not common, pyrithione zinc may be allergic to some people.
Rashes, hives, itching, blisters, peeling skin, swelling, fever, trouble breathing or swallowing may be some symptoms that you may face due to allergic reactions to pyrithione zinc.
It is important to identify and seek medical assistance if you notice any symptoms of allergy.
Also read
Best hair extensions for fine thin hair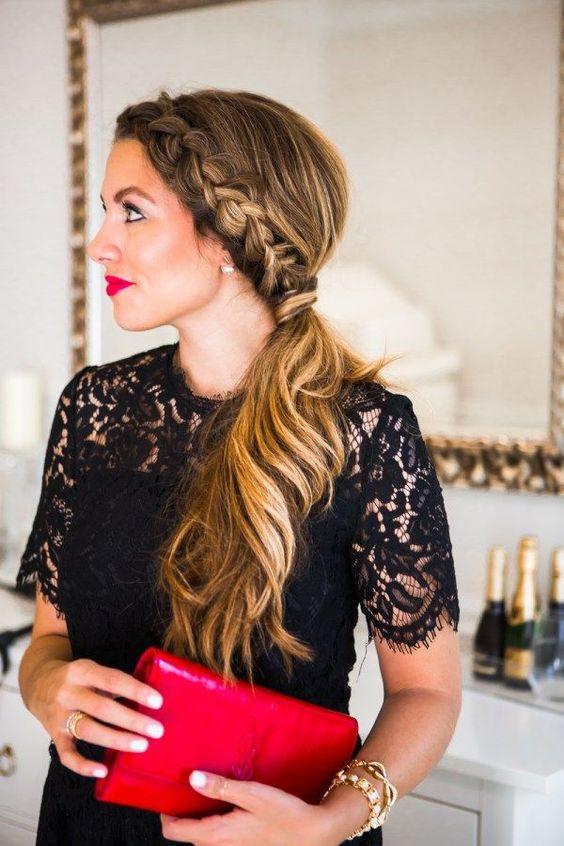 From hair care to soaring hair trends, we cover it all. We make sure you nurture your hair and stay on board with hairstyles and new hair trends. So hop on and make every day count with some of our creative and sassy hair trends.