Ketoconazole. Even the name sounds intimidating. But what exactly is this thing, and why is ketoconazole shampoo at thing? 
To put it simply, it's an antifungal and anti-inflammatory agent. So if you've got your personal snowfall in the form of dandruff flakes, this ingredient is no less than a blessing.
The same goes if you're suffering from seborrheic dermatitis, psoriasis, or any other scalp problems. 
Related: Top selenium sulfide shampoos
Related: Top zinc pyrithione shampoo
Ketoconazole is here to save the day! But it's not that easily available. Most of the over the counter products have a concentration of one percent or less.
And if you want something stronger, you'd probably have to ask your dermatologist for a prescription. 
| | | |
| --- | --- | --- |
| Top Ketoconazole Shampoos | Best For | Other Ingredients |
| Nizoral A-D Anti Dandruff Shampoo | Dandruff, Flaking | Citric Acid, Cocamide MEA, Polyquaternium-7 |
| Wick & Strom Hair Revitalizing Shampoo | Thinning Hair | Aloe Vera, Caffeine, Saw Palmetto, Mango Extract |
| Ultrax Labs Hair Surge Caffeine Shampoo | Sensitive Scalp | Caffeine, Saw Palmetto, Niacin, Peppermint Oil, and Mango Butter |
| L'emarie Intensive Hair Growth Shampoo | Dry Scalp | Moroccan Argan Oil, Biotin, Caffeine |
| Lipogaine Big 5 Hair Stimulating Shampoo | Oily Scalp | Tea Tree Oil, Argan Oil, Saw Palmett, Ylang Ylang Extract |
| Revita High Performance Stimulating Shampoo | Hair Growth | Emu Oil, Biotin, Caffeine, Amino Acids |
So if you're tired of dandruff, hair loss, and want a quick end to it, using a top ketoconazole shampoo is your best bet.
We've rounded up eight of the top ketoconazole shampoos in this list, so you don't have to break your head searching for them. Here they are!
Best Ketoconazole Shampoo 2021 
Nizoral Anti-Dandruff Shampoo
Nizoral is the top ketoconazole shampoo on our list. We love how effective the formula is in treating scalp conditions like flaking, itching, and redness.
This shampoo contains 1 percent ketoconazole, which is perhaps the largest concentration of the ingredient in any product on this list. 
We suggest using Nizoral two times a week. Now, the one teensy little issue with this product is that you might need another mild shampoo to use daily.
Apart from treating dandruff, Nizoral is also perfect for getting other scalp infections in control. It's also a fantastic product to use if you're suffering from male pattern baldness.
You can use this shampoo without a second thought on color-treated and permed hair. It's perfectly safe! 
If there's one more thing we liked apart from its cleansing power, it's the clean, fresh scent. If you're tired of finding your shoulders covered in flakes, we think you should get the Nizoral shampoo.
Wick & Strom Hair Revitalizing Shampoo
The one thing we admire about the Wick & Strom Hair Revitalizing shampoo is that its powers are not limited to dandruff and scalp treatment. It's a fantastic hair growth remedy!
You can find ingredients like caffeine and saw palmetto, along with the 0.01 percent ketoconazole formula. Caffeine is excellent for stimulating the hair follicles to grow, while saw palmetto is a natural DHT blocker that prevents hair loss.
Together, these ingredients form a powerful blend that removes all traces of dandruff flakes, exfoliates the scalp, and encourages hair growth. Then there are aloe leaf extracts that add moisture to your tresses and biotin that repairs damaged strands.
We adore the smell of this shampoo! Even the top ketoconazole shampoo sometimes has a medicinal scent. But not this one. The fruity mango fragrance will leave you refreshed.
Wick & Strom offers a 60-day money-back guarantee to its customers. If you don't see results within this time, you'll get a full refund.
A little heads up, this shampoo is more for those suffering from hair loss due to dandruff. It's not the best thing for infections like dermatitis.
Ultrax Labs Hair Surge Caffeine Hair Loss Hair Growth Stimulating Shampoo
The Ultrax Labs Hair Surge is another top ketoconazole shampoo for hair loss. It also comes with growth-boosting caffeine as its top ingredient. And there's also DHT-blocking saw palmetto. Blended together, they make this shampoo one of the greatest fighters against hair fall.  
But what about the ketoconazole? With a 0.2 percent concentration, the Ultrax Labs Hair Surge Caffeine shampoo is strong enough to work its magic on inflamed scalps and mild enough to be used every day.
This formulation leaves your scalp free of dandruff flakes and treats any fungal infection that's causing dermatitis. It leaves the way clear for thinning hair to grow and thrive.
We'll not lie. This product is definitely on the more expensive side. But as it lathers well, you'd need to take only a dime-sized amount every time you shampoo.
Also, we're fans of the way this Ultrax Labs product is vegan and cruelty-free.
L'emarie Intensive Hair Growth and Hair Loss Shampoo
If you prefer your shampoos natural and chemical-free, then you should try this one by L'emarie. Not only is it the top ketoconazole shampoo, but it's packed with the goodness of herbs too. There's the 1 percent ketoconazole. But along with it, the shampoo contains essential oils and DHT blockers that are like the fairy godmothers of thinning hair.
There's tea tree oil that soothes any inflammation or redness on the scalp, pea peptides that boost hair growth in follicles, and soapberry that gently clarifies your hair. The best part? This shampoo is pH balanced too. So if you have sensitive skin, it is just the thing for you. 
If conditions like eczema, psoriasis, and alopecia are troubling you, this shampoo gets them under control in no time. It doesn't contain any artificial fragrance that can irritate the scalp further.
The L'emarie Intensive Hair Growth shampoo is also cruelty-free and vegan. That's a win for you and the environment too!
Lipogaine Big 5 Hair Stimulating Shampoo
What's so special about the Lipogaine Big 5 Stimulating Shampoo? The secret's in the name! It contains a special blend of five powerful ingredients – ketoconazole (1%), saw palmetto, biotin, argan oil, and caffeine.
You already know how good ketoconazole is for treating fungal infections of the scalp that lead to dandruff and flaking. But what about the rest?
Well, saw palmetto is a DHT blocker that prevents hair loss. Biotin repairs damaged strands and plumps them up. There's argan oil to add softness and shine. And finally, caffeine that helps give your hair follicles a quick start. 
If you've got damaged hair due to hair treatments and heat, we suggest trying out Lipgoaine's Big 5 shampoo. 
There's another thing we loved about this shampoo – it suits just about every hair texture. So it doesn't matter if you've got a straight, fine mane or an Afro. Lipogaine will keep them from thinning and falling out.
Revita High Performance Stimulating Shampoo
Revita High Performance is among our top picks for hair loss. We just love how this is one of the few formulations that contain Procyanidin B-2 along with ketoconazole.
This ingredient is super effective in increasing the growth phase of the follicles, boosting new hair growth. 
The concentration of ketoconazole in this shampoo varies from country to country. But it's still mild enough to be used 2-3 times a week and powerful enough to remove any traces of fungal infections from the scalp.
And there's more! The Revita High Performance Stimulating Shampoo has got its fair share of nourishing ingredients, some of them quite exotic.
There's emu oil, biotin, caffeine, and multiple amino acids that contribute to thick, soft, and healthy-looking tresses.
Oh, this product is oxo-degradable, hypoallergenic, and cruelty-free as well! Talk about multitasking!
Regenepure NT Shampoo Nourishing Treatment
There's one special reason why we've included the Regenepure NT Shampoo in our list of top ketoconazole shampoos. It's completely safe for use on color-treated and permed hair.
No sulfates, parabens, or any other harsh or color-stripping ingredients here!
The formulation does contain one percent ketoconazole, which is more than effective in treating scalp conditions. But it doesn't stop there. It's packed with caffeine, biotin, niacin, and linoleic acid too.
Together, these ingredients remove all toxins from the scalp, promoting new hair growth. 
Of course, there are DHT blockers in the shampoo in the form of saw palmetto.
We like how it also contains panthenol. So if your scalp gets irritated from all that itching and infection, panthenol soothes it instantly. 
Nourish Beaute Vitamins Shampoo
Another amazing product for hair loss due to scalp conditions is the Nourish Beaute Vitamins Shampoo. Not only does this shampoo contain a mild concentration of ketoconazole, but it's also packed with ProcapilTM and BaicapilTM. These patented formulations help boost hair growth by improving blood circulation to the scalp. 
Then there's the DHT blockers that prevent hair loss, keratin that repairs strands, and biotin that leaves them soft and plump. Also, the antioxidant and the vitamin-rich formula helps clear any fungal infections from the scalp.
What impressed us most about the Nourish Beaute Vitamins shampoo is its gentle formulation. There are no parabens, dairy products, hormones, or harmful drugs in the shampoo. Plus, it's completely cruelty-free.
Nourish Beaute even guarantees results in 60-90 days. Not satisfied? They offer a refund!
Call it a first-world problem if you will, but nothing is more disappointing than problems, like dandruff and hair loss. I mean, who doesn't want those lush, flowing locks? But is ketoconazole really the solution to your hair woes? We've tried to answer a few of your questions here. Take a look!
How to use a ketoconazole shampoo?
Most of the shampoos available over the counter have a ketoconazole concentration of 1 percent or less. These can be used just like regular shampoos or shampoo bars.
No changes there! But the prescription shampoos that come with 2 percent or more ketoconazole need to be left on the hair for a few minutes before you wash it off.
It helps the formula penetrate the scalp, healing the skin and reducing symptoms of psoriasis, dermatitis, and other such conditions. 
Fair warning, make sure you don't have any cuts or nicks on your scalp while using ketoconazole shampoos with high concentrations.
How often should I use a ketoconazole shampoo?
Well, this depends on two things. For one, the concentration of ketoconazole in the shampoos. And two, the rest of the ingredients in them.
If the shampoo has a ketoconazole concentration of 2 percent or more, then it's best to use it only 2-3 times a week. Or even reduce the application to 3-4 times a month. 
If the shampoos have a lower concentration of ketoconazole, it is okay to use it daily. But there's one catch. Check what other ingredients it contains.
The presence of sulfates or other harsh surfactants makes it unsuitable for everyday use. 
Can I use a ketoconazole shampoo for psoriasis?
Yes! Ketoconazole is a dermatologist-approved solution for inflammatory scalp conditions like psoriasis, dermatitis, eczema, and more.
The strength of the shampoo depends on how severe your symptoms are. Usually, you would need a prescription to get the stronger ketoconazole shampoos. 
Are there any side effects of using ketoconazole?
The shampoos on this list are the over the counter formulas that contain less than one percent of ketoconazole. So you can breathe easy about any side effects from them.
But if you're using a prescription shampoo with higher ketoconazole levels, watch out for these issues. 
Large doses of ketoconazole can result in dry skin. We suggest you use a nourishing oil or hair mask after shampooing your hair.
It can lead to the thinning of hair and even hair loss if used frequently and in large quantities.
If the ketoconazole shampoo goes in your eyes while washing, it can lead to itching and redness.
Heavy ketoconazole formulas can lead to redness of the scalp.
Is it okay to use ketoconazole shampoo on kids?
While ketoconazole is a great antifungal remedy for adults, it might be too harsh on the sensitive scalps of children.
If your kid needs something for their dandruff or psoriasis, we suggest trying natural remedies like tea tree, bergamot, or eucalyptus essential oil.
You can even try milder anti-inflammatory shampoos that contain salicylic acid as the top ingredient. 
While ketoconazole is one of the best ingredients for dandruff and other inflammatory scalp conditions, its effects vary from individual to individual.
So don't get disheartened if you can't see immediate results. We suggest using these shampoos for at least 8-12 weeks before making a decision.
You can also go for products with higher ketoconazole concentration if the OTC shampoos aren't doing much for your hair. 
Also read
Best shampoo and conditioner for type 3c hair
Coolest bob hairstyles with weaves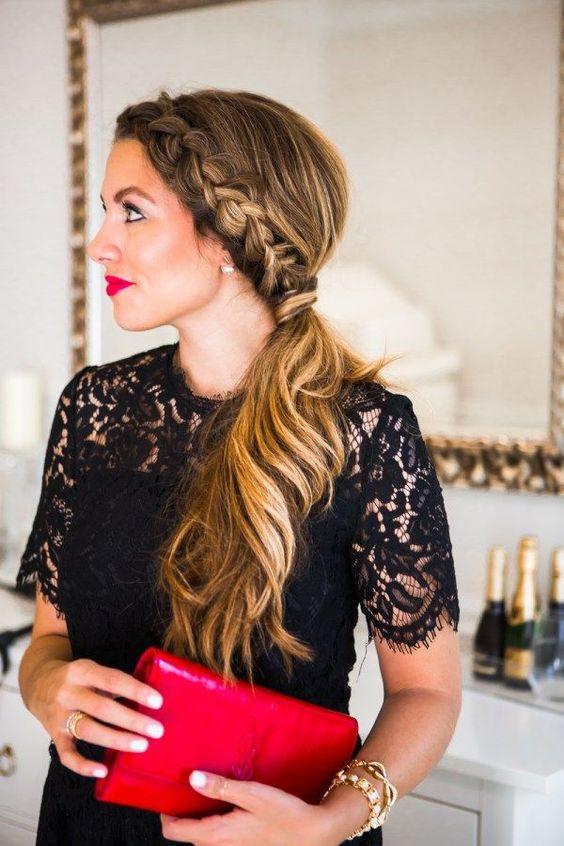 From hair care to soaring hair trends, we cover it all. We make sure you nurture your hair and stay on board with hairstyles and new hair trends. So hop on and make every day count with some of our creative and sassy hair trends.