When you're plopping your hair, it's better to use microfiber towels for curly hair instead of drying damp curls with an old t-shirt.
You spend a lot of time and energy taking care of your hair in the shower and nourishing it with the best shampoos and hair masks. But does your hair still look unruly and frizzy?
Do you know that you are skipping a very crucial part of hair care when you use a regular towel to pat dry your hair? People tend to give the least importance to the towel drying part when it comes to hair care. 
Related: Best Detangling Brush For Curly Hair
When you dry your hair with any fabric, it creates a lot of friction between your hair and the cloth. This can not only damage your hair and cause breakage, but it can even absorb the natural oils from your hair.
Regular towels damage the cuticle layer of your hair and make it rough and brittle. It is important to know more about the fabric of your towel before using it on your hair.
So what exactly is the best cloth for pat drying your hair? Follow this article to learn more about some of the best materials for drying your hair without any damage.
What is a microfibre towel?
A microfibre towel is made up of fabrics like polyester, polyamide, nylon, or a combination of these materials. They are composed of tiny fibers of these materials that enable them to absorb more water faster than your regular towel.
This is a super-soft synthetic fabric that is extremely gentle on your hair and does not cause friction. You also do not have to squeeze or tousle your hair to remove the excess moisture from it since it quickly absorbs water.
It is also extremely good to dry your hair using a microfibre towel because it reduces the chance of developing frizz, split ends, and hair breakage. However, there are different microfibre towels available in the market.
If you are confused about selecting the right microfibre towel for your hair, check out the list below. 
How I tested the top microfiber towels for curly hair?
I used these microfiber towels on my own hair and tested them based on the following parameters. After which I rated them on a scale of 1-5.
Absorbency – Firstly, I checked how well the towel absorbs water
Size – The towel should work for all hair lengths. So I checked if the size is versatile enough.
Frizz-Control – Also, the texture and material of the cloth will determine how good it is at controlling the frizz. I checked for that as well. 
Top Microfiber Towels For Curly Hair
Turbie twist microfiber hair towel wrap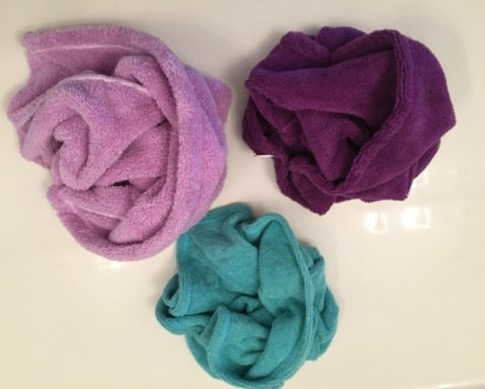 I tried this Turbie Twist towel first, and it was simply perfect. The best part about this microfiber wrap towel is the elastic loop design that made sure that the wrap was sturdy on my head.
I love how this wrap completely gathers your hair and absorbs moisture from it quickly.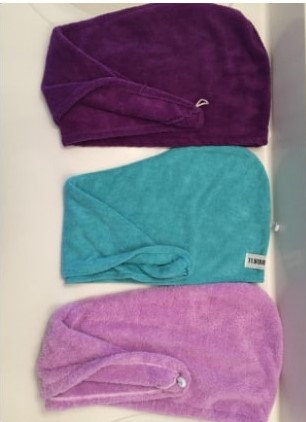 The fabric is composed of 87% Polyester and 13% Polyamide, so it has great absorbency.
I also use this turban to gently scrunch my curls and it actually does a pretty good job.
I usually find it difficult to put on these towels for even a few minutes because the weight of them tends to strain my neck.
So I love how lightweight it is because oftentimes, these towels tend to get heavy after they absorb the moisture from the hair.
Pros:
Budget-friendly
Lightweight
Convenient fastening
Suitable for all sizes
Super absorbent
Doesn't fall off easily
Great for the beach or pool
Cons:
Might leave small bits of hair outside the turban
My Ratings:
Absorbency – 4.5/5
Size – 4/5
Frizz-Control – 4/5
Devacurl Anti frizz microfibre towel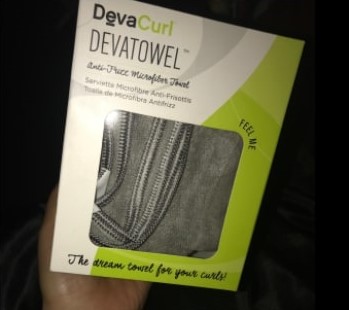 If plopping is an inevitable part of your curly hair routine, you should definitely invest in this towel.
I was struggling with frizzy curls so I wanted something that would bring it down.
This microfibre towel has drastically reduced the frizz in my hair. However, I had to leave it on for a long time to remove moisture from my hair.
Another drawback is that this towel had a very fragile loop that broke within an instant. For the price you pay, Devacurl should definitely give you better quality stuff.
This length of the towel is also not adequate and it definitely did not fit in my long hair. It was a total struggle to make sure that it covered the hair at the nape of my neck.
Pros:
Lightweight
Reduces frizz
Keeps curls defined
Reduces static
Soft and fluffy
Cons:
Not suitable for long hair
Fragile loop
Long drying time
My Ratings:
Absorbency – 3/5
Size – 3/5
Frizz-Control – 5/5
Evolve Frizz-free hair drying tee
Look I know it feels weird to buy a t-shirt just to dry your hair. But hear me out!
Sometimes it can be inconvenient to use a regular cotton T-shirt to dry your hair because it doesn't stay or tuck in properly on your head.
But you can easily buy T-shirts that are specifically designed to remove the excess moisture from your hair.
This t-shirt comes with a convenient button that makes sure that it stays intact on your head,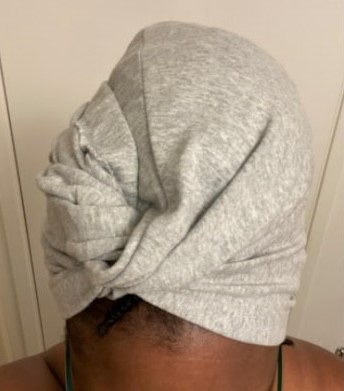 This is another great hair product for drying and plopping your curls. In fact, it plops my hair better than a regular t-shirt.
It really helps in defining my curls and makes them look voluminous. It is very easy to use but I have to leave it on for at least 20 minutes to get the water off my hair.
Pros:
Can be twisted up or down
Does not strip the natural oils from your hair
Can be used for conditioning treatments
Suitable for all hair types
One size fits all
lightweight
Cons:
My Ratings:
Absorbency – 4.5/5
Size – 5/5
Coco and Eve microfibre hair towel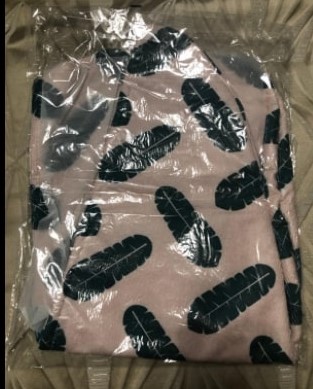 Okay, so I confess I only got this towel because of the brand name. I love using Coco and Eve's hair mask and I thought, "why not buy their towel and see how it goes!"
The verdict? I had mixed feelings about this one. I like how this microfibre has really cute leaf prints.
I mostly use it when I am applying hair masks for hair treatments on my hair. It protects the sheets from these hair products when I leave them overnight.
And this microfiber stays super intact on my head because it comes with a button and an elastic loop. So it is perfect to wear when you sleep.
However, this is a product that is not suitable for long hair because it will not cover it fully. In fact, it just reminds you of why you should use a towel instead of a tee in the first place.
Pros:
Reduces drying times
Reduces frizz
Suitable for all hair types
Soft material
Suitable for use with hair treatments
Lightweight
vegan
Cons:
Not suitable for long hair
Expensive
My Ratings:
Absorbency – 4/5
Size – 3.5/5
Frizz-Control – 4/5
Popchose microfibre hair towel wrap
Did you know that microfibre hair towel wraps should be cleaned on a regular basis since you use them on your hair regularly. They can also come in handy when you are traveling. So it is always good to invest in more than one microfibre towel.
So I got this value set from Popchose as I think it a practical choice. You get three microfiber wraps for a reasonable price.
These ultra-soft breathable towels fel amazingly soft on my curly hair and they absorb water quickly too.
You can save a lot of time after using this towel because it literally cuts your drying time in half. These work really well on my thick curly hair and can be easily washed in the washing machine.
Also I liked this brand as these are the longest microfibre towels that you can find in the market and they also reduce frizz drastically.
For girls with long hair like mine, these towels are everything!
Pros:
Wide elastic band
Value for money
Super soft
26 inches long
Quick-drying
Reduces drying time
Durable
Cons:
My Ratings:
Absorbency – 4.5/5
Size – 4/5
Frizz-Control – 4/5
How to dry your curly hair with a t-shirt or microfiber towel?
If you don't wanna invest in a microfibre towel, you have a simple solution right at your home. A cotton t-shirt is a great choice for pat drying your curly hair without disturbing it.
Since wet hair tends to be weak and soft, it is important to use gentle fabrics to absorb the excess water. A cotton t-shirt is a great option to absorb water from your hair without making it frizzy.
Make sure that your t-shirt does not have any embellishments or screen printing on it which may pull or tug on the hair. If you are planning to dry your hair using a t-shirt, follow these steps:
After getting out of the shower, gently squeeze the excess water from your hair.
Use an old cotton tee and wrap it around your head. 
Squeeze it onto your wet hair to remove water. Make sure that you are gentle with your hair while doing this. 
Flip your hair upside down by moving your neck into an inverted position. 
Stretch out the opening of your t-shirt and fix it around your hairline. 
Make sure that all of your hair remains under the t-shirt before tucking it in at the nape of your neck. 
This will absorb all the excess moisture from your hair without causing any force or friction. You can leave it on for about 10 to 15 minutes and then start styling your hair. 
You can even apply hair products like leave-in creams, leave-in conditioners, oils etc on your hair before wrapping the towel. This will ensure better absorption of the products on your hair. 
You should make sure to get the best one for your hair because you shouldn't compromise on the quality of the towel.
The best quality micro towels give a good grip over your hair and not only absorb water, but also dirt and other particles.
Microfibre towels are also sold in the form of wraps and scarves which are really convenient to use on the hair. You will find microfiber towels in various thicknesses and textures that are meant for different hair types.
There are so many microfibre towels available in the market that are suitable for coily, texture, and curly hair.
Also Read:
Best hair serum for curly hair
Best hair hairsprays for curly hair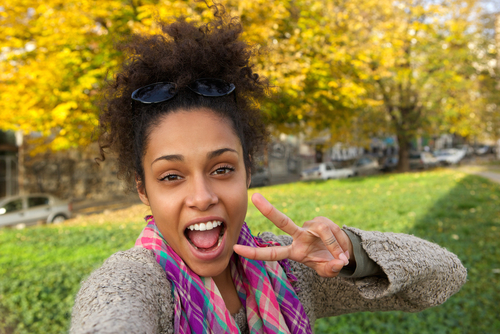 Helen is committed to bringing you the latest popular hairstyles, hair care tips, and hair-related products. You can check more of her work on besthairlooks to find fashion inspiration, product reviews, tutorials and more!