Laser hair removal for dark skin is no joke. Until very recently most lasers did not take melanin into account. And only folks with light skin and dark hair would get a laser treatment done.
But now this has changed. Before, most salons used a diode laser to beam high intensity of light into hair follicles, damaging them to prevent hair growth.
This laser beam is not very sophisticated and often wouldn't recognise the difference between dark hair and dark skin.
However, a new type of laser called Nd:YAG is now used which penetrates deeper into the skin, past the melanin.
This is much safer and a better option for laser hair removal for dark skin. 
Preparing Laser Hair Removal for Dark Skin
Prepping For Laser Hair Removal For Dark Skin
If you're planning to get a laser hair removal for dark skin, here are some things to keep in mind.
Go to a renowned, licensed salon:
This is not the time to bring out your discount coupons or worry about the budget. Select the best rated salon and make sure you go to a licensed cosmetologist.
Talk to other patients there and read up on reviews online. Vet the place thoroughly. Make sure they have experience in dealing with darker skin tones.
Protect your dark skin self from the sunlight:
It's time to role play a vampire and keep away from the sun. Any form of sun damage can make your skin vulnerable to laser light. 
And even on darker skin tones, tanning can increase the intensity of laser light on your skin.
Use a SPF of 30 and above. I also suggest longer sleeves and umbrellas till your laser treatment is done. 
Pamper your dark skin:
Some skincare products contain ingredients that can leave skin vulnerable. These are mostly found in anti-acne or anti-aging products.
Salicylic acid (BHA), glycolic acid (AHA), benzoyl peroxide, retinol, vitamin C, etc. are all fantastic for various skin issues. But not before getting your facial hair lasered. They make your skin photosensitive.
Stop using products with these ingredients at least a week before each laser hair removal session.
Don't get fooled by the fitzpatrick scale:
The fitzpatrick scale was developed in 1975 and classifies human skin tones into 7 categories depending on the melanin in their skin. This scale predicts how your skin will react to UV light.
Even if you're light-skinned for a person of color, your skin might be very sensitive to a laser. So even if the Fitzpatrick scale puts you at a 3 or 4, your skin might react as 6 would. 
Never forget to do a patch test for your dark skin:
The best thing you can do when getting laser hair removal for dark skin is to get a patch test first.
This will see if the laser intensity is right for your skin and if the Fitzpatrick score is right.
Select an inconspicuous area and get the patch test at least 48 hours before the laser session. You can choose not to continue if you see any redness or sensitivity.
Post Laser Maintenance And Care
After you've come back from your laser session, pamper your skin as much as possible.
Stay away from the sun and refrain from using any harsh skincare or makeup products.
You might see minimal side effects like redness, a slight burning, etc. So I suggest keeping the aloe vera handy. 
Cold compresses, vitamin E, vitamin K, and topical steroids like hydrocortisone also helps soothe irritated skin.
It's also best to keep out of the sun as much as possible during the entire duration of your laser treatments.
Bleaching skin, plucking hair, waxing, swimming in chlorinated pools are also some activities you need to avoid.  
Risks Of Laser Hair Removal For Dark Skin
Laser hair removal works on the principle of targeting darker colored hair in a light-colored background.
So it's very difficult to get it right with people of color with darker skin.
The laser can mistake skin for hair strands and focus the entire light on a large patch of skin instead of just hair follicles.
This can cause burning or discoloration. So it's important to go to a good salon that specializes in laser hair removal for dark skin. 
Best At-Home Laser Hair Removal For Dark Skin
If you don't want to risk going to the salon and dealing with those powerful medical-grade lasers, you can try at home laser hair removal for dark skin.
These devices work with intense pulsed light as opposed to heat lasers and are generally considered safe for skin.
Silk'n Infinity Laser Hair Removal System
Like most at-home laser hair removal devices, the Silk'n Infinity Laser also uses IPL or Intense Pulsed Light technology.
So instead of a concentrated beam of light, which can be too powerful for darker skin tones, it uses a broad spectrum of light that is not as severe.
Most at-home hair removal lasers give you only 20K-30K pulses of light after which the cartridge needs to be replaced.
But not the Silk'n Infinity Pro, you can use it technically forever, as it provides unlimited flashes.
I liked how the device lets you control the intensity of light as well. So if you feel it becoming too much for your darker skin, you should be able to reduce the settings.
The laser works, but it takes time. So I really suggest waiting it out for a few months before you pass a judgement.
For a complete hair reduction on dark skin, you might have to use this device regularly for 18-24 months.
Pros:
Less expensive than Philips and mē Smooth
Infinite number of flashes
Intensity control switch
Cons:
Takes a long time to work
Not for very dark skin and hair
Philips Lumea Hair Remover
A lot of lasers don't work if you have very dark or very light skin. And even if they do, it becomes a problem with unevenly pigmented skin.
These devices can work on areas which are lighter and not work so well on darker areas like underarms, etc. So I tried out this Philips Lumea laser that comes with a skin tone sensor.
Unlike other IPL devices, this product changes the intensity of pulsed light according to your skin tone.
This Philips laser is also dermatologically tested and can reduce hair size upto ½-1 inch in just 4-8 weeks of use.
The only issue I had with this product is its size. Yes, it's a powerful laser, but its a corded one not a battery-operated one.
So you can't travel with it, not unless you need to free up a lot of luggage space. And it's not very comfortable to use on smaller areas like your upper lips or chin.
I wouldn't recommend it for your face.
The intensity of pulsed light here is very powerful. So I would recommend wearing sunglasses while using this laser.
Pros:
Powerful
Shows results quickly
Good for unevenly pigmented skin
Cons:
Bulky
Corded and not travel-friendly
Not for facial hair removal
MyM Hair Removal Device
If you don't want to blow hundreds of dollars of laser hair removal for dark skin, this MyM device is a good choice.
It's very affordable, and claims to work on all skin tones from light to olive to brown and darker ones.
Unlike the Silk'n Infinity, this device gives you about 300,000 pulses, which is fair considering the price tag at which it's available.
The device also claims to reduce 94 percent of hair in just 7-8 weeks of use. However I didn't find it to be as efficient.
It certainly takes a little more time than that to see positive results. And even then, the hair reduction is certainly not 94 percent, especially on darker skin.
But still if you want to remove hair on smaller areas like chin, underarm or forehead and don't want to spend a lot, the MyM device is not bad.
I just wouldn't recommend it for folks with a lot of body hair, especially if it's very dark or coarse.
Pros:
Cons:
Not powerful enough
Takes time to show results
Limited number of pulses
mē Smooth Permanent Hair Reduction Device
The reason I tried out the mē Smooth hair removal laser for dark skin is because it's FDA approved and clinically proven. So I wanted to see if the device actually worked.
And yes, it shows fairly consistent results even on dark skin.
The big difference between this product and others on this list is the use of elos technology.
Here, bi-polar radio frequency (RF) is used along with intense pulsed light to make hair removal more effective.
This is a corded device so not very travel-friendly but it comes with a charging station where you can control the intensity of light. So that's easy to use.
Unlike the Silk'n laser, this gives only 200,000 pulses of light. The control panel shows you when the cartridge is at half-capacity and when it needs to be changed.
I liked how powerful this device is but at the same time, it was disappointing to see a laser provide only 200,000 pulses when the MyM device gives you 300,000 at less than half the price.
Pros:
FDA approved
Powerful
Uses elos technology
Cons:
Not travel friendly
Limited number of pulses
Conclusion
Laser hair removal for dark skin can be tricky. But it's still a good option for those who are tired of the daily shaving or painful waxing sessions.
You can go for a salon laser treatment in a high-end place but these treatments cost you upward of $300 per session.
If this isn't in your budget, you can even opt for at home laser hair removal devices that are a one-time investment.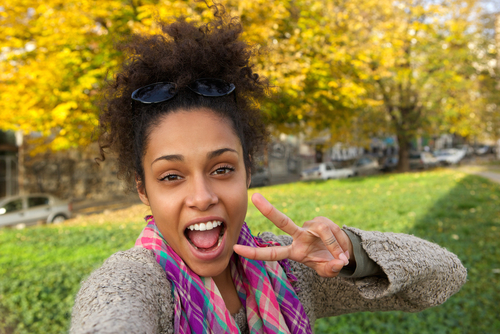 Helen is committed to bringing you the latest popular hairstyles, hair care tips, and hair-related products. You can check more of her work on besthairlooks to find fashion inspiration, product reviews, tutorials and more!
Silk'n Infinity Laser Hair Removal
The best laser hair removal for dark skin should be safe on skin. The Silk'n Infinity Laser Hair Removal is FDA approved and effective.
Product Brand: Silk'n
Product Currency: USD
Product Price: $399
Price Valid Until: 2022-05-12
Product In-Stock: InStock