Every once in awhile it's good to change your look. Look different and feel different go hand in hand. But what if you can't experiment too much with your hairstyle because of work requirements or that you're scared that the hairstyle won't suit you? The answer is wigs!

So what are the best human hair wigs online? Let's find out!

Before you embark on your physical makeover journey, there are a few things you need to understand about wigs. There are human hair wigs and there are synthetic hair wigs too.

There are pros and cons for each, but most people prefer human hair because it can be styled better, it has a good shine, it lasts for a long time, they look supernatural, they can be coloured, styled, permed among other things.

When it comes to synthetic hair, they cannot be coloured, they cannot be styled or permed and you can run a hot iron on them as the synthetic material will melt away.
What are the most natural-looking wigs online?

It comes as no surprise that buying a wig can be tricky. And even more when you're buying it online!
While the purpose of the wig is to replace your original hair, sometimes hair wigs can tend to look very artificial. Most times we wear a wig hoping it looks as natural as possible. But fret not, there are ways you can choose natural-looking wigs.

Considering your face shape and matching the hair wig to that is the most important part of choosing a hair wig. When the two are disproportionate it looks artificial and just doesn't look like a part of your face.

Pro tip
Stand in front of the mirror with your hair behind and compare the jawline to the hair wig. This way you will know if the hair wig is best suited for you.

Here are some of the best wigs for each face shape
| | |
| --- | --- |
| Face shape | Hair wigs |
| Oval face shape | Long straight / curly hair wigs |
| Round face shape | Long and layered hair wigs |
| Diamond face shape | Shoulder length hair wigs |
| Heart-shaped face | Long hair wigs |
| Pear-shaped face | Short and cropped hair wigs |
The size of your hair wig should complement your face shape and not look too artificial. Make sure you try on a bunch of the hair wigs before you settle on the one.
Hair wig buyers measure the distance from their hairline to the nape of the neck. This determines what kind of wig is best suited for each face type.

Choosing natural looking human hair wigs
The last one is probably the most important as it serves the purpose of using a hair wig. Make sure the hair wig you narrow down to is natural-looking and fits your body shape. The texture of the hair is something to look out for too. Besides the fact that some can be harmful, some may be textured too rough and not – hair – like!

What is Remy hair?
Remy's hair is considered the highest quality of human hair wigs. The best feature of the Remy's hair is that the strands are kept in one place and flow along the same direction which makes it look supernatural. Synthetic hair is usually heavier giving it a very artificial feel for the user.
The best part of choosing Remy hair is that it blends well with your own hair and is the best available among the rest of the human hair wigs. Another relief is that there are no tangles and can be easily maintained,
Although Remy hair can be expensive, it is worth the buy as it is highly durable.
Real Human Hair wig Vs Synthetic hair

As mentioned before it can be extremely tricky to settle for an appropriate hair wig. You never always know if the hair you're buying suits you.
The most important distinction you should be able to make while buying wigs is if the hair wig is made up of real human hair or if it's a synthetic hair wig. Let us break this down for you real quick.
| | |
| --- | --- |
| Real Human Hair Wig | Synthetic Hair Wig |
| Looks and feels natural. | Has a rough texture. |
| Expensive | Affordable |
| Lasts between 1 to 3 years | Lasts between 3 to 6 months. |
| Can be styled easily. | Since the texture is hard, styling is limited. |
| Mild chemicals have to be used. | Can withstand string chemicals although it does affect the texture a bit. |
Styles wearing human hair wigs FROM ALIEXPRESS
Source: bestaliproducts hair review
#1 – Blonde Brazilian Straight Human Hair wig
One of the most popular hair wigs online is the Blond Brazilian straight bob. It is characterized by a side partition and there is a distinct side bob that looks super awesome. It comes in varying lengths.
From 6-inches, all the way to 16-inches. You can also choose the density of your hair which comes in 150% and 180%. For grip, it has four combs and has an elastic breathable net. This is super comfortable and one of the top styles for wigs in 2021.
#2 – Short Bob Lace human hair wig
The Short Bob Lace is a truly versatile hair wig piece. It has a natural colour of black and comes in various densities – 150% and 180%. It also comes in three different lengths, that are 8-inches, 10-inches and 12-inches respectively. It has bleached knots that give your wig a natural look.
It can be styled in various ways such as a top knot, side ponytail, middle partition and a Chinese knot. It has more than 478 positive reviews with more than 1300 happy customers. If you are looking for a natural, everyday wear wig, then this is perfect!
#3 – Short Bob Lace human hair wigs
From the brand MS Lula comes the lace front human hair bob wig. It comes in blonde, natural black and burgundy.
It also comes in numerous lengths that are 8-inches, 10-inches, 14-inches and 16-inches. It comes in varying density such as 130 and 150.
It has 4 combs for a perfect fit and an adjustable cap for absolute comfort. More than 3,600+ people have purchased this wig and have given it a rating of 4.8.
#4 – Straight Black Lace human hair wigs
Always wanted straight, long, jet-black hair? This is your shot! This beautiful pre-plucked Remy Brazilian straight lace frontal wig comes in numerous lengths.
It starts with 10-inches and goes all the way to 24-inches. It's available in only one natural colour that is black.
It has a density of 250% which gives is a lush richness. It can last easily for more than a year because it's high quality real human hair. If you are going for a natural straight hair look, this should be in your cart today!
#5 – Peruvian Black human hair wigs
Peruvian women have some of the finest tresses in the world. When there is an opportunity for getting beautiful black, straight Peruvian hair, you shouldn't miss it.
With more than 2500+ orders, this lace front has been flying off the shelves. It starts at 8-inches and it reaches all the way to 24-inches. It comes in a natural colour. You can style it, bleach it and it will still remain luscious!
#6 – Brazilian Remy human hair wigs
There are a lot of people who want naturally styled and bleached hair and if you don't want to put any effort into that, you can go for this beautiful Brazilian Remy, deep part lace.
It starts at 6-inches and goes all the way to 24-inches. It has 3 densities that are 130, 150 and 180 respectively. It comes with waves and has a naturally beautiful brown shade that is added to the hair, that gives it an automatic element of style!
#7 – Curly Lace human hair wigs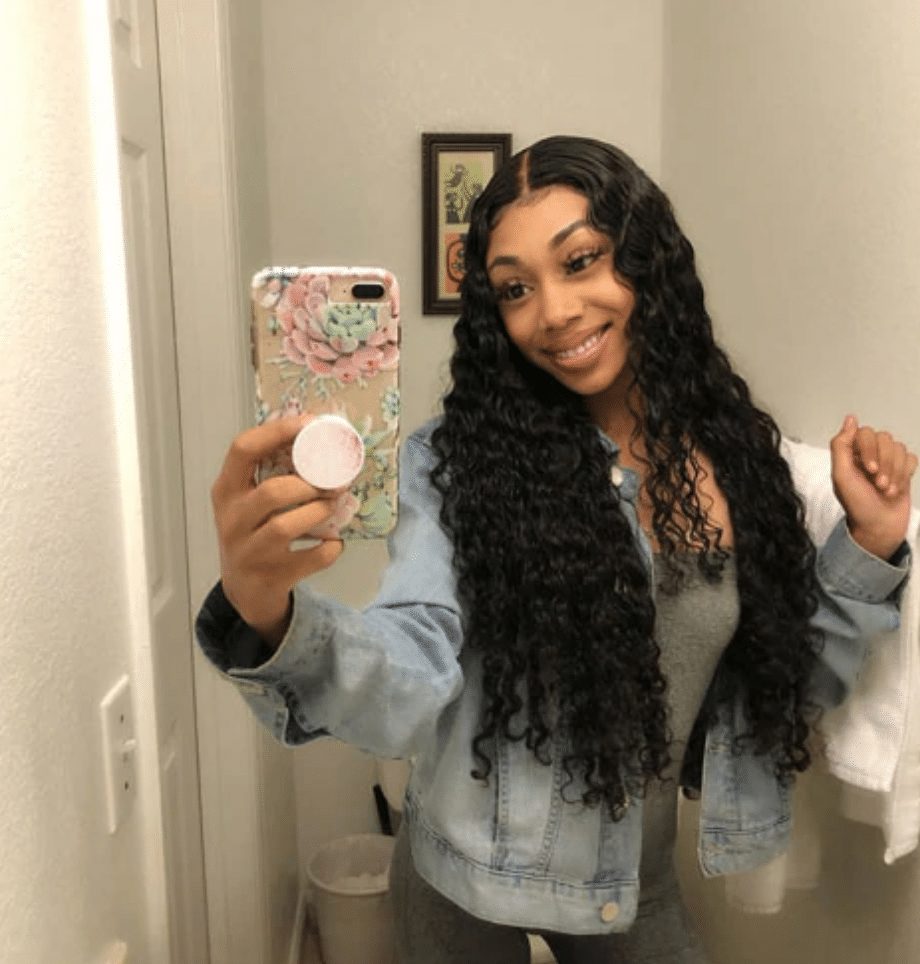 Love the twirls and curls? Then you'll love this one!
This piece is a 100% human hair with a medium brown lace finish that can be permed, restyled and bleached.
It has some natural curls which are beautiful looking and starts with 8-inches in length and goes all the way to 22-inches. You can choose among densities, some reaching up to 250%. It has a rating of 4.9 and it's in style!
#8 – Cornrows Long human hair wigs
Most people love cornrows, But it can also damage your hair considerably and it's difficult to maintain and difficult to keep clean.
So what's your alternative? It is to get a cornrow hairstyle wig! This full lace wig that is natural and strong can be styled into cornrows if you so wish. It's Peruvian hair that comes in numerous lengths. You can dye it in any colour you want.
#9 – Curly Wigs Short human Hair wig
One of the most popular styles for women has been short hair curls. It's difficult to maintain but looks great.
This is a no shedding wig that looks beautiful and supernatural. It has a natural brownish-red tinge to it which adds a dimension to the look.
#10 – Long Curly Human hair Wigs
One of the most popular wigs not only on Aliexpress, but online is the Mongolian kinky curly. If you are looking for beautiful, luscious, kinky curly, long hair, then this is the wig you need to go for.
It's long, beautiful and utterly stylish. It has a pre-plucked hairline and comes in numerous lengths and densities. This hair can be coloured, dyed and re-styled without any hassles. If the hair is maintained well, it can easily last for 15+ months.
#11 – Brazilian Bob Human Hair wigs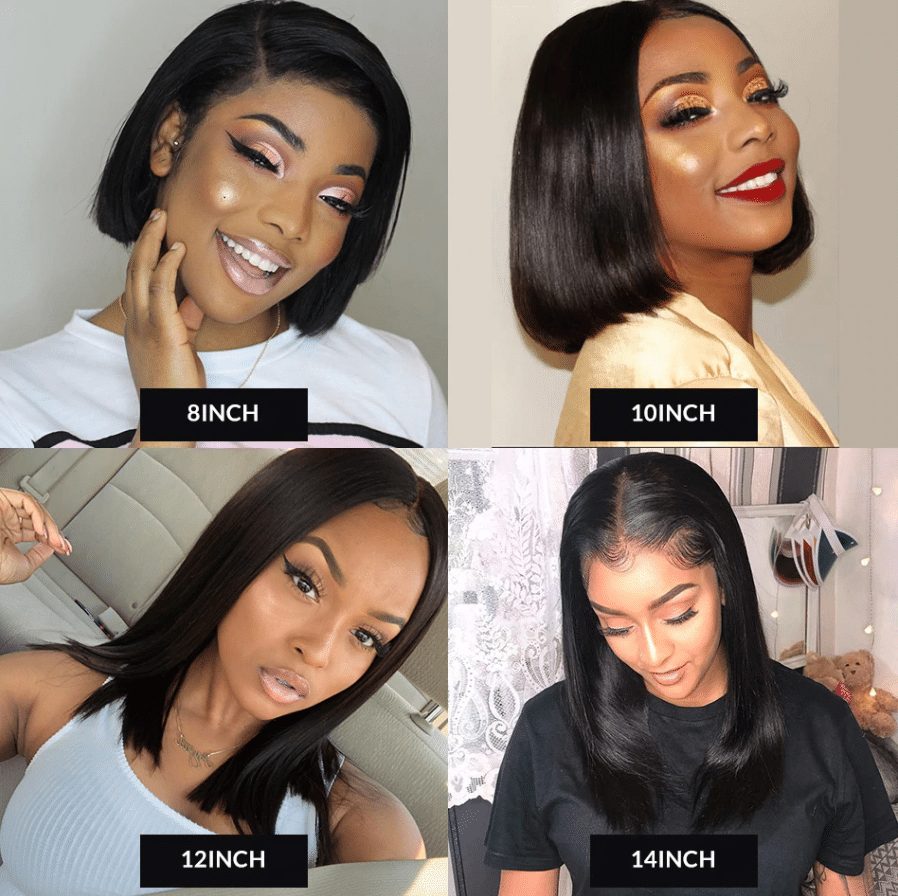 If you want a very smart everyday wig that could be worn to an office or will suit well on a night out.
#12 – Wig Braided Glueless human hair wigs
I love braided hair. It's super stylish and very underused. But you need super long hair to pull off awesome long braids.
That's where a wig comes in. The braided wig reaches up to a length of 26-inches. It can be straightened, it can be coloured and a lot more.
#13 – Ocean Wave Short human hair wig
One of the most classic old school hairstyles is the ocean wave short hair. It's a beautiful hair wig that flows seamlessly and gives you a modern yet classic look.
The wig is made up of real short hair. It can be dyed, bleached to any colour of your choice without any hassles. You can also use a flat iron if you so wish, and the temperature should be around 320 to 360 Fahrenheit. If you love the classic look, then don't miss the ocean short wave.
# 14 – Doll Face Bob human hair Wig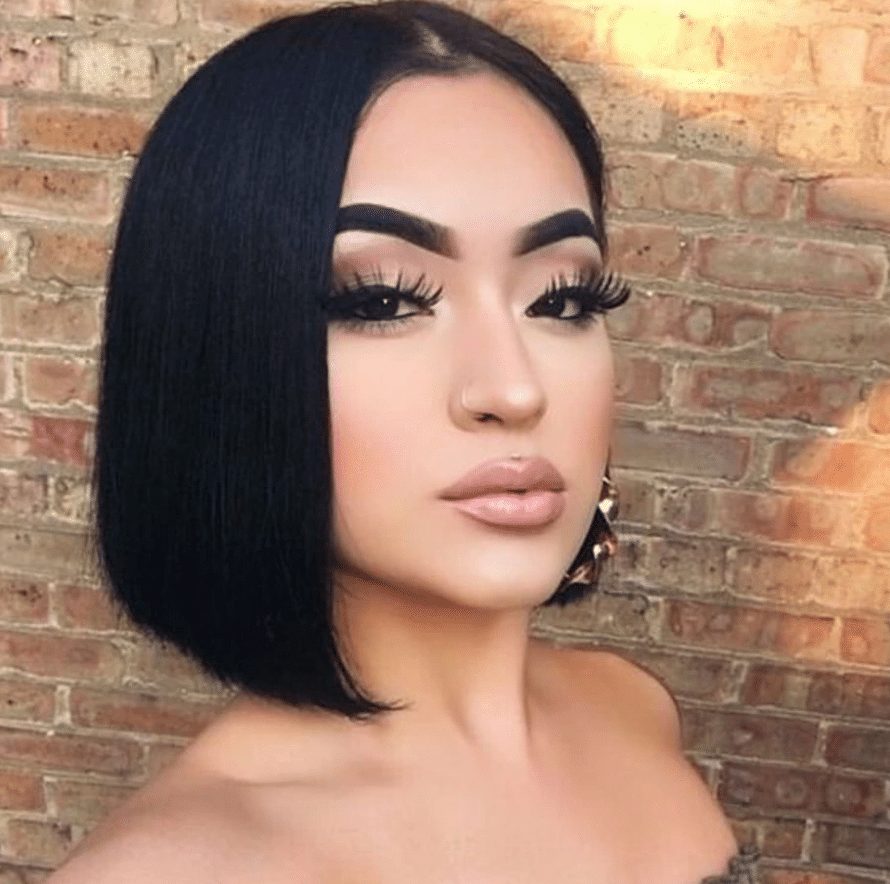 If you love super short hair, then you will love the doll face bob. This is a super sleek, stylish and sexy hairstyle that you can wear with style and aplomb. It has more than 1000 happy customers and it's pretty easy to install.
#15 – Natural Ombre Brazilian human hair wig
The natural ombre Brazilian hairstyles come in various colours. If you are looking for a super special coloured hairstyle with a wig, then try this best seller!
# 16 – Bangs with Lace human hair wig
Bangs are one of the sexiest hairstyles going around. But if you overdo them, they can damage your hair. Get this long hair with bangs wig that will blow your mind away and make you look like a million dollars.
#17 – 150% Blonde human hair wig
The 150% blonde is a pure blonde hair that also can be dyed in numerous other colours with ease. If you are looking for natural-looking blonde hair, then this should be your pick.
# 18 – Side Part Brown human Hair wig
The side-part brown hair is a super stylish look. But what about a side part with a brown ombre finish that gives it more finesse?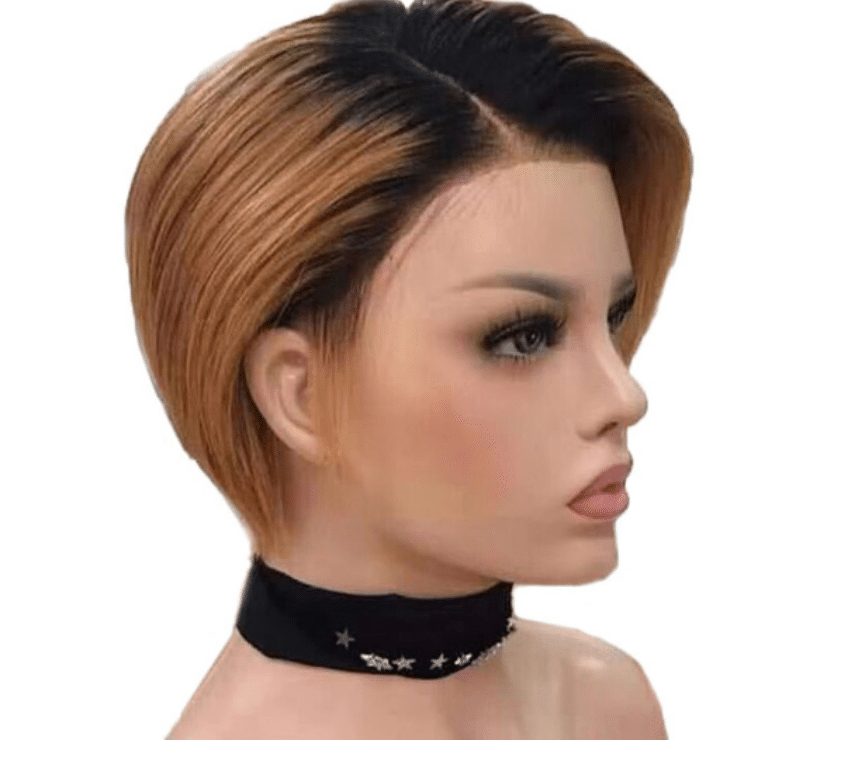 Here are some aspects to look out for while you're shopping for human wigs. It can cause quite an impact if the right one is not chosen based on some very important features that make up for the right human wig.
Best Aliexpress Hair Vendors
Best DHgate hair vendors

You don't have to buy from a dedicated store as there are numerous sellers offering various prices. Each batch of hair differs. Instead of going for lower priced hairs, we prefer you to read through the feedbacks on Aliexpress and determine which hair wig to go for.
Best Ali Products even feature some crazy sellers too.
Also Read :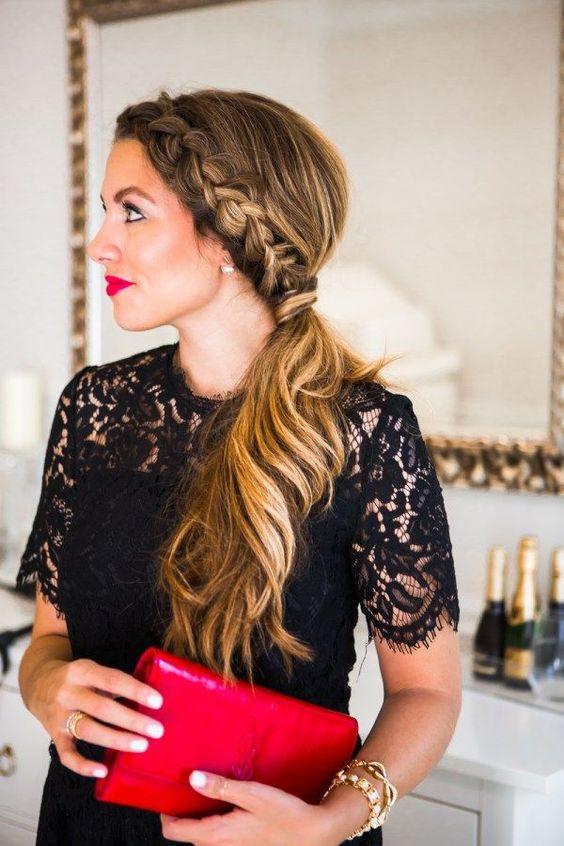 From hair care to soaring hair trends, we cover it all. We make sure you nurture your hair and stay on board with hairstyles and new hair trends. So hop on and make every day count with some of our creative and sassy hair trends.