Are you on the lookout for an all-in-one solution for hair loss? Well, I've found it! Read on to know how to use hibiscus for hair growth. 
I'm sure the hibiscus (or shoe flower) plant adorns many gardens and almost all of us might have seen it around.
Yes, it looks pretty, but let me tell you that it is also "pretty" useful when it comes to solving all your hair problems so you can get one step closer to getting your natural hair growth cycle back on track.
Related: Best Oil For Hair Growth
Related: Best Laser Devices For Hair Growth
Related: Best Shampoo For Hair Growth
Well, how about saying goodbye to your days of hair loss, dandruff, dry hair, frizz, and split ends and say hello to your all-new renewed, and perfectly rejuvenated hair! Sounds good, doesn't it?
So let's get into the details and learn how to use hibiscus for hair growth!
This article will tell you all about the benefits of hibiscus for your hair and how it can help promote better hair growth along with five different ways you can use it for your hair.
So here you go, here are some easy tips on how to use hibiscus for hair growth. 
How to Use Hibiscus for Hair Growth 2021
Hibiscus oil
How to make hibiscus oil in two ways:
Ingredients:
6 to 8 fresh hibiscus flower petals
(Or ¼ cup dried hibiscus petals)
1 cup organic coconut oil
Method 1: With the fresh petals
Remove the petals from the flower and wash them well and pat dry them with a towel. Then into a heating pot, add in the oil and the hibiscus petals, and let it come to a boil. 
You will soon notice that the color of the petals has darkened and the size of the petals has shrunk.  
Lower the flame and let this simmer for around 10 minutes.
After 10 minutes you will notice that the color of the oil has changed, then increase the flame and let it come to one final boil before turning it off. 
Let it cool and then strain this into a container and it is ready to use.
Method 2: With the dried petals
You can either buy the dried petals from the store or wash around 20 to 25 petals well under running water and let it get completely sun-dried over a few days.
Once the petals are completely dried, into a mason jar or container, pour in the coconut oil and ¼ cup of dried hibiscus petals and mix it well. 
Then screw the lid on and let this container be kept in direct sunlight for at least 10 to 12 days mixing it just once in between, otherwise do not open the lid.
You will begin to notice the color of the oil has changed as the hibiscus petals get infused into the oil. 
Once the time period for infusion has been completed, using a muslin cloth or cheesecloth, strain this oil into another container and it is ready to be used.
How to use it for your hair:
Partition your hair and apply this oil (if you wish to warm it up, you can do so) using your fingertips or a cotton ball, evenly all over your scalp and hair.
Then, leave it on your hair for half an hour. Lastly, wash your hair as you would do normally.
Hibiscus hair mask with homemade organic hibiscus powder
You can make the homemade hibiscus powder at home using this method:
Pluck out fresh hibiscus flowers and only use the petals for the hair powder.
Gently wash the petals thoroughly under running water, so that all the impurities get washed off and do not settle on your hair when used.
Then pat dry them with a towel (see that there is no moisture, which can otherwise rot the petals) and place them onto a tray and let it dry under direct sunlight for 8 to 10 days.
You can place a thin cloth over this tray to avoid dust from settling on the petals.
Once the petals are completely dried up, grind this into a fine powder using a mixer grinder.
Store this powder in a dry airtight container and use a dry spoon to remove how much you require each time.
What you will require to make the hibiscus hair mask:
1 tbsp hibiscus powder
½ tsp coconut oil
2 tbsp yogurt
Method and application:
Into a bowl, add in the ingredients, and mix it into a fine paste.
Then, partition your hair and evenly apply this all over your hair and scalp. You can apply it with your fingertips or using an applicator brush.
Tie up your hair loosely into a shower cap. Leave it on your hair for 30 to 40 minutes before washing off.
Hibiscus hair rinse
Ingredients:
6 dried or fresh hibiscus petals
1 cup water
Method:
Into a heating pot, boil the hibiscus petals and water together for around 4 to 5 minutes.
Once the colour of the water has changed, turn off the flame, strain this mixture and let it cool before using this on your hair.
How to use the hair rinse:
Before you go to shower, pour this hibiscus hair rinse liquid all over your scalp and hair and leave it on your hair for 5 to 10 minutes before washing off.
Hibiscus hair shine serum
To make this hair serum, you can follow the same recipe as the hibiscus hair rinse. 
But all you need to do is, pour this mixture into a spray bottle and spritz it all over your hair.
Do not wet your hair completely, just spray a little bit randomly all over your hair and let it dry naturally.
It will help keep the hair moisturized and look shiny and healthy.
Hibiscus sugar scalp scrub
Scalp scrubs are very essential in helping get rid of product buildup and removal of dandruff flakes as these particles can clog the hair follicles and inhibit proper hair growth. 
Using scalp scrubs also help stimulate blood flow to the scalp and blood circulation in the scalp in turn promoting better hair growth.
You will need:
¼ cup semi-granulated sugar
(Or cane sugar)
2 tbsp coconut oil or olive oil
1 tsp hibiscus powder
Method and application:
Into a bowl, add in the sugar and coconut oil or olive oil and mix well. Then add in the hibiscus powder and mix until well combined.
If you find the mixture too thick, you can add in a little more oil to get the desired consistency you want.
Partition your hair and apply this scrub evenly all over your scalp. 
Once the application process is over, massage it in very gently (as the hair follicles can get damaged if too much force is used) using circular motions.
This will help stimulate better blood circulation in the scalp. Do this for 5 to 7 minutes and then let it sit for 5 minutes before rinsing off.
Make sure that all the granulated sugar particles have been properly washed off and that there are no remnants left on the scalp.
Benefits of Hibiscus for Hair
1. Helps in promoting hair growth:
Our hair is made up of a protein called keratin and over time this protein decreases making the hair dry, dull, and lifeless. 
When hibiscus is used on the hair, the production of the protein keratin is stimulated.
This helps protect the hair from damage and can help promote hair growth and increase hair shine and volume, in turn reducing hair fall caused by hair damage.
2. Reduces oiliness of the hair and scalp:
A lot of times, the scalp pores and hair follicles get clogged due to excessive sebum (the body's natural oil) production.
And when the sebum gets mixed with the sweat, dirt, and grime on the scalp, the pores get clogged. This, in turn, inhibits proper hair growth from the hair follicle. 
Hibiscus helps unclog the pores and reduces this oiliness on the scalp, helping hair to grow out of the hair follicle without any disruption.
3. Help keep the hair moisturized:
Over the years our hair can get dry and damaged for various reasons like improper hair care, use of hair styling products and tools, pollution, etc. 
The mucilaginous property of the hibiscus helps to keep the hair naturally moisturized, helping to reduce the dryness of hair.
It also nourishes hair from within, helping the hair to grow smooth and strong.
4. Can help reduce dandruff and scalp conditions:
A lot of people suffer from dandruff and this dandruff can clog the hair follicles and scalp because of its flakes.
There are times when dandruff causes scalp itchiness and when we itch, our hair follicles can get wounded or damaged and stop producing hair. 
Therefore, using a hibiscus for the hair can help stimulate proper blood flow in the scalp for the hair follicles to get stimulated.
Hibiscus also helps in reducing dandruff formation with its natural astringent properties, making the scalp skin less oily, providing the hair a healthy environment to grow.
The final takeaway
If you have not incorporated hibiscus in your hair care routine, maybe it is time you do!
It is an effective ingredient for both hair health and hair growth and is not known to have any sort of side effects.
That being said, if you have sensitive skin, then doing a patch test on a small portion of your hair (waiting for 5 to 10 minutes to check for any reactions), before you apply it all over your hair, is advisable.
If it's all clear, you can use these recipes and learn the tricks on how to use hibiscus for hair growth.
Also Read:
How to reverse premature grey hair
How to prevent traction alopecia
Best herbal shampoo for hair loss
Best organic shampoo for thinning hair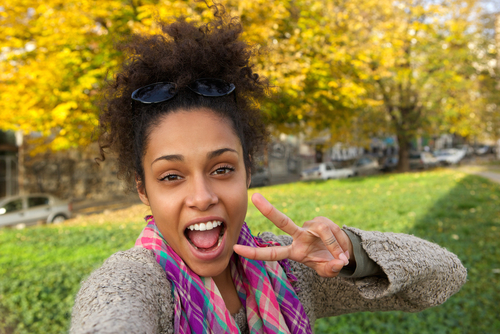 Mira is committed to bringing you the latest popular hairstyles, hair care tips, and hair-related products. You can check more of her work on besthairlooks to find fashion inspiration, product reviews, tutorials and more!