If you have chemically treated hair, this one's for you! You'll need to know how to take care of rebonded hair if you want to maintain hair health.
Rebonded or chemically treated hair needs the right treatment and extra care to keep the strands well maintained and healthy.
Related: Best Hair Masks For Rebonded Hair
In this process the chemical bonds of your hair are broken and treated to straighten your hair, the bond of your natural hair then breaks permanently.
Sometimes this can also cause a lot of damage, and therefore a lot of precautionary measures need to be followed.
Follow these, to know how you can take care of your hair post rebonding treatment:
How to Take Care of Rebonded Hair 2021
Deep condition your hair 
You are advised to use a leave-in conditioner each time you shampoo your hair. 
Some of the top oil for rebonded hair include argan oil, olive oil, castor oil, and jojoba oil. If you don't have a serum or cream handy, you can use either of these oils.
You must not hesitate to use a generous amount of conditioner, this is required to maintain healthy hair after rebounding.
Clarifying shampoo
You should use a clarifying shampoo at least once a week, this will help in maintaining a healthy scalp. The best shampoo for rebonded hair is one with ingredients like biotin and keratin that help strengthen strands.
Use a wide-tooth comb instead of a regular hair brush, as this helps prevent hair breakage.
Avoid hair dryers for a while
Try not to use hair dryers to dry your hair, instead let it dry naturally.
If You Must, Use Blow Dryers on Low Setting
If it's a dire necessity to use a blow dryer on your hair, make sure to use it on a cold-setting.
Use Steam on Your Hair Every Fortnight
The rebonding process can make hair dry, brittle, and cause it to lose its sheen. I suggest using a steam on it every 15 days to open up the hair follicles and hair cuticles.
This helps moisture get absorbed better in your hair. It also helps products like hair serums and creams penetrate deep into your strands.
You don't need a fancy steaming machine or a salon. You can do this process at home using a pot full of hot water and a heavy towel.
Trim Hair Regularly
Experts always recommend trimming your hair to avoid split ends from damaging hair further. 
Eat A Balanced Diet And Get Good Nutrition
There's nothing better than a healthy diet to give you strong, soft hair.
I always suggest going the natural route and eating foods rich in vitamin E, omega-3 fatty acids, and proteins to get back hair health.
Shower With Cold Water
Cold water helps seal hair cuticles and make them look smooth. Plus, hot water can cause further damage to already-weakened rebonded hair.  
Ahead, after research and trying out the different available options in the market I have curated a list of products that are best for taking care of chemically treated hair or rebonded hair.
Next, I have rated them on a scale of 1-5, this will help you with your hunt for sure and help you keep your hair healthy, let's look into it:
L'Oreal Paris Elvive Total Repair 5 Treatment
After trying this out for a couple of weeks I could visibly see the results as this helped by adding some volume to my hair, it is enriched with protein which penetrates deep into the roots of the hair fibre.
It is a lightweight formula that features 91 per cent of the repair protein concentrate per jar.
You can either use this as a rinse off, conditioning or co-washing. This is one of the best hair mask for rebonded hair and helps in fueling hair strength for the day.
This is a multi-use treatment that helps fortify hair to strengthen against future damage.
Pros
Helps with damage control
Multiple uses
Lightweight and non-greasy
Repairs hair roots
Cons
Not specifically formulated
Not suitable for curly hair
Rating
4/5
Luseta Biotin Collagen Hair Mask
Got my hands on this, the product is blessed with biotin, keratin and collagen which is excellent to repair hair damage.
The formulation focuses on strengthening hair tresses and keeping the locks healthy and also retains moisture.
This can be used straight after hair wash and you need to keep it on for about 10 to 15mins.
Pros
1. Strengthens hair and prevents damage
2. Helps repair hair damage from hot iron damage
3.Boots volume and improves hair quality.
Cons
1. You need to use this regularly for about 3 months to visibly see the difference.
Rating
4.3/ 5 
Blondwood Keratin Hair Mask
This is infused with biotin, collagen and Keratin and helps you repair and treat rebonded hair, I have used this for 30 days and have noted amazing results and changes.
This needs to be used for just 10mins post hair wash and can be used as a leave-in conditioner as well.
This works wonders on curly hair as well, it helps lock moisture and keeps it healthy.
One downside for me has to be, this does not repair hair damage caused due to hot irons.
Pros
Works in 10 mins, you don't need to keep this on for a very long time.
Rich in essential nutrients
Specially formulated for hair rebonding damage repair
Provides hair moisture to dry strands
Cons
Does not work for iron damaged hair
Thick inconsistency
Rating
4.5 / 5
Il Salone Milano Professional Keratin Mask
I got my hands on "Il Salone Milano Professional Keratin Mask for Very Damaged Hair", this is a specially formulated hair product for damaged hair.
It has an advanced reconstruction formula infused with Keratin which penetrates deep into the hair strands.
This promotes hair regeneration and regrowth.
It is infused with Shea moisture for hair and helps repair.
The downside for me has to be this has been made for a specific hair type and since my hair is thick, this has its drawbacks.
Pros
Advanced reconstruction formula
Can be used as a leave on hair conditioner as well
Keratin and collagen-infused goodness for your hair
Can be used as a hair mask if you mix it with few drops of essential oil
Cons
Can be used only for thin and straight hair type
Rating
4.2 / 5
Bellisso ​Keratin Hair Mask 
This hair mask is a hydrating conditioner for dry and damaged hair that works amazingly on chemically treated hair and prevents it from further damage.
It is known to be ultra-hydrating which means it helps to retain moisture and keep your hair healthy.
This can be used regularly as it is mild on hair and can substitute your regular conditioner. Keep it in for 10 mins after hair wash and then rinse it off, do not apply heat to this.
Pros
The shea formulated ingredients help to hydrate the hair follicles
Can be used regularly as a conditioner
Infused with collagen and keratin
Repairs damaged hair and prevents further damage
Hydration lock
Cons
Does not help in hair styling as it makes hair very frizzy
The kit is not travel friendly.
Rating
3.8 / 5
Arvazallia Hydrating Argan Oil Hair Mask
Professional salon treatment at the comfort of your homes, now possible with this amazing conditioner, is indeed super hydrating.
This conditioner helps repair damaged strands with its biotin infused cream which helps st0o make the hair strand healthy.
Enhances texture, manageability and adds shine.
Deeply helps with conditioning, hydration, repair and boost hair growth, the cream has a thick consistency and goes deep within hair tips and also helps repair colour damaged hair
Pros
Travel-friendly package
Deep conditioning and hydration for hair follicles
Keratin and collagen-infused
Can be used as a leave-in conditioner
Cons
The oil is sometimes hard to wash off at once so you are advised to use lukewarm water
Rating
4/ 5 
What to consider when getting hair rebonded?
The rebonding process helps you achieve the sleek straight hair look.
The whole purpose for me to get my hair chemically treated was also to avoid wasting time in the morning while we are rushing for work etc.
However, this being a chemical treatment has its downside.
Here are few things I considered before getting a rebonding treatment done:
Follow up treatment
It is certain that if we consider having a chemical treatment we must follow up with healthy spas or oil treatment.
Expense
It is important to keep expenses in mind because this treatment like we mentioned requires a lot of post-care, you have to mentally be into it.
Hair Loss
This process may also result in hair loss and hair damage if you do not get done by a professional.
Breakage
Chemical bonds result in hair dryness as it tends to strap it off of its moisture, which leads to hair breakage.
Although rebonding treatment lasts for about 8 to 12 months, depending on the chemical type and consistency used, the post-care process is thus vital to prevent your hair from more damage.
The cuticle of your hair has a covalent bonding with a layer of fatty acids. But the chemicals used in hair rebonding penetrate deep into the hair follicles and change the hair type to permanently straight.
If your hair is completely unmanageable or if you wish to have straight hair, you can always opt for this treatment.
Always remember to take care of your rebonded hair, this read will help you through the process of choosing what suits best for your hair type. 
Also Read:
How to prevent hair loss for black men
How to use coconut oil for hair
How to curl short hair with a flat iron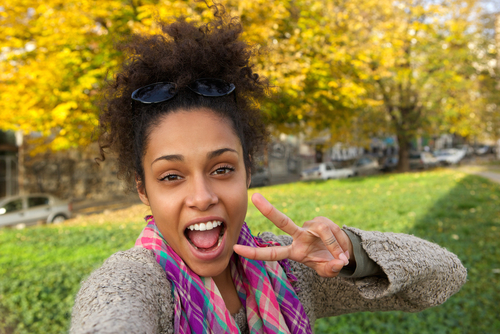 Mira is committed to bringing you the latest popular hairstyles, hair care tips, and hair-related products. You can check more of her work on besthairlooks to find fashion inspiration, product reviews, tutorials and more!