Flat irons have very high temperatures and the heat from these irons can damage hair quickly. So here's how to straighten hair with a blow dryer to minimize hair damage.
I love straightening my hair! In fact, I straighten my curly hair more than once a week. 
But I soon noticed the toll using flat irons took on my tresses. The high temperatures (yes, even the ones from "safer" ceramic irons) can leave hair cuticle open and strands dehydrated.
The constant application of heat breaks down keratin protein bonds on your hair and leaves them vulnerable to breakage. 
Related: Best Hair Dryers For Straightening Hair
Related: How To Straighten Synthetic or Human Hair Wigs
So instead of drying my hair with a blow dryer and then using a hair straightening iron on it, I decided to straighten hair with a blow dryer and leave it at that. 
And I was pleasantly surprised with the results! You'll think that only a flat iron can give you those smooth, silky straight locks but this can be achieved with a blow dryer as well.
How To Straighten Hair With A Blow Dryer 2021
Here's how to straighten hair with a blow dryer to get perfectly straight, frizz-free locks without any hair damage, and in no time! 
Prep Your Hair
To begin straightening your hair with a blow dryer make sure you have all the tools you need at hand.
The most obvious one being a high-quality hair dryer with a concentrator nozzle. Most blow dryers come with this attachment but if yours doesn't you can purchase it separately.
Also, get a wide-toothed comb to remove any tangles from hair and a round barrel brush (preferably made with natural bristles).
I always work with slightly damp hair when I straighten hair with a blow dryer.
If you're coming straight out of the shower use a towel to remove the excess water and then start with blow-drying. You can spray on some water if you are working with dry hair.
Before you start straightening hair with a blow dryer, make sure to apply a heat protectant product like a spray or serum.
Also, you can apply an anti-frizz cream or serum if you've just shampooed your hair.
I especially recommend people with wavy or curly hair perform this extra step as it can make hair so much more manageable.
I simply use this Majestic Pure Organic Argan Oil as both a heat protectant and anti-frizz oil as it's great for hair! 
Make sure you aren't using too much of the product as this can leave your hair greasy and limp. 
Divide It Into Sections
Before you start blow-drying your hair, divide it into smaller sections using alligator clips. Then, pin the topmost sections up, like you would do when straightening your tresses with a flat iron.
This will help you straighten hair with a blow dryer evenly. The smaller sections will ensure you cover your entire head and there's not one section that hasn't been straightened well.
Smaller sections are also easier to wrap around the round brush.
Use A Round Barrel Brush To Straighten Hair
To start straightening your hair with a blow dryer, fix the nozzle attachment to the dryer and get a round barrel brush.
You can use a paddle brush with ventilation holes if you don't have a round brush close by.
Place the round brush under one section of hair and the nozzle of your blow dryer above the section near the roots.
Now gently pull the nozzle downwards, blasting your hair with hot air while simultaneously brushing the section from below.
Make sure to place the nozzle slanted in a way that it goes downwards from the roots to the tips of your hair.
This will make sure that the cuticles of your hair remain sealed for a sleeker, shinier look.
While straightening hair with a blow dryer keep the following points in mind.
Use the medium heat setting on your blow dryer to prevent heat damage
Move the nozzle around the section of hair while you're straightening it to prevent heat from being concentrated in one area
If you have curly hair then you might need to use the highest heat setting to make sure your locks are perfectly straight
If you want to add volume to your hairbrush your hair upwards while drying it. However, the angle of the nozzle must still be downwards. Just lift the section of your hair up while you're straightening.
If you have long hair, use a brush with a bigger diameter. 
Pass the brush and blow dryer nozzle over a single section multiple times until it's completely dry. Then, move on to the next section and then the next.
Complete straightening your entire hair this way. 
Finish With A Shot Of Cool Air
A lot of hairdryers are equipped with ionic technology that releases a wave of air filled with negative ions that help prevent frizz. 
If possible choose a blow dryer that has this frizz-control ionic technology.
Most of the newer models of blow dryers also come with a cool air shot button. This button releases a blast of cold air that seals your hair cuticles and prevents hair from looking frizzy.
You can use your brush to go over the sections of hair while using the cool shot feature. 
Apply Serum Or Hairspray
If you have very curly hair or live in a high humidity area where your hair is prone to get frizzy, it's best to use a hair serum or spray after straightening your hair.
Some hairsprays provide a strong hold and will make sure your newly straightened hair does not get out of place.
When you're applying hair serum focus on the tips and make sure you're spreading it evenly through your hair.
Curly-haired folks and people with African American hair textures might still need a hair iron to go over some sections or strands of hair that haven't been straightened properly.
FAQs – Straightening Hair With Blow Dryer
Does blow drying your hair with cold air straighten it?
Yes, you can straighten hair with a blow dryer on a cool setting. But this will work only if you type 1 straight hair.
If you have very wavy hair or curly hair then heat is required to change the texture of your strands. 
But if you want to just make hair evenly smooth and remove frizz then blow-drying with cold hair and a brush can do the job just fine.
I suggest using a straightening serum or oil like coconut oil after blow-drying to seal hair cuticles and make tresses appear smooth. 



Is it better to blow dry hair or straighten it?
Yes, it is better to blow dry hair than to straighten it. When you're blow-drying your hair you don't apply heat to your strands directly.
Also, you move around the hair dryer up and down the section of hair you're straightening so the heat is never concentrated in one area for too long.
Blow dryers also let you control the heat and the hot air doesn't reach as high as a temperature as a flat iron plate does.
Some people use a hair dryer to dry their hair after a shower and then straighten it with a flat iron. So the amount of heat exposure is reduced when you just use a blow dryer to straighten your hair. 



Is blow-drying hair once a week bad?
Using a blow dryer to straighten your hair is a better way to get silky straight hair. But you can't do it too often as blow drying your hair can damage it as well.
I suggest going without a hair dryer and using an old t-shirt to remove excess water from your tresses and then letting it air dry.
Keep the blow dryer only for when you're super late in the mornings or have a special event to go to.
If you're in the habit of straightening your hair you can use a blow dryer once a week but not every week. 
Using your hair dryer for blowouts every week, especially if you have naturally curly or coily can leave it dry and cause heat damage. 



What should I put on my hair before blow-drying?
To protect your hair from any damage due to heat exposure, you should always apply a hair protectant cream or serum.
These products coat your strands and prevent the hot blow dryer air from damaging its cuticles.
If you don't have a heat protectant spray you can use argan oil instead. Argan oil is also the chief ingredient in many heat protectants.
This oil has a high smoke point (it can reach very high temperatures before it starts to burn). So it helps protect your hair from high heat.
If you have very frizzy hair, you can also apply an anti-frizz serum before blow drying. 
Flat irons are amazing for getting a perfectly straight look on special occasions. But everyday use? No way!
The temperatures on flat irons can reach up to 450-degree Fahrenheit, not something you want near your hair often.
In contrast, a hairdryer and brush is a much safer way to straighten your hair.
The hot air from the blow dryer isn't as damaging as the high temperatures flat irons reach so it's still a safer bet.
This guide tells you all you need to know about straightening hair with a blow dryer and maintaining it to prevent frizz. 
Also Read:
Best oil for straightening hair
Best wet to dry hair straightening
Best electric hair combs for natural hair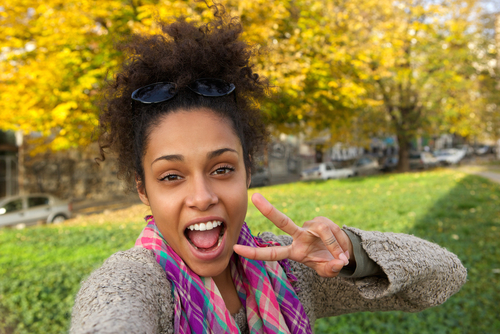 Mira is committed to bringing you the latest popular hairstyles, hair care tips, and hair-related products. You can check more of her work on besthairlooks to find fashion inspiration, product reviews, tutorials and more!