Has a hair coloring job gone wrong? The blonde to blonde or the streaks too streaky? No need to panic as you have loads of hair dye removers in the market.
Simply apply these and remove the terrible coloring in a jiffy, bringing back your natural beauty. Now that gives rise to another worry.
How do you choose the good hair dye removers and keep away from the ones that won't do the job or damage your hair?
FAQs on Hair Dye Removers
Does hair color removers damage hair?
 
Like every other hair product hair color removers also depend solely on the brand that manufactures them including the ingredients it is made up of. 
Hair colors act as agents that remove artificial hair color that is imbibed with the hair without stripping the hair of its natural entity and keeping them intact like always. 
Make sure you choose a high-quality hair color remover if you have thinning and weak strands and nourish your hair with some strengthening agents such as hair oil and other natural elements needed for the health of your hair. 


What is the best hair color remover for black hair? 

According to our team's research, we have found a hair dye that works really well with black hair by treating it right and not stripping it off in any way. 
Color B4 Hair color remover is one of the most effective hair dye removers used for black hair as the ingredients used in these products include stronger elements to remove the color from coarse textured hair. It costs about $21 which is sure to last more than 2 months. 
Related: Best Ammonia-Free Hair Dyes
Related: Best Hair Color Remover For Black Hair
Related: How To Remove Red Hair Color
Top Hair Color Removers
We have done all of that research for you to bring you these reviews of the best hair dye removers you can find:
#1- L'Oreal – ColorZap hair dye remover
L'Oreal Paris' ColorZap is highly recommended for removing stubborn hair colours quickly and easily. Especially if you have coloured your hair with reds, greens, purples or blues, this is a product you could consider trying out.
The color remover is quite strong and all you require is just one or two applications to get rid of the colour.
It also makes your hair ready for re-colouring immediately.
It contains a small amount of bleach that helps with the colour removal. One downside is that the ColorZap makes your hair quite dry but this can be dealt with by using a good quality, intensely moisturising conditioner and hair mask.
We also suggest you get a deep conditioning treatment done before your next hair colouring treatment to soften it and restore the strength in your strands. It is the best solution and one of the best hair colour remover for dark hair.
Pros:
Strong remover needs only one application
Good for blue, purple, red hair colors
Cons:
Contains bleach
Leaves hair very dry
#2- Colour B4 hair dye remover
Colour B4 removes medium to lighter shades of hair dyes, like blondes for instance, quite effectively.
When compared to other hair dye remover products in the market, this takes a longer time for the process but it is also much safer and keeps the hair soft.
You also notice fewer broken hair and lesser dryness and brittleness once you wash your hair.
It does not contain bleach or ammonia but we warn you that it might mildly smell of rotten eggs, which is quite common with most dye removers.
It takes about 60 minutes of waiting time to completely remove the colour.
This hair dye remover is not strong enough to remove dark colours like blacks, deep browns, reds, purples or bright blues but can fade them to a certain extent if that's something you desire.
Pros:
Doesn't damage hair a lot
No bleach or ammonia
Good for removing semi-permanent hair dyes
Cons:
Not strong enough for darker hair colors
Long application time
#3- Color Oops Hair Dye Remover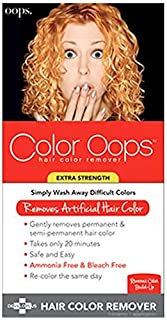 Developlus' Color Oops is one of the best selling and most popular hair dye removers you can find online.
It is also widely used by hairstylists professionally.
With various colour remover products ranging from extra strength to extra conditioning, you are sure to find something according to your need.
It is fast acting as it takes only 20 minutes to remove the colour and your hair is ready for re-colouring almost immediately.
It is free of ammonia and bleach, making it safe for your colour treated and damaged hair.
It is quite gentle on your hair which is something we truly appreciate.
There are a few disadvantages to this product.
One is the foul smell that is quite undesirable. Secondly, you will have to ensure that you use a good conditioner to re-hydrate your hair once you wash this product away.
Pros:
Ammonia and bleach-free products
Takes only 20 minutes
Doesn't cause hair breakage
Cons:
Leaves hair dry
Chemical smell is too strong
#4- L'Oreal Colorist Secrets Hair Dye Remover
Here we have a professional quality product from L'oreal Paris.
While many hair dye removers work on removing the semi-permanent and permanent hair dye and restoring hair back to its original color, Colorist Secrets works like a light eraser to simply help you correct your mistakes.
This also gives us the guarantee that the product is not chemical heavy and does not damage your hair as much as many other dye removers do.
It prepares your hair for the re-colouring process, so the manufacturer advises to keep your preferred hair dye box ready for application as soon as you are finished using the remover.
It costs lesser than most of the popular hair dye removers in the market and is easily available in drugstores as well as on websites online.
Pros:
Affordable
Works well on permanent hair dyes as well
Cons:
Contains bleach
New hair color needs to be applied immediately
#5- Roux Clean Touch hair dye remover
If you regularly colour your hair at home you know how annoyingly the colour can stain the skin on your neck, your forehead and fingers, no matter how careful you are.
These stains require some strong remover that is gentle on your skin. Try the Roux Clean Touch for some gentle, yet very effective solution for removing the stains off your skin.
You could even use this to remove the dye from your clothes.
Dab a little bit on the stained areas, leave on for a few minutes and gently wipe away without rubbing it.
It is considered one of the best hair colour remover for black hair.
Pros:
Good for removing hair color off your skin
Can remove stains from clothes
Cons:
It's a stain remover and doesn't get rid of hair dye from tresses
#6- Salerm Color Reverse hair dye remover
Salerm Color Reverse is a great hair dye remover for those who want to go minus the bleach.
It does smell terrible but you can get the darkest of colours to lighten to a considerable extent, making your hair ready for the next round of colouring.
Since it does not have bleach, it also does not dry your hair too much and weaken it too much.
It works on minimum application time for 20 minutes for light shades and up to 45 minutes for darker colours like deep reds.
For very dark colours, you might have to use this product multiple times to restore your hair to the natural shade.
Pros:
No bleach
Works well on lighter shades
Cons:
Needs multiple applications for dark hair dyes
Chemical smell
#7- Redbook Color Changer hair dye remover
Redbook Color Changer turns out to be one of the more expensive hair dye remover products in the market but that could be because of the added water soluble polymers and lanolin oil which are meant to safeguard your hair from damage and breakage.
Lanolin oil is a good moisturiser which also locks in moisture to continue hydrating the hair for a long time.
It keeps your hair soft and strengthens it. This hair dye remover quite efficiently removes the hair colour you have used through the two step removal process.
You require a heat cap and need to wait for about 30 to 60 minutes for the product to work.
A huge downside to this product is that though it works like a charm, there are no clear instructions which might make it a bit difficult and confusing.
Pros:
No bleach or chemicals
Doesn't strip hiar color rather it cancels it out with a complimentary shade
Moisturizes hair
Works in minutes
Cons:
Difficult to get the colors right
Can dye your hair the wrong color if you don't use the right counteracting shade
Needs to washed off at a precise time
#8- Joico hair dye remover
For the deepest and brightest of colours, you probably think you're going to have to use a dye remover several times. Joico lifts the colour in just one sitting and all you need is just 30 minutes.
You don't require any pre-colour removal prep or post-care as this one-step hair dye remover takes care of it all.
The smooth consistency makes it easy to spread throughout your hair and it sits there without dripping. 30 minutes later, wash the colour off your hair without a hassle.
Joico has proteins in it that safeguard your hair, nourish the cuticles so that the damage done to your hair is reversed.
Your hair feels healthy and breakage and dryness are noticeably reduced.
#9- L'Oreal Paris Effasol dye Remover
Nobody knows hair like L'oreal Paris and that's why you have another colour remover from the company.
The Effasol Color Remover is another efficient colour corrector, to remove a few shades and re-colour to get the shade your heart desires.
While you can expect it to remove lighter shades of colour, it does not work to remove the colour completely or restore your hair's natural colour.
This is something that is mentioned clearly on the package.
It is however very easy to use and the time taken varies from as little as 5 minutes to as long as 50 minutes depending on how dark the tint is.
It washes away very well with a nice foam without leaving back any residues.
A downside is that this does dry your hair a bit and you will need a hair mask or conditioner to add in the lost moisture.
Pros:
Very strong
Needs only one application
Removes dark colors/permanent dyes easily
Cons:
Can leave hair dry
Can react with minerals in hard water
#10- Framar Kolor Killer Wipes
I don't think life can get any easier than it can with Framar Kolor Killer Wipes.
As simple and easy as using make-up wet wipes, these come in a tub from which all you have to do is pull out the wipes and wipe away hair dye stains from your skin.
Meant for your fingers, neck, arms and forehead to get rid of those unwanted hair dye stains when you colour your hair, these wipes are gentle on your skin and subtly fragrant.
They contain aloe that moisturises your skin and dead sea salt that nourishes your skin and smoothens it.
Now that's great hair as well as soft and smooth skin, all in one go!
Pros:
Removes stains from clothes, skin, products, etc.
Moisturizes skin
Pleasant scent
Cons:
Doesn't strip hair dye from strands
Perfume can get too overwhelming
Contains sulfates
#11- Color X-Change Phase-Out hair dye remover
Color X-Change Phase-Out contains absolutely no bleach and that makes it safe for colour treated hair. And that's not the only reason why this is one of the best hair dye removers available.
We love this because it is so easy to use and you aren't wasting your time sitting around waiting for it to do its job. No. You apply it and go to sleep.
It works overnight and when you wash your hair in the morning, watch the colour wash away into the drain, leaving you with your natural hair colour.
If this is not reason enough to love this hair dye remover, there is more. Color X-Change comes with "Lock-in" which is an intensely hydrating hair mask that helps replenish all the moisture your hair has lost with the colouring and de-colouring process.
It is completely vegan and free of peroxide and parabens.
Pros:
Vegan hair dye
Free of bleach
Can be used overnight
Doesn't dry out hair
Cons:
Strong chemical odor
Leaves a brassy tint of blonde hair colors
Needs multiple applications for darker colors/permanent dyes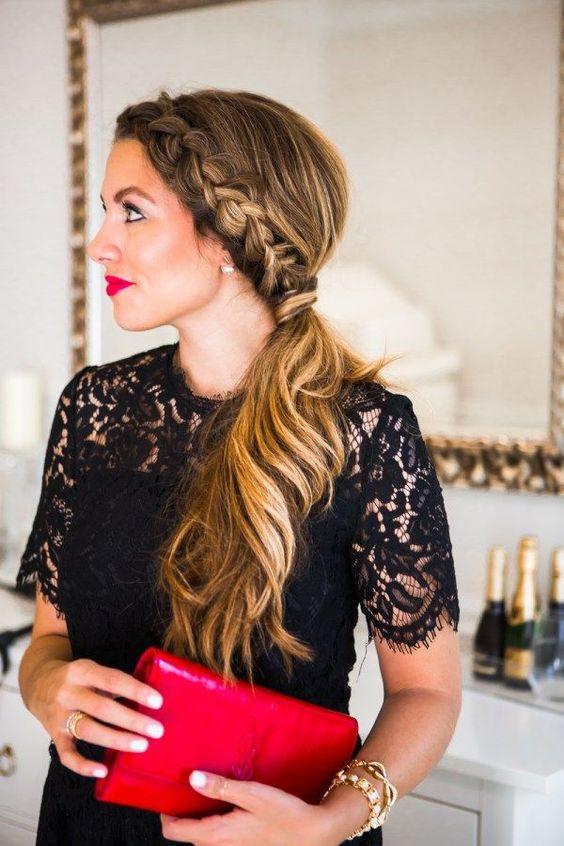 From hair care to soaring hair trends, we cover it all. We make sure you nurture your hair and stay on board with hairstyles and new hair trends. So hop on and make every day count with some of our creative and sassy hair trends.