Straight hair looks so sleek and elegant. But do you really need a flat iron to get super smooth locks? Nope, these hair dryers for straightening hair would be enough.
I love styling my hair, but buying a separate hot styling tool for each look is such a pain! So I always go for multipurpose tools with attachments.
Related: Best Hair Dryer For Fine Hair
Related: Best Hair Dryer For Curly Hair
Related: Best Oil For Hair Straightening
Did you know that you can get straight hair with just the right hair dryer? Yup, not straightening iron needed!
And the best part is that hair dryers for straightening hair do not get as hot as flat irons do. They also don't come in direct contact with your strands.
So comparatively, these are less likely to damage your tresses.
Top Hair Dryers For Straightening Hair 2021
Here are some of the best hair dryers for straightening hair in the market that I tested and reviewed for you.
Babyliss Pro Nano Titanium Dryer
If you're looking for hair dryer for straightening hair, then you should always go for products with titanium or tourmaline in their construction.
Like this Babyliss Pro Nano Hair Dryer!
These two materials are fantastic at conducting large amounts of heat. This is required for changing the texture of your hair from curly/wavy to silky straight.
I simply loved how the easy-to-use design of the hair dryer. It comes with a tangle-free swivel cord and an ergonomic handle.
But the best part is probably the dual voltage and foldable body. So I can take it with me when I'm traveling. And it's compact enough to fit in a small suitcase or carry bag.
The Babyliss Pro Nano comes with a 1000 W motor, which is very powerful. However, its strength might not be enough if you're looking to straighten kinky type 4c hair. 
For those African American hair textures, I'd recommend hair dryers with a wattage of 2000 and above.
Nevertheless, this product is fantastic for use if you have type 3 or type 4a textures.
I also liked the concentrator nozzle that comes along with the hair dryer as it helps add volume to your newly straightened hair.
There is also the popular ionic technology that prevents frizz. All this makes the Babyliss Pro a perfect dryer for straightening hair.
Pros:
Titanium body
Attachment nozzles
Multiple heat settings
Ergonomic handle
Easy to use
Travel friendly
Cons:
Not very effective for type 4c coily hair
Babyliss Pro Nano Titanium Portofino Full-size Dryer
So remember what I was saying about natural, Afro hair requiring a product with higher wattage?
Here's a perfect alternative for the Babyliss Pro Nano. This full-size Portofino hair dryer with a wattage of 2000.
Want to straighten your natural, coily hair? This is the best product for the job!
The only issue with this hair dryer is that it's not travel-friendly.
But I didn't mind so much as there are several features that make up for the large size.
Firstly, the Babyliss Pro Nano Portofino comes with six heat and speed settings.
Since I have type 4c hair which is very prone to damage this was a blessing. I could control the heat and make sure my natural hair didn't get too hot.
Unlike the previous Babyliss product, the Portofino comes with two concentrator nozzles. So there's more versatility in hair styling.
As you can imagine, with more features, the price also goes up. But I thought it was completely worth it.
The nano titanium build helps create negative ions that smoothen my coily hair into frizz-free straightness.
I just want to warn you about one thing. The 2000 W motor and titanium body make the hair dryer get very hot, very fast.
So be careful while using it and do not keep it plugged in for a longer time.
Pros:
Good for straightening type 4c hair
Nano titanium ionic technology
2 concentrator nozzles
6 heat and speed settings
Cons:
Drybar Buttercup Blow-Dryer
Look I love a good blowout as well, but all that styling can really take a toll on your hair.
So I went through several hair dryers for straightening hair to find a product that straightens my curly hair fast and causes very little damage. 
I had almost given up when I found this Buttercup Blow Dryer by Drybar. It's cheaper than your Dyson and has almost the same price range as the Babyliss products.
What intrigued me the most was the 1875 W motor and the wave heater technology.
This motor is more powerful than the Babyliss Pro Nano and doesn't heat up like the Portofino. So win-win.
And the wave heater helps evenly distribute heat which is fantastic for my fragile, thin hair as they don't get damaged by the sudden temperature change. 
I was so happy to see a cold shot button. The negatively charged shot of cold air that is released when you press this button helps reduce static and keeps my hair smooth.
One thing that irked me about this product was the screeching sound it made after a while. Oh well, you can't have everything!
I've also seen a lot of reviews claiming that the motor stopped functioning after a few months. But there's still a 2-year warranty, so I wasn't that worried.
Pros:
Lightweight
Two concentrator nozzles
9ft cord
Wave heater for even heat distribution
Cons:
Expensive
Makes a loud noise when in use
Rusk Engineering W8less Professional Dryer
Another hair dryer I tried out for straightening my type 4c hair was this one by Rusk.
I actually bought this dryer as it was advertised as being weightless and also due to the 2000W motor.
The motor really stood up to my expectations and blew a vast amount of hot air while drying my curls. So they were done in lesser time than usual.
Unfortunately, this powerful heat-up system also causes the handle of the hair dryer to get hot very quickly. I had to hold the very end of it while using the product.
Yes, it's very lightweight as advertised, but that doesn't automatically mean it's comfortable.
The only saving grace of this Rusk W8less hair dryer is the cold shot button.
It delivers a blast of negative-ion-infused cold hair at the end to lock your straight hair in place and keep them frizz-free.
Pros:
Dual voltage
Lightweight body
Powerful 2000 W motor
Cold shot button
Cons:
How do I choose a good hair dryer for straightening hair
There are just so many hair dryers in the market, you're bound to be confused. Which one is best for straightening your hair? Which will suit your hair texture?
To find the answer to all your questions, you'll have to check the following factors or requirements in the hair dryer.
Construction Material
Most hair dryers are made of either pure ceramic, tourmaline, titanium, or a combination of these materials.
Ceramic is fantastic for even distribution of heat, but it doesn't reach the high temperatures levels that are required for straightening hair.
If you have curly, coily hair, especially, you'd need a lot of heat to change the texture of your hair to straight and smooth.
In this case, I'd suggest going for hair dryers made of pure tourmaline, pure titanium, Nano titanium, or tourmaline ceramic.
Tourmaline ceramic is a good choice if you have damaged, brittle hair as the tourmaline gets you high amount of heat while ceramic ensures even distribution of it. 
Smoothening Technology
Like most flat irons, hair dryers also come with ionic technology that helps keep frizzy hair at bay. 
The best hair dryers for straightening hair are those with built-in ionic generator that create negative ions.
These negative ions form a coating around the strands preventing static build-up and consequently frizzy hair.
They help keep your locks smooth, straight, and hydrated.
Another feature to look out for is infrared technology. This involves using infra-red emissions to get heat to the core of your hair.
Doing so helps hair dry quickly. This helps cut down the time your locks are exposed to heat, minimizing heat damage.
Wattage
The best hair dryers for straightening hair should have a wattage of 2000 W or more.
This is because a high-powered device will blow more air, cutting down the drying time and hence the heat damage.
Also, if you're going to straighten type 3 or type 4 curly hair, you'll require more power to dry them to a smooth texture.
This is because curly hair is more densely packed on the head.
Attachments and Nozzle
While it's entirely possible to straighten your hair with just a blow dryer and your trusted hair brush, life becomes easier when you use the right attachment nozzles.
There are three popular types of attachments that come with a hair dryer.
Diffuser
Concentrator
Brush
A diffuser is useful if you want to mimic air drying, but faster. It's best for making your hair curlier.
A concentrator nozzle focuses air flow in one direction and helps add volume.
Both these attachments are not of much use if you want straight hair.
So you'll have to look out for the brush nozzle.
The bristles of the comb/brush attachment help detangle your locks as they are getting dry and makes them fall smoothly and precisely over your shoulders.
There are also products like a hot air brush which acts similarly to a hair dryer with this brush nozzle.
Using a hair dryer to dry your hair… then putting a flat iron to straighten it. It's just so time consuming!
Not to mention you'll be putting your hair locks through twice the amount of heat. So there's more chances of damage.
That's why it's smart to use hair dryers for straightening hair.
No matter what hair texture you have, using the right product with the correct attachments can give you silky, straight hair without much fuss.
Just don't forget to apply a smoothening serum or hairspray afterward to keep your locks in place.
Also Read:
Best hair mousse for wavy hair
Hairstyles for short straight hair
How to choose a hair straightener
How to get waves with straight hair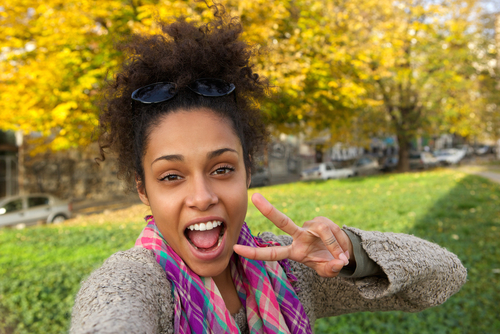 Mira is committed to bringing you the latest popular hairstyles, hair care tips, and hair-related products. You can check more of her work on besthairlooks to find fashion inspiration, product reviews, tutorials and more!
BaBylissPRO Nano Titanium Portofino
The best hair dryers for straightening hair are those with ionic technology and a high powered motor. The BaBylissPRO Nano Titanium Portofino suits even curly Afro hair types.
Product SKU: MLB9TGUV33
Product Brand: BaBylissPRO
Product Currency: USD
Product Price: $139.99
Price Valid Until: 2022-08-07
Product In-Stock: InStock