One of the biggest issues faced by curly haired girls is the long drying times.
Although it is best to let your curl air dry, time constraints often prevent us from doing so. This is where a hair dryer for curly hair comes into play. 
Related: Best Hair Dryer For Damaged Hair
Related: Best Detangling Brush For Curly Hair
Some might think that a hair dryer might weigh down your curl and remove the texture and definition. 
But the truth is these hair styling tools have the power to make your curls look more voluminous and well defined.
We have selected a list of some of the best hair dryers that will save you time and give your curls some much-needed bounce.
How I selected the best hair dryer for curly hair?
I have taken note of certain parameters before selecting these few products to make sure that you get the best quality results. Read on to find out how I selected these products specifically to cater to your curly hair needs.
Hair texture after use- This is the most important aspect of the dryers. For curly hair, it is important to find the right tools that will provide definition to your hair and enhance your curls. So I made sure that these devices will leave your curls looking beautiful and bouncy.
Settings- It is important to have multiple temperatures and speed settings to choose from so that the dryer can work well on your specific hair texture and style. Otherwise, your hair may be subjected to damage and the styling will not be neatly and perfect.
Cold shot button- One of the most important parts of a hair dryer but a highly underrated tool is the cold shot button. It comes into use when you are done styling your hair and want to make sure that it stays intact for long hours. All the devices in the list are equipped with this option. 
Top Hair Dryer For Curly Hair 2021
BabylissPRO Porcelain Ceramic 2800 Hair Dryer
Best Hair Dryer For Curly African American Hair
The BabylissPro Porcelain Ceramic hair dryer combines Porcelain ceramic and ionic technology to give you a smooth drying and styling experience. 
It emits gentle far-infrared heat that makes sure that your hair doesn't get damaged.
It gets rid of static by surrounding the hair with clouds of natural ions. This is a professional grade drier that worked so well on my hair.
It felt much smoother and shinier after using the device.
You can select from six different speed settings while using this dryer. It also comes with a cold shot button and a filter that can be removed.
It has a very powerful 2000 watt motor that guarantees to help you achieve your desired look.
Features:
2000 watts
Cold shot button
6 heat and speed settings
Ionic and Porcelain Ceramic technology
3-year warranty
Detachable rear filter
Includes a concentrator nozzle
Jinri Professional Ceramic Hair Dryer
Best Affordable Hair Dryer For Curly Hair
This is a lightweight hair dryer that uses a combination of infrared heat + ionic + Tourmaline technologies to style your hair with perfection.
It also protects your hair from the heat during styling using Advanced Coating Technology.
You can choose from a wide variety of heat and cold settings to get your desired style. It also has a cold shot button to make sure that your hair is set in place after you have styled it.
If you wish to style your hair, you could go with lower temperature settings whereas higher temperature settings can help you instantly dry your hair.
This is a very durable device and the long-lasting DC motor in the dryer can last up to three years more than the regular motor hair dryer.
Because of the powerful motor, your hair dries quicker and there is much less heat damage.
The hair figure diffuser that comes along with it helps your hair look voluminous and natural.
This is especially helpful if you have naturally curly or wavy hair. If you are going for a straight sleek look, you can opt for the hair dryer concentrator nozzle.
This hair dryer also comes with a lot of safety features that decrease the chances of accidents that could be caused by a short circuit. It also has a double safety net that makes sure that your hair doesn't get stuck. This dryer made my hair healthy-looking, smooth and reduced static.
Features
Infrared heat+ Ionic+ Tourmaline
125v voltage
Max power- 1875 watts
1.45 pound
Comes with a concentrator and diffuser
3 heat settings 
2-speed settings
Cold shot
ALCI protective plug
Double safety net
Includes a diffuser accessory and concentrated nozzle
Conair 1875 watt Cord-keeper 2-in-1 Styler
Best Hair Dryer For Frizzy Hair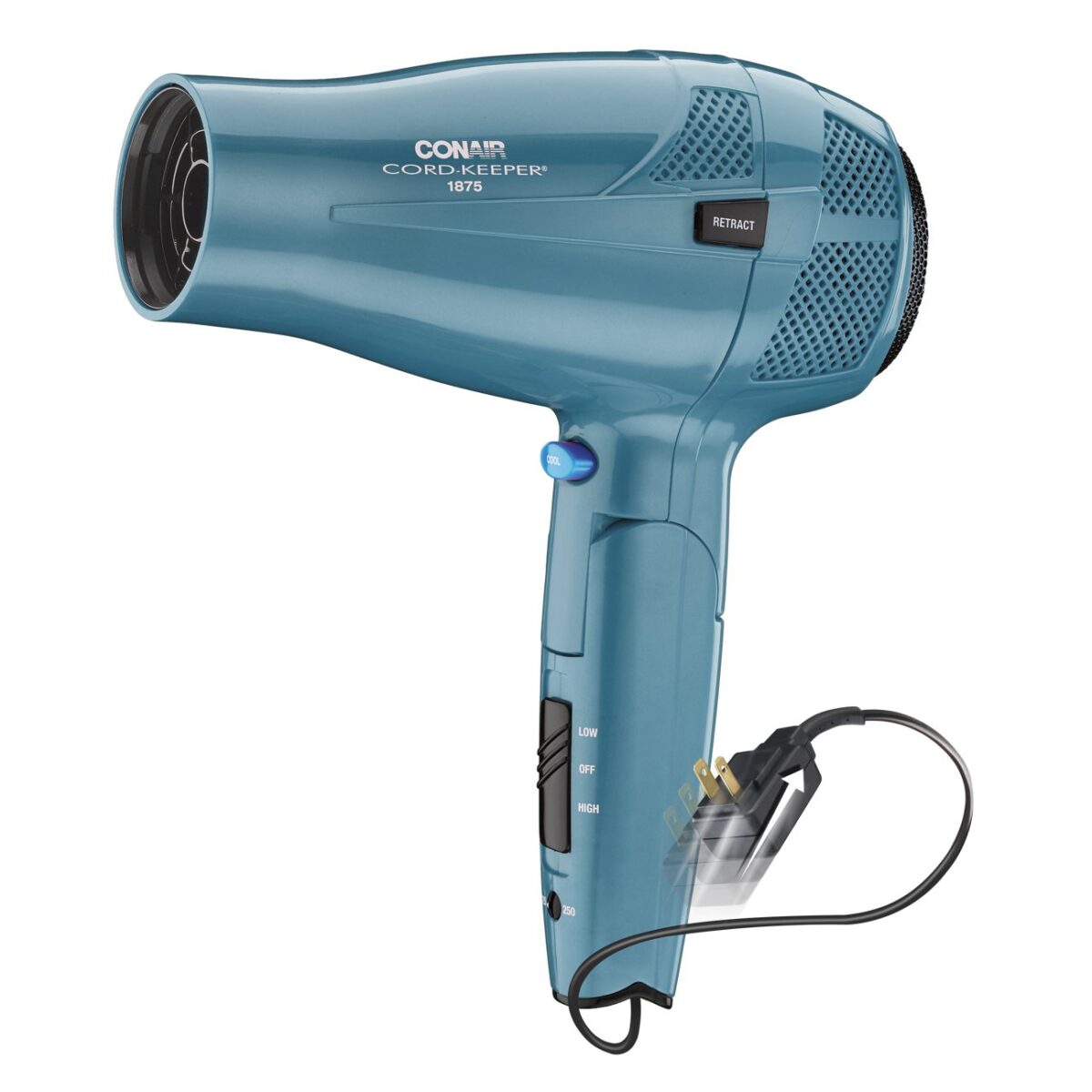 If you are someone who travels often and is looking for a suitable hair styler that can be carried on the go, this device could be a great option.
This hair dryer comes with a foldable handle that retracts the chord at the push of a button which makes it ideal for travelling.
You don't have to worry about the cord getting tangled and things getting untidy.
The hair dryer has two-speed settings and two heat settings that allow custom airflow and a cold shot which ensures that your hairstyle is set in place and long-lasting.
It also comes with a dual voltage feature that makes it convenient to be used overseas. It has an Ionic conditioning feature that makes your hair shiny and frizz-free.
This hair dryer also causes much lesser damage as compared to other regular hair dryers, thanks to the Tourmaline Ceramic Technology in this dryer that releases infrared heat which is very gentle on your hair.
Features:
1875 watts
Ionic technology+ tourmaline ceramic technology
3 heat settings
2 speed settings
Detachable filter
Retractable cord control
Concentrator
Hard finger diffuser
5-foot cord
Cool shot button
Bed Head Curls In Check 1875 Watt Diffuser Hair Dryer for Curly Hair
Best Diffuser Hair Dryer For Curly Hair
This dryer has a very unique and attractive design as compared to regular dryers.
If you are looking for a dryer that will give you a lot of volume and definition, this would be a great option.
It works on your natural curls to give it that much-needed volume and definition.
If you are annoyed by frizzy hair and tangles, this dryer will transform your hair and make it frizz-free, silky and voluminous.
The Bedhead Curls in Check hair dryer is created with tourmaline technology which makes sure that your hair is completely frizz-free and shiny. 
You can change the setting and choose between the 3 heat settings and 2-speed settings to achieve your desired look.
The cool shot button helps in setting the hair after style so it stays intact for a long time. You can also use the diffuser attachment to define and enhance your natural waves and curls.
Features:
Tourmaline Technology
3 heat settings
2-speed settings
Cold shot button
Removable diffuser
Removes frizz
Increases Volume
Remington Damage Control Ceramic Hair Dryer
Best Brush Hair Dryer For Curly Hair
The Remington Damage Control Ceramic Hair Dryer is created with powerful Advanced coating Technology.
It offers up to three times more protection to your hair while styling as compared to a regular hair dryer.Wha
What I liked best is that this product also has a proprietary Micro- Conditioner Technology that maintains the health of your hair.
The combination of ceramic, ionic and tourmaline technology helps you achieve your desired style with perfection. 
It has a powerful 1875 watts motor that helps me in styling you in a matter of time.
There are three heat settings and two-speed settings I could choose from to select the right heat flow for my wavy hair.
The cool shot button helped me keep my style sturdy and in place throughout the day. The air filter behind can be detached and cleaned.
Overall this dryer is an amazing investment because it makes styling so simple and quick.
I wanted to style and define my wavy hair so I used the diffuser head but if you want to go for a straight and sleek look, you can always use the concentrator. 
Also, I noticed that my hair looks smooth and voluminous after using this hair styler.
Features:
Ceramic, Ion and Tourmaline technology
1875 watts
2-speed settings
3 heat settings
Micro conditioners
Cool shot
Includes diffuser heat and concentrator head
120V
Removable Filter
Hang loop
Devacurl Dryer With Deva Fuser
Best Ionic Hair Dryer For Curly Hair
Deva curl is a brand that is well known for its hair care and hair grooming products exclusively made for curly hair.
So I had high expectations from this hair dryer and fuser. Usually, curly-haired girls have to spend a long time drying their coils after a shower.
But this device can change the game for you. It helps in drastically cutting the drying time and assists you in conveniently styling your curls.
The diffuser makes your hair bouncy voluminous, well- defined and frizz-free.
It has a powerful 1600 watts AC motor that helps in styling your hair in different ways.
You can choose from the three temperature settings and the two-speed settings depending upon your hair texture.
The diffuser has a unique hand shape that mimics the manual scrunching that you do on your curls to get that definition.
It is super convenient to use and delivers a 360º hair flow to reach your curls, especially your roots which is usually hard to reach.
Features:
1600 watts
Unique hand-shaped diffuser
Cuts hair drying time
Increases volume and bounce
360º airflow
3 temperature settings
2 speeds settings
Curly hair is more prone to damage as it is highly porous and generally coarse and fragile. It also tends to get dry quickly and regular hair dryers can leave it dehydrated.
So you can choose a good hair dryer for curly hair in this article. Remember to choose the product good for your hair texture, type, and length. 
Also Read:
Best hair serum for curly hair
Best hairstyles for curly hair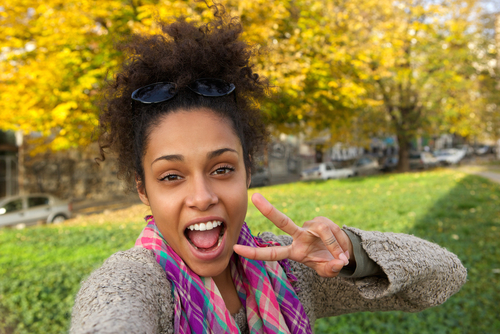 Helen is committed to bringing you the latest popular hairstyles, hair care tips, and hair-related products. You can check more of her work on besthairlooks to find fashion inspiration, product reviews, tutorials and more!