A lot of people think that short hair is low maintenance. But you need to style it just as you would style your long hair.
To style short hair into awesome new looks, you'll need the best flat iron for short hair.
Related: Best Hair Waver For Short Hair
Related: Best Curling Wand For Short Hair
Related: Best Hair Extensions For Short Hair
Flat irons are some of the most common tools for hair styling. But have you ever noticed that sometimes the flat irons are too wide for your hair length?
I'm sure the short-haired girls can relate!
Worry not, the perfect solution to this is using a flat iron for short hair. These have narrower plate widths and are also compact in size.
So they're easy to maneuver through your bob or pixie cut hairstyle.
I have listed some of the best flat irons for short hair that will take care of your short hair styling needs. 
Top Flat Iron for Short Hair 2021
Conair Instant heat Ceramic flat iron
I chose this flat iron to review first as it is a great straightener for short hair because of its narrow ¾ inch plates.
This device also has a very ergonomic design with a curved handle that was easier to handle and work with initially.
However, it started getting painful after a few minutes.
It had floating plates that covered every inch of my hair and gave very even results.
The highest heat is 400° and it has a 30-second heat-up time. So it worked well on my coarse, coily hair.
You can choose from 25 different heat settings to find the right one for your hair type.
Pros:
Dual voltage
Convenient touchpad
2-year warranty
Lightweight
compact
Cons:
The curved handle might be a bit painful
Remington S9500 Pearl Pro Ceramic Flat Iron
This Remington straightener was really easy to work with because of its 1-inch plates that glide easily.
I liked how it comes with a 60-minute auto shut off that ensures safety.
I picked this straightener as it causes relatively less damage to hair because the plates contain 8 times more ceramic.
This also helps in cutting down styling time. So this is a great choice for fine, fragile or damaged hair.
The plates are also infused with pearl ceramic technology that gives you great results and leaves your hair straight.
If you are looking for a pocket-friendly straightener for your short hair, this would make a great choice.
This is one of the fastest heating flat irons I have ever used and it heated up in less than 15 seconds!
Pros:
Pearl ceramic technology
15-second heat up time
Easy to reach buttons
Temperature lock
Auto shut off
Ceramic floating plates
Cons:
Not suitable for worldwide use
BabylissPRO Nano Titanium Mini Iron
This straightening iron is hands down the best product on the list and it gives flawless results for short hair.
If you always end up skipping small parts of your hair while ironing, this device will fix that for you.
I was expecting a lot since it is a Babyliss product and they did not let me down.
I love the beautiful blue body of the straightener and the compact size made it too easy to handle.
People with long hair can go for this and it will be a great companion for travelling since it is lightweight and only 6 inches long.
The nano titanium plates evenly distribute the heat all over the plates and
Pros:
Travel-friendly
Lightweight
Excellent performance
Instant heating
Even heat distribution
Cons:
Amovee Mini Flat Iron
If you are looking for a flat iron that won't burn a hole in your pocket, go for the AmoVee mini flat iron. The narrow ceramic plates in this flat iron can style every bit of your short hair.
It worked well on my curly hair and made it smooth and sleek in no time. It heats up quickly and evenly. 
It comes with floating plates so I also tried out light curls and the results were pretty good.
However, it only has one fixed temperature so you do not have much flexibility with temperature settings.
This is a great straightener to carry while travelling because of its compact and lightweight body.
The best part is it comes with heat resistant gloves that helps in avoiding those annoying burns that occur while curling your hair.
Pros:
Budget-friendly
Instant heat
Safety lock
No snagging or pulling
Includes heat resistant gloves
Cons:
MDH Mini Flat Iron
This is one of the thinnest hair straighteners on the list with a plate size of ½ inch so you already know how good it is for straight hair.
What's amazing is that the size is also perfect for moustaches and bangs. So it's a very versatile product. 
The thin plates also enable you to try out different styles on your hair.
Although I loved the performance of this straightener, one drawback is that it lacks infrared emission technology.
This means that the outer cuticle of your hair will be affected by heat and it will dry out your hair and cause frizz.
Pros:
Compact
½ inch plates
Instant heating
Cons:
Does not contain infrared emission technology
 Not suitable for worldwide use
Comparison Table
| | | | | | |
| --- | --- | --- | --- | --- | --- |
| Must-have Features | Conair Instant Heat Ceramic Flat Iron | Remington S9500 Pearl Pro Ceramic Flat Iron | BabylissPRO Nano Titanium Mini Iron | Amovee Mini flat iron | MHD MHU Professional Mini Travel Flat Iron |
| Technology | Ionic Technology & Far-infrared Emission | Pearl Ceramic technology | Nano titanium | Ceramic tourmaline technology | Ionic Technology |
| Plates | Ceramic Plates | Ceramic plates | Ceramic plates | Ceramic plates | Ceramic Tourmaline Plates |
| Plate Size | ¾ Inch | 1 inch | ½ inch | ½ inch | ½ Inch |
| Plate Type | Floating Plates | Floating plates | Floating plates | Floating plates | Floating Plates |
| Maximum temperature | 400°F | 450° | 430° | 410°(Fixed temperature) | 356°F |
How to choose a flat iron for short hair
There are so many different types of flat irons available in the market and it can be difficult to choose the right one for your hair.
There are certain criteria you should look into before making the splurge.
If you are planning to invest in a flat iron or are thinking of changing your current one, read our buying guide to get a clear idea.
Hair type
When you are buying a flat iron, you should check your hair type. Your hair type is divided into thick and thin hair.
People with thick hair will need a powerful hair straightener that can tackle stubborn hair textures.
Thin and fine hair can be easily worked on with a regular flat iron unless it is too damaged.
Regardless of your hair type, you should always go for straighteners with ionic technology.
This will seal negative ions in your hair while styling to keep your hair moisturized. 
Type of plates
Different types of plates are composed of various materials like ceramic, tourmaline, 24k gold, etc. 
They are also available in various plate sizes.
If you have thick curly and coarse hair that is difficult to straighten, you should opt for bigger plates that are 1 inch long or more.
This enables you to work on large portions of your hair at a time. Narrow plates are best for those with short and fine hair.
You can also try out loose waves or curls with these narrow flat irons. 
There are special plates that cater to wet hair so if you are someone who likes to style their hair straight out of the shower, you can opt for these wet to dry straighteners. 
Do not use a regular straightener on wet hair as it could seriously damage your hair and even cause accidents. 
Temperature Settings
One of the most important signs of a good quality straightener is the consistency of heat on the plates.
The temperature on the plates fluctuates when you bring it into contact with your hair so the device should be able to recover the heat level quickly.
If the plates do not heat up properly, you will have to run the device through your hair multiple times which could cause heat damage.
It also gives you poor results.
It is best to select flat irons that have multiple heat settings and a digital display that will give you a clear idea about the settings.
Different types of hair need different heat settings that will style without damage.
Check out this guideline that shows the temperature settings for straightening each hair type
Fine, chemically treated, damaged hair: 300° or less
Healthy hair with medium texture: 300°- 380°
Coarse, curly or thick hair: 350°- 400°
You should never set your straightener settings to 450° or above because it becomes too much for the hair.
The heat will break down the natural texture of your hair and make it thin and fragile.
Shape and size
The shape and size of your flat iron can really affect your style.
The right straightener shape and size should depend on the style you are trying to achieve and the length of your hair
If you have thick and coarse hair that is hard to manage or long hair that takes a lot of time to style, go for a bigger flat iron that is about 2 inches wide.
This will reduce styling time because you are working on a bigger section of hair with bigger plates.
In terms of thick and coarse hair, this will help in cutting down the number of times you will have to pass the straightener through your hair to style.
For those of you who like to switch up their style often, a round-shaped straightener would be a good option.
They help in getting different styles like waves and curls and they glide smoothly.
If you have short to medium hair, go for straighteners with smaller plates, around 1 inch or shorter width. 
If you have super short haircuts, you can also buy those cute little mini travel straighteners that are portable too. 
I hope my reviews and ratings of these products helped you select the right flat iron for short hair.
You can also check out the buying guide that will make it easy for you to choose one.
Short hair looks so amazing if you style it right! With these hair straighteners for short hair, you can get stylish new looks in no time.
Also Read:
Best Flat Iron For Beach Waves
Best Flat Iron For Natural Hair
Best Oil For Hair Straightening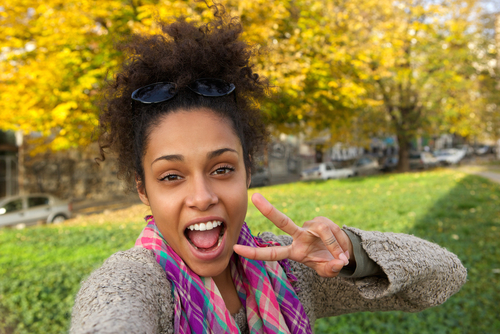 Helen is committed to bringing you the latest popular hairstyles, hair care tips, and hair-related products. You can check more of her work on besthairlooks to find fashion inspiration, product reviews, tutorials and more!
AmoVee Mini Flat Iron
The best flat iron for short hair should be able to create new hairstyles on curly, wavy, afro short hair. The AmoVee Mini Flat Iron is suitable for all hair types.
Product SKU: AMT2BGIKB2
Product Brand: AmoVee
Product Currency: USD
Product Price: $16.99
Price Valid Until: 2022-10-16
Product In-Stock: InStock