It is high time we stop letting our hair length decide our hairstyles.
There is a common misconception that short-haired people only have a limited choice of hairstyles.  It is very easy to get bored of short hair because of this very reason. 
But did you know it's very easy to style short hair? You don't even need a curling iron!
With help from a flat iron, you can curl short hair in minutes. So you can use your hair styling tools to create new hairstyles.
Related: Best Flat Iron For Short Hair
Related: Best Hair Waver For Short Hair
Related: Best Hair Extensions For Short Hair
Yes, short hair can be intimidating to work on but do you know that curls look so good on them?
However, for people with short hair cuts, it might be a little too wide to wrap their hair around it.  
How to curl short hair with a flat iron 2021
The best day to curl your hair is when it is freshly washed and blow-dried or the next day.
The second-day curls can hold your curls better than the former one.
Step 1 – Start with a curling spray
Usually, people use a hair spray or curling spray after styling the hair but do you know that you are supposed to put it before curling too?
If you are someone with fine and thin hair, it could get really difficult to make your curls stay. This is where a curling spray comes in handy.
A curling spray is similar to a texturizing spray that gives some amount of texture to your hair and helps in developing curls or waves on the hair. 
They usually include ingredients like sea salt, Moroccan argan oil, etc. that provide some texture and nourishment to your limp hair. 
Some people also prefer to use a light holding spray before styling. Some of the best curling sprays available are:
Oribe Dry Texturising Spray
The Oribe dry texturizing spray is a great option for those days when you are too lazy to wash your hair. It has a powerful formula that can absorb excess oil from your roots without leaving any powdery residue. 
It also gives your hair that much-needed volume and a light hold. The best part about this spray is that it has a soothing scent that is a pleasure to your senses.
This hair spray is suitable for all hair types including chemically treated and colored hair. It is free of harmful ingredients like sulfates, parabens, and gluten.
Aveda Air Control Light Hold Spray
The Aveda Air Control is a medium hold hairspray that gives an amazing texture to your hair. 
This product is suitable for all types of hair including oily hair and dry hair. 
If you struggle with hair static, this hair spray can solve it for you. This is an extremely lightweight product that guarantees to give you great results.
If that is not a reason enough to buy this product, Aveda is one of the most sustainable hair care brands in the world and this has a net-zero impact on the planet!
Simply hold the can 8 to 10 inches away from your hair and spray it sparingly before using your curling tool. You will be left with beautiful texturised hair. 
Garnier Fructis Texture Tease
This is an affordable option for those of you on a tight budget. The Garnier Fructis texture tease is a weightless hair product that is usually used as a finishing spray.
But it can also help in preparing your short fine hair for curling.
It has an innovative micro-mineral formula that gives it a firm yet light hold that is flexible to style.
This spray also helps in adding volume to your hair to make it look fuller without teasing so it is just perfect for short-haired people. 
Step 2 – Section hair from top to bottom
Styling your hair yourself can be a tedious job. So it is important to find ways to make the process easier for you.
Sectioning your hair is the first step to easy and quick styling. You can use sectioning clips or even regular hair claws to hold your hair in place.
If you have thick hair, you should make smaller sections to style your hair effectively. Otherwise, you can section it into bigger chunks.
You can even use bobby pins to secure these sections if your hair is short enough. 
Step 3 – Start styling in one direction
You can start styling your hair from the back of your ears.
It is recommended to get a flat iron with thinner plates, around ½ inch to get good results on short hair.
Place the straightener at the root of your hair and rotate half a turn. Hold it for a few seconds. Do not hold it for more than 10 seconds since it could seriously damage your hair. 
Gently let go of the hair and move the flat iron to the roots, away from your face. You will notice that the section of hair has become bouncy and curly. 
Step 4 -Repeat the process in the other direction
Take the adjacent section of hair and follow the same process, but in an alternative direction.
This will give a curly texture to your hair. Repeat the process of rotating and styling your hair throughout your head except for the front part until all the sections are curled and voila!
You have amazing looking short curly hair. 
Step 5  – Style the hair on the front
It is important to take special care of the hair on your front while curling. This helps in creating a good frame for the face and accentuates the rest of your curls.
In this case, it is relatively simple to style hair at the front. Simply grab the section of your hair from the front and rotate the flat iron away from the eyes.
You will get beautiful curtain bangs that will really compliment your curls. 
Step 6  – Brush the final look
Now that your hair is beautifully curled up. It's time to put the look together.
Choose a wide-toothed comb that will not break the curly structure of your hair.
Work through your hair by gently combing over your curls. This will make your curls look natural and give a good finish to the look.  
Step 7 – Finish with a holding spray
This is where a holding spray comes to play. Our curls can be destroyed by a lot of factors like wind, moisture, humidity and even physical activities.
So it is important to freeze them and make them stay.
A holding spray does just that and is available in a lot of intensities.
You can select one depending upon the texture and thickness of your hair. 
L'oreal Paris Elnett Satin Hairspray
This hairspray gives you a long-lasting hold that you can easily brush through so it is perfect for curls. It fights strongly against humidity and holds your curls in place.
This hairspray is available in different variants that give you different holds. They are also different variants for different hair types (like one for dry hair, oily hair, etc.)
Hold the can about 12 inches away from your hair and spray it. It disappears from your hair in seconds and you can even brush over your style. 
Tresemme Compressed Micro Mist
The Tresemme Compressed micro-mist is a budget-friendly option for a good holding spray.
I liked how it provides a defense against humidity to protect your curls. 
It is available in different levels of hold for different hair thicknesses and styles and there is a variant specifically for curly hair. 
How to maintain short styled hair?
Here are a few tips and tricks to make sure that your curled hair remains intact throughout the day.
Don't wash your hair the day before curling- You should curl your hair the second or third day after washing to bring in some natural oils from the scalp.
This will give some amount of grit and hold to your hair which will be perfect for developing curls. 
Start from the shower- Although it is recommended to curl on the second-day hair for the best results, you have to start preparing for it from the shower.
When you wash your hair, it is recommended to skip the conditioner if you are looking forward to curling your hair.
This is because the conditioner can make your hair soft and slippery leading the curls to fall out or loosen up fast. 
Curly hair needs some amount of grit and texture to hold the style.
Invest in good hot tools- The quality of your tools also determines the quality of your curls. 
This doesn't mean that you have to buy the most expensive flat iron out there.
The plates with ceramic or tourmaline coating will heat up better and reduce hair damage as compared to other materials. 
Using the right products– It is important to understand your hair type and then select products to get the best results.
For eg, if you have dry hair, try using hair sprays and serums with moisturizing ingredients like Moroccan oil or shea butter. 
A lot of short-haired girls step away from curling because they feel that their hair is not long enough to develop curls.
Playing around with the texture can help you switch up looks, especially for people with short hair.
A flat iron is one of the most common tools to help you curl your hair. 
Also Read:
How to get waves with straight hair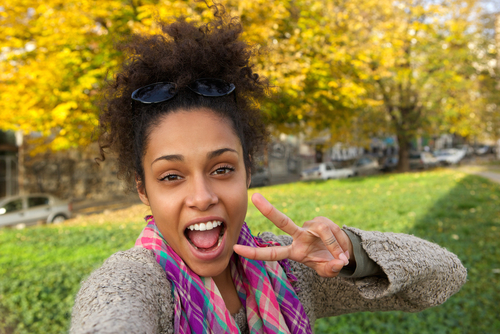 Mira is committed to bringing you the latest popular hairstyles, hair care tips, and hair-related products. You can check more of her work on besthairlooks to find fashion inspiration, product reviews, tutorials and more!