Regretting getting your hair chopped? Not to worry, with these clip in hair extensions for short hair, you can get back your flowy, long locks.
Related: Best clip in hair extension for thin hair
Related: Best hair extension for short hair
Related: Best hair extension for braids
Clip in extensions are more popular than weaves or crochet hair as they are easy to use. You don't have to go to a hairdresser to get them done.  
How I tested the best clip in hair extensions for short hair?
After looking at several hair extensions in the market, I tested them on the parameters given below. Then, I rated them on a scale of 1-5.
Quality – Whether the hair was of high quality Remy hair, normal human hair, or synthetic fibers.
Thickness – Thicker extensions are great for adding volume. But they can also weigh down hair.
Length – Short hair extensions should at least be 4-6 inches long. It's also great if the extensions come in multiple lengths to create a natural look. 
Top Clip In Hair Extensions For Short Hair 2021
Glam Seamless Clip-In Hair Extensions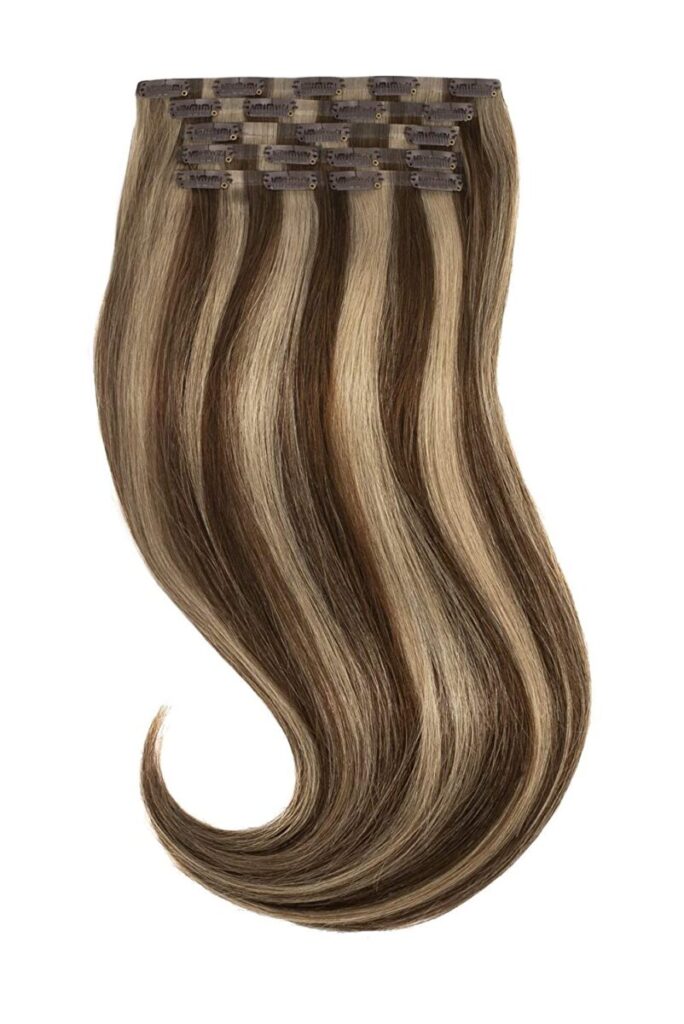 If quality is your top priority, these Glam clip in hair extensions for short hair is something you should try.
I loved how natural and beautiful these extensions are! They are made of 100 percent human hair.
In fact, these are Remy hair extensions, the best of human hair. These extensions have their cuticles intact, ensuring a smooth, healthy-looking appearance.
And yes, the Glam clip in hair extensions are priced at a higher range. But the quality and variety in thickness and colors make it well worth the price!
These clip in hair extensions are around 160-170 grams in weight. So they sit comfortably on short hair.
They add a decent length of 16 inches too. I also liked how the clips are matte and almost invisible when you wear these extensions.
Pros:
High quality Remy hair
Different colors and lengths available
Invisible clips
Doesn't weigh down short hair
Cons:
Expensive 
Can feel too heavy on fine hair
Vario Clip-In Hair Extensions
The next clip in hair extensions for short hair that I tried were by Vario. And I loved them more than the Glam ones!
Firstly because these are not as expensive. And secondly, these are very light and comfortable.
The glam extensions weighed around 160-170 gms and were quite thick.
These Vario extensions, on the other hand, weigh 70 gm each and you get seven in a pack.
So these sit more comfortably on women with pixie or boy cut hairstyles as their weight doesn't require as much leverage.
And if you want thickness, you can always get 2-3 extra sets.
These too are 100 percent Remy hair extensions. The only difference is they aren't virgin human hair.
They've already undergone a chemical process, so I wouldn't suggest dyeing or bleaching it, unless you're taking it to a professional.
Pros:
Affordable
100 percent Remy hair
Lightweight
Suitable for pixie haircuts
Cons:
You need 2-3 packs for a full head
Chemically processed
Amazing Beauty Hair Clip-In Hair Extensions
If you have naturally type 4b or type 4c curly hair, you'll be familiar with shrinkage.
The curly pattern makes your hair look shorter all the time, even if you've grown it out for ages!
So wearing clip in hair extensions for short hair, can really add volume and bounce to your Afro.
I really liked this Amazing Beauty product as these are 100 percent virgin human hair extensions. So there's no chemical processing or coloring to damage them!
Each pack comes with an 8-inch, 6-inch, 4-inch, and 2-inch piece, which is fantastic as the differing lengths really give your Afro a natural look.
They add a total of 16 inches to your tresses and weigh about 120 gms.
Since this is high-quality Remy hair, you can color, condition, or straighten it without hesitation.
You can also create bantu knots, twists, dreads and other hairstyles if you like.
I did notice that the color varies a bit from their pictures. But that's bound to happen with natural human hair.
Again, as this is type 4 hair, it can also be a bit coarse to touch, although it's nothing a bit of shea butter or coconut oil won't fix.
Pros:
100 percent Remy human hair
Natural type 4 texture
Can be colored and styled if needed
Cons:
Difficult to find exact match in hair color
Slightly coarse to touch
HairUWear Hairdo 20-Inch Invisible Extension
Well, I confess to cheating a bit with this one. These are not, technically, clip in hair extensions for short hair.
But they work quite similar to one. Most women prefer clip ins over weaves or crochet extensions as these are easier to wear.
So if you're looking for ease, these HairUwear Hairdo 20-inch extensions are a great choice.
Here's how you can wear them:
Slip them around your neck like you would a necklace
Make sure the thread part is facing your neck and the hair is towards the back
Pull the thread up like you're wearing a headband
Using a rattail comb, bring your natural hair over the exposed thread
Comb through the hair, blending the extensions in
The only catch here is that these extensions are made of synthetic fibers. So they're more prone to tangles and knots.
You might also notice them becoming frizzy after a wash.
And as you have to cover the thread with your natural hair, it cannot be used for very short hair like pixie cuts or boy cuts.
However, synthetic extensions have their own uses. As they aren't smooth like human hair, they don't slip while you're styling hair.
Pros:
Easy to wear
Doesn't slip while handling
Cons:
Synthetic hair
Prone to tangles
Not going to work on pixie or boy cut hair
Shedowig Long Curly Ponytail Extension
These clip in hair extensions for short hair are by Shedowig, and are very easy to use. More specifically to add length and volume to short ponytails.
I like how natural these extensions looked despite not being human hair.
They are 16 inches long and come in a variety of hair colors, including blonde, platinum, brunette, and dark black.
Ponytail Extension 16″ Long Curly Wavy Claw Jaw Clip in Synthetic Hairpiece Pony Tail Tale Ponytail Hair ExtensionsColor:4A#Dark Brown
What really impressed me was the claw jaw clip that is a departure from the regular barrette-like clips on other extensions.
This clips is slightly bigger but hides well underneath the ponytail. It's also very secure.
Pros:
Very easy to use
Looks natural
Claw clip is very secure
Cons:
Synthetic hair
Feels heavy
Cannot be used with bobs or pixie cuts
How to blend clip in hair extensions in short hair seamlessly?
Putting hair extensions on short hair can be quite a challenge. The shorter strands can stick out and the fine hair can make it impossible for the clips to get a good grip on your strands.
But here are a few tips and hacks that will make it easy peasy to add extensions to your lob, bob, or pixie hairstyle.
Pin the bottom part of your hair
A lot of women leave the bottom section of their hair (near the nape of their neck) unpinned. So sometimes, the shorter strands stick out and are noticeable.
Instead of pinning the weft of the clip in extensions above this section, here's what you can do.
Comb this section from the back and braid or twist it to prevent it from loosening. Now, tie it up with a clip and secure it in place.
You can clip your hair extensions at this point. So there won't be any noticeable shorter hair anymore. 
Mix in different colors
Adding different tones and colors similar to your natural hair color will not only give you a trendy balayage look, it will also add volume to your hair.
Clip in hair extensions in ombre colors are more adept at hiding any differences than using a block colored product.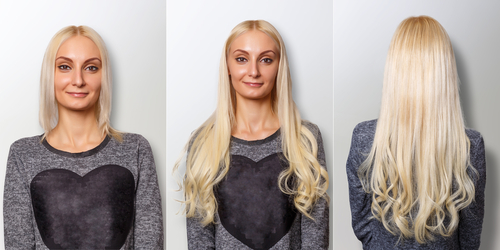 Place extensions higher than usual
Unlike regular hair extensions that simply add a few inches, extensions for short hair need to cover as much of your natural locks as possible.
This is to prevent the short, spiky strands from distracting from the whole look.
So if you want to seamlessly blend these extensions into your hair, place the weft higher than you usually would. Maybe even starting at the crown.
Frame your face for a natural look
Another pro hack to make your clip in extensions blend naturally in short hair is to use shorter pieces in the front.
This will create the illusion of layers and make the extensions almost invisible. Most products come in gradually increasing lengths of extensions anyway.
Adding shorter extensions at the front will also frame your face, making it look smaller and thinner.
Tease the hair at the roots
Before applying the clip in hair extensions for short hair, remember to tease your strands at the root.
Teasing is backcombing your hair multiple times toward the scalp to add volume.
This lifts up the hair cuticle and gives your hair a coarse, tangly look. These coarse strands will hold the extensions better than smooth, fine hair.
And there you have it guys! The best clip in hair extensions for short.
Whether your preference is human hair or synthetic hair, long lengths or ultra long ones, you can pick the products of your choice.
There are also several color options to match your natural hair tone. 
Also Read:
Short hairstyles for Indian women
Best curling wand for short hair
Relaxed hairstyles for short hair
Homecoming hairstyles for short hair
Glam Seamless Clip-In Hair Extensions
The clip in hair extensions for short hair can add length and volume. The Glam Seamless Invisi Clip In Hair Extension is made of high quality remy hair.
Product SKU: NROWHY9724
Product Brand: Glam
Product Currency: USD
Product Price: $269.48
Price Valid Until: 2022-01-27
Product In-Stock: InStock