Get the easiest scalp folliculitis treatment in the form of a shampoo for folliculitis. These OTC shampoos contain ingredients like ketoconazole and help soothe inflammation.
Folliculitis may be a common problem but it is annoying and painful. But it can be managed using the best shampoo for folliculitis.
While natural home therapies might work over a prolonged period of time, if the infection is just beginning, use a shampoo for treating folliculitis.
There are plenty of shampoos in the market that claim to get rid of folliculitis overnight. But do they all work?
Related: Best Antibacterial Soap For Folliculitis
| | | |
| --- | --- | --- |
| Shampoos For Treating Folliculitis | Best For | Chief Ingredients |
| CLn Shampoo For Folliculitis | Flaky, Dry Scalp | Sodium Hypochlorite, Glycerin |
| SheaMoisture Jamaican Black Castor Oil Shampoo | African American Hair | Apple Cider Vinegar, Jamaican Black Castor Oil and Shea Butter |
| Puriya Sulfate Free Tea Tree Oil Shampoo | Oily Scalp | Tea Tree Oil, Arnica, Sage and Rosemary |
| Nizoral A-D Anti-Dandruff Shampoo | Severe Folliculitis | Ketoconazole 1% |
| C2P Non-Comedogenic Hair Shampoo | Inflamed Scalp | Kiwi, Strawberry, Mango, Pumpkin and Carrot |
| Selsun Blue Moisturizing with Aloe Dandruff Shampoo | Dry Scalp | Selenium Sulfide 1%, Aloe Vera |
| Free and Clear Shampoo For Folliculitis | Itchy Scalp | Panthenol, Glycerine |
| Brickell Men's Products Daily Strengthening Shampoo | Thinning Hair | Mint, Tea Tree Oil, Hydrolyzed Protein |
Here is how folliculitis appears on the head and around scalp
Folliculitis is an inflammatory condition that affects the hair follicles on your skin. It can be caused due to bacterial or fungal infections. This condition is not contagious, but if left untreated can cause permanent damage to the follicles, leading to hair loss and scarring.
How I tested the top shampoo for folliculitis?
I have mild folliculitis myself and so I decided to test these shampoos by using them and rating them on a scale of 1-5 based on certain parameters. These factors include:
Strength of the Formula – I first checked if the shampoo contained strong, medicated ingredients like ketoconazole or milder ones like tea tree oil and then I noted how well it worked at reducing my folliculitis
Gentleness on Hair – While I like a shampoo with a strong formula that can reduce folliculitis faster, it shouldn't harm hair either. So I checked if the shampoos contain sulfates or if the medicated formula could dry out hair.
Price – Another thing I noticed about these shampoos was the price and quantity as you might need to use these shampoos for folliculitis for long periods of time to see results.
Top Shampoo For Folliculitis 2022
Read on for the reviews of the best shampoo for treating folliculitis:
#1- CLn Shampoo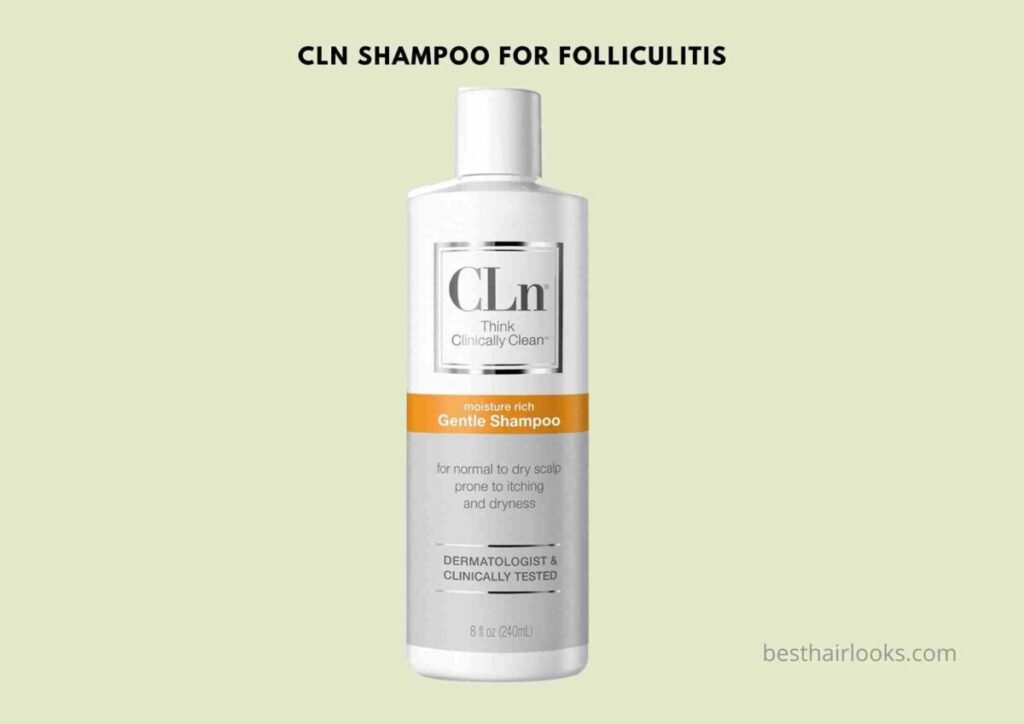 Due to folliculitis the entire upper area of my forehead felt inflamed and as a result there were tiny acne-like bumps on it too.
When I first got the CLn shampoo I wondered if it would be strong enough to take care of these problems but thankfully it didn't give me cause for complaint. At least not in that department.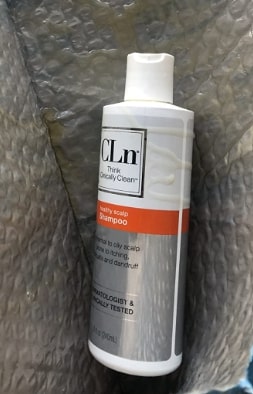 While this shampoo may not be as strong as other medicated shampoos, I felt the salicylic-acid based formula did its job when it came to controlling folliculitis.
However, if you a have more severe case of bumps and irritation, I'd suggest you try a medicated ketoconazole shampoo like the Nizoral AD instead of this.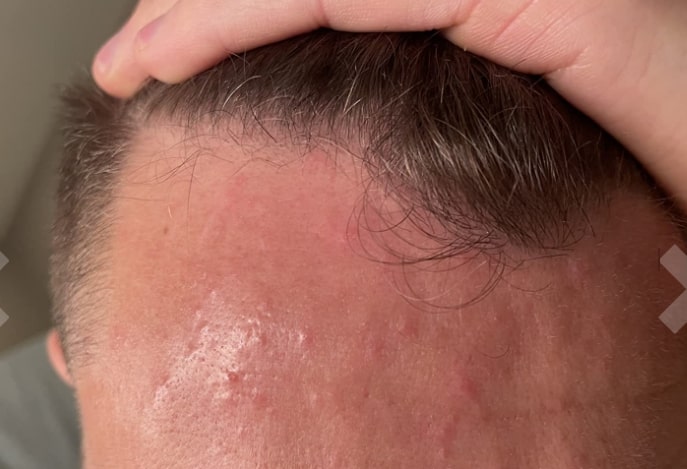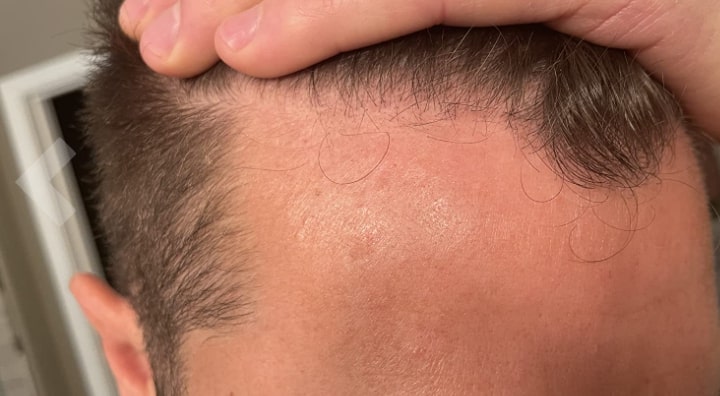 What disappointed me most about this shampoo is that it's not a medicated one, yet it's so highly priced. You can get the Nizoral shampoo at half the price. So this was shocking to me.
Also, it doesn't have any other redeeming features to make it worth the cost. In fact, I actually didn't like that it contained sulfates.
So you can't use it if you have color-treated hair as it will strip the dye.
I'd suggest you use this shampoo if only you have mild folliculitis and oily scalp.
Key Features of Shampoo:
CLn shampoo is highly recommended for any type of scalp infection as it is hypo-allergenic and is free of fragrances.
Best for normal or oily scalp, this shampoo is clinically tested and safe to be used for conditions like folliculitis and dandruff. It effectively cleans the scalp.
The salicylic acid is an active ingredient that adds moisture to the scalp and hair, while also gently getting rid of the dead skin cells.
This removes the flakiness and the hydration keeps it at bay. Itchiness comes down along with the reduction in redness and inflammation.
This high performance shampoo is easily available online and can be used 1 to 3 times a week.
Pros:
Removes flakes, crusts, excess oil from hair effectively as it contains salicylic acid
Hypoallergenic formula doesn't trigger sensitive scalps
Doesn't contain added perfumes so it's good for inflamed skin
No parabens or triclosan
Cons:
Expensive and contains little product for the price
Contains sulfates so it can strip hair color
My Ratings:
Strength of the Formula – 4.5/5
Gentleness on Hair – 4.5/5
Price and Quantity – 3.5/5
#2- Nizoral A-D Anti-Dandruff Shampoo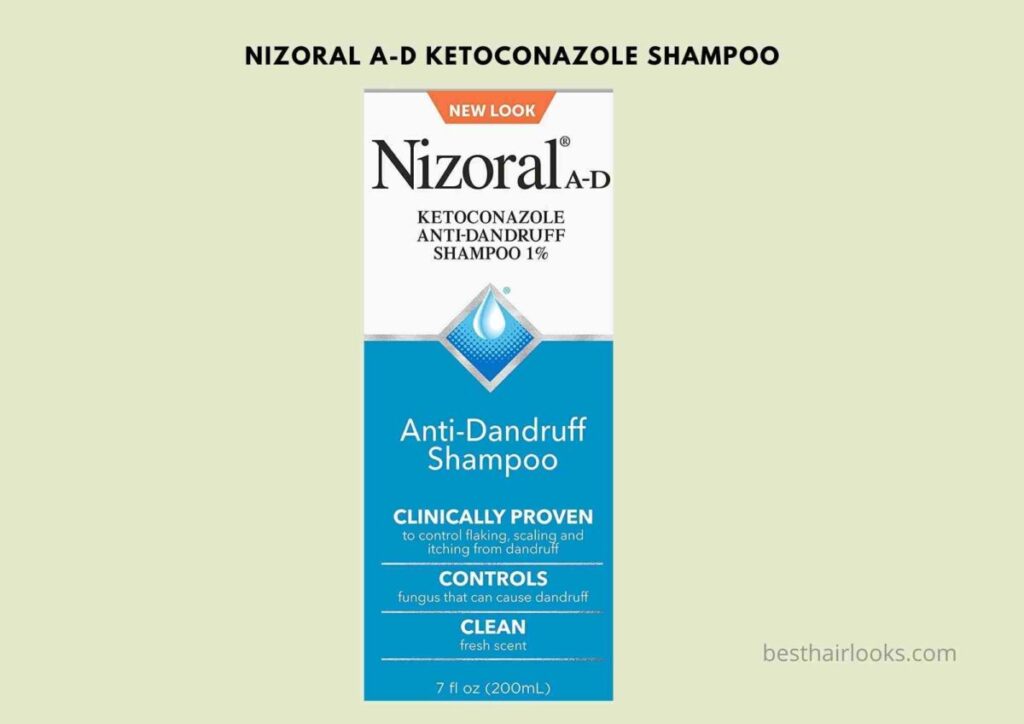 Sometime ago the folliculitis infection on my scalp got really bad, so I really needed a medicated shampoo for immediate relief as the fungus spreads very quickly and the shampoo you use must be able to curtail it.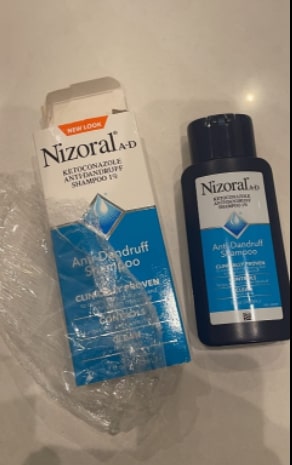 So I decided to turn to Nizoral as it's the most trusted brand when it comes to OTC medicated shampoos for scalp issues. What I liked most about this product is that it contains ketoconazole, a common treatment for folliculitis.
In fact, it helped reduce the bumps on my forehead and scalp almost by 50 percent in just 3 washes.
Also it removed any flakes and crusty buildup on my scalp as well. So yay me!
But is this shampoo perfect? Of course not. It contains sulfates as inactive ingredients. So it's probably not for color-treated hair.
However if you have severe folliculitis you can compromise and use this shampoo once a week till it is in control. That way you will be able to salvage your hair color in some way.
Key Features of Shampoo:
Nizoral A-D Anti-Dandruff Shampoo contains 1% ketoconazole which combines with the natural protein of your hair to kill the fungus and get rid of the infection completely.
This is one of the main ingredients in most effective anti-dandruff shampoos you find in the market.
It lathers well and spreads easily throughout your scalp for maximum coverage, ensuring that it cleans all parts of your hair.
It is gentle on your scalp and can be used twice or thrice a week for best results.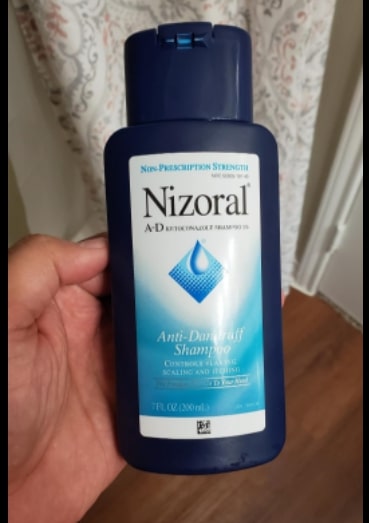 Pros:
2 percent Ketoconazole formula controls folliculitis very fast
Removes crusts, dandruff flakes and other impurities from scalp as well
Reasonably priced for a medicated shampoo
Cons:
Formula is too strong and can leave hair dry so don't use it daily
Contains sulfates so it can strip hair color
My Ratings:
Strength of the Formula – 5/5
Gentleness on Hair – 3/5
Price and Quantity – 5/5
Check out more ketoconazole shampoos for folliculitis and other scalp issues below:
#3- Puriya Sulfate Free Tea Tree Oil Shampoo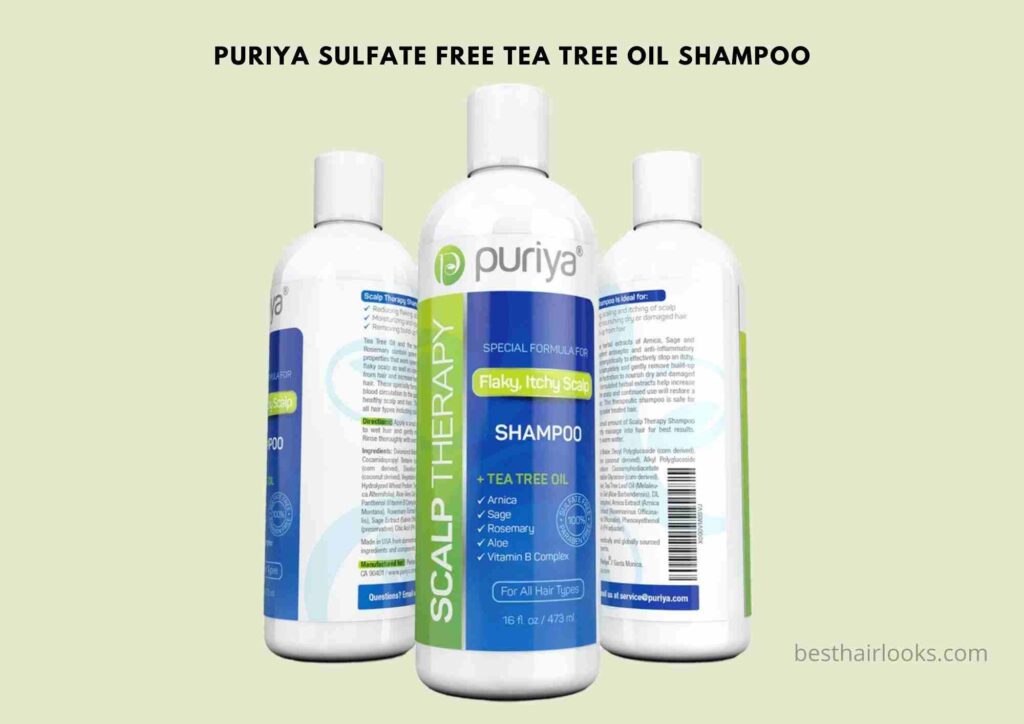 Tea tree oil is a miracle ingredient used in many acne treatments as it is a natural anti-microbial and antiseptic. So I was excited to use this folliculitis shampoo that claimed to be "natural" and formulated with tea tree oil.
I'm kind of glad I decided to try this shampoo as it's amazing. No really.
I absolutely adored the fact that it doesn't contain sulfates! So if you have color treated hair you can go for it without a second thought.
Also it's not as harsh as the Nizoral or CLn formulas so it won't dry out scalp much so you can use it everyday if you like.
Now speaking of dry scalps, most folliculitis shampoos focus on removing excess oil and dirt from scalp and not on moisturizing it. But this shampoo contains aloe vera that hydrates your irritated scalp without causing folliculitis to worse due to oiliness.
The only issue I have with this shampoo is that it's a tad too mild. So if you have severe inflammation or infection, it's best to go for Nizoral once a week.
Other than that Puriya Tea Tree oil shampoo has my whole heart!
Key Features of Shampoo:
It also unclogs the pores, and helps the skin breathe.
Since folliculitis could occur due to microbial infections, using a tea tree shampoo is a good idea.
The Puriya Tea Tree Oil Shampoo is specially formulated to treat scalp infections like psoriasis and folliculitis.
The other active ingredients are sage and arnica.
While the former is an effective anti-inflammatory and an anti-microbial, helping reduce the redness and getting rid of the infection, the latter is good at calming and soothing the scalp.
Along with tea tree oil, this shampoo also has extracts of rosemary which increases blood circulation in the scalp keeping it healthy and stimulating hair growth.
As the name suggests, this shampoo is also free of sulphates, making it safe for you to use this regularly.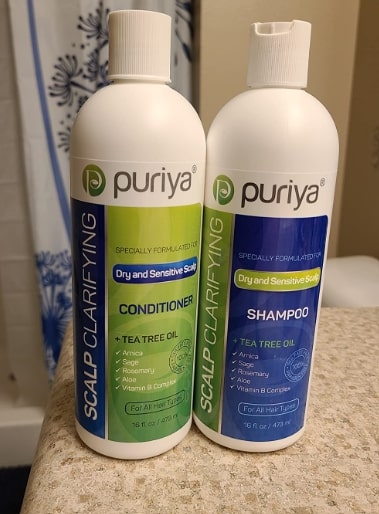 Pros:
Sulfate-free shampoo won't strip hair dye
Has antibacterial and antifungal properties thanks to the tea tree oil formula
Reduces itching and redness as it contains soothing panthenol
Aloe vera hydrates dry scalp without making folliculitis worse
Cons:
Mild formula won't be as effective for severe cases of folliculitis
My Ratings:
Strength of the Formula – 4.5/5
Gentleness on Hair – 4.5/5
Price and Quantity – 4.5/5
Check out more tea tree oil shampoos right here!
#4- Brickell Men's Products Daily Strengthening Shampoo
Specially formulated to treat men's hair and scalp, the Brickell Men's Products Daily Strengthening Shampoo is our recommendation if you have a scalp infected by folliculitis.
Using natural ingredients that are chockfull of benefits that help get rid of scalp infections, Brickell shampoo works like magic.
The key ingredient is tea tree oil which fights fungal infections. It cleanses the scalp, unclogs the pores and keeps your scalp and hair healthy.
Peppermint cools your inflamed scalp and gives you a fresh feeling.
This shampoo also has aloe vera which is a proven moisturiser and anti-inflammatory agent.
Within one or two uses you notice that the redness comes down, your scalp feels more moisturised, the flakiness is almost gone and your scalp is healing.
The vitamin B5, vitamin E and amino acids strengthen your hair follicles, make them more elastic and keep them from breaking.
All ingredients in this shampoo are 97% organic and safe to use regularly.
Pros:
No sulfats or parabens
Scent is essential oil based
Fresh minty fragrance
Cools scalp and reduces itching
Strengthens hair
Aloe vera hydrates hair
Cons:
Expensive
Can leave hair limp
#5- The Body Shop Ginger Scalp Care
The Body Shop is a favourite amongst many across the world owing to its ethically sourced ingredients.
Using the essence of the powerful root, ginger, the Ginger Scalp Care shampoo effectively gets rid of fungal infection.
Ginger in various forms is used in many Asian countries for treating infections of the body and skin.
Apart from being an anti-fungal, the natural properties of ginger root strengthen hair follicles, bring down hair fall and add moisture to the strands.
This shampoo also contains panthenol which adds to the hydration of the scalp to get rid of flakiness and itchiness.
Moisture is locked in to keep the scalp hydrated, helping it fight off the infection and heal slowly.
A bonus to using this shampoo is the amazing fragrance which is missing in most medicated shampoos.
Pros:
Herbal ingredients from ethical sources
Reduces fungal infections
Strengthens hair
Pleasant fragrance
Vegan formula
Cons:
Can leave scalp dry
Added perfume
#6- WOW Apple Cider Vinegar Shampoo
Apple cider vinegar not only kills the infection in your scalp but also cleans your hair and scalp thoroughly, gives your hair shine and volume and adds to the overall health.
It also unclogs the pores and balances the pH of the hair.
WOW Apple Cider Vinegar Shampoo soothes your infected scalp and calms it down with the nettle leaf extracts which are natural anti-inflammatory agents.
The anti-oxidants detoxify the scalp and slow down the ageing process.
The shampoo also has sweet almond oil as one of the main ingredients.
This oil is naturally loaded with vitamin E that moisturises the scalp and hair, strengthens it with the proteins it contains and makes it thicker and glossier.
This shampoo can be used by all types of hair, be it oily or normal or dry.
WOW products are free of parabens and sulphates and can ideally be used every day.
Pros-
– Fights and controls dandruff
– Strong packaging
– Cruelty-Free
– Long-lasting
– Cleanses hair and scalp
– No silicone content
– Paraben-free
– Removes hair oil
– Rinses off easily
Cons-
– Hair may feel dry
– Conditioner not available
– Makes hair frizzy
#7- Maple holistics Tea Tree Shampoo
Perfect for any kind of hair, be it oily, normal or dry, Maple Holistics' Tea tree shampoo helps reduce folliculitis thanks to its potent active ingredients, tea tree oil, lavender oil and rosemary oil.
While tea tree unclogs the pores, gets rid of the infection with its antimicrobial and antiseptic properties, the rosemary stimulates blood circulation to keep the scalp healthy and avoid loss of hair.
Lavender oil also has anti-microbial properties and is a good hair growth stimulant.
The shampoo also has argan oil and jojoba oil to add moisture, lock in hydration and revive dry hair, making it stronger.
Free of sulphates and parabens, this is safe for your hair.
#8- SheaMoisture Jamaican Black Castor Oil shampoo
That poor scalp of yours affected by folliculitis could really use a treat in the form of the SheaMoisture Jamaican Black Castor Oil shampoo.
With a delicious blend of shea butter, peppermint and apple cider vinegar, this cools your scalp while getting rid of the infection.
Apple cider vinegar is a natural ingredient that is used in the treatment of folliculitis.
It gets rid of the infection and keeps away the itchiness.
Peppermint cools the scalp and brings down the burning sensation.
Shea butter, along with Jamaican castor oil moisturises your scalp and hair, removes the dryness and flakiness, and gives you glossier hair.
The Vitamin E in castor oil along with the protein makes the hair elastic and stronger, reduces hair loss due to breakage.
All the natural ingredients lend the shampoo it's divine fragrance, so you don't feel like you're using a medicated shampoo for the problem.
This shampoo is free of sulphates and parabens, making it a great choice to be used regularly instead of your current shampoo.
Pros:
Good for curly and kinky African American hair textures
Super moisturizing
Helps get rid of itching and inflammation
Protects from hair loss
Sulfate and paraben-free
Cons:
Heavy on fine, thin hair
Might leave oily scalps greasier than before
Added perfume
#9- C2P Non-Comedogenic Hair Shampoo
Clear to Perfection is a non-comedogenic shampoo you can use to keep fungus at bay.
This is a mild shampoo that may not be a solution when the stage of folliculitis infection is advanced, but works well to prevent it.
The shampoo replaces many common ingredients in other shampoos that cause the scalp and skin to clog.
The natural enzymes derived from botanical extracts clear the skin, keep infections away and stop the occurrence of acne, dandruff, rashes and breakouts.
It also maintains the health of the hair and scalp with the vitamins and antioxidants derived from kiwi, strawberry, pumpkin, carrots and mango.
They effectively exfoliate the scalp, control the sebum production and leave your hair fresh smelling and clean.
This is free of harmful sulphates, safe to use regularly.
#10- Selsun Blue Moisturizing with Aloe Dandruff Shampoo
The first thing a Folliculitis infected scalp needs is to bring down the painful itching and burn.
The Selsun Blue Moisturizing with Aloe Dandruff Shampoo does a great job of this with Aloe vera as its active ingredient.
Popularly used in many countries to soothe skin that has been sunburned or irritated by allergens, the aloe extracts effectively calm the scalp, reduce the redness and gets rid of the itchiness.
Aloe is also a wonderful moisturiser that does not clog the pores.
This shampoo for treating folliculitis hydrates the scalp and keeps it nourished, slowly and gradually bringing down the infection.
Aloe is hypo-allergenic and therefore is a good choice for everybody.
The other advantage of this shampoo is the price. Sold at super affordable prices, this is a shampoo that delivers without burning a hole in your pocket.
Pros-
– Nourishes hair
– Makes hair healthy and strong
– Moistures dry hair
– Removes itchiness from the scalp
– Easy to use
– Makes hair soft and shiny
– Helps treat skin conditions like scalp psoriasis
– Keeps hair voluminous and hydrated
– Fresh scent
Cons-
– Thick texture
– Unpleasant smell
– Contain artificial ingredients
#11 – Free and clear shampoo for folliculitis
The free and clear shampoo is one product that is giving assurance to those who have folliculitis as a real concern.
This is a hypoallergenic shampoo that treats the scalp very gently without causing irritation or inflammation.
It is a pH-balanced shampoo that keeps the effect constant for all hair types so you don't have to worry about the texture.
It removes flakiness and itchiness with every use and allows you to feel fresh with every usage.
#12 – TEENOLOGY shampoo
Teenagers – this one for you!
If you're suffering from folliculitis then you are not alone, it is not rare that teenagers have folliculitis and in fact it is common.
With a powerful combination of vanilla and almond, it soothes the scalp and avoids breakouts, and give the scalp and smoother surface.
This works really works for dry and rough scalp and is a must-have for teenagers, according to us.
How To Choose The Best Shampoo For Scalp Folliculitis – A Buying Guide
Before you decide on a shampoo for treating folliculitis, make sure you take the following factors into consideration:
Select a clarifying shampoo
It's best not to buy shampoos with harsh surfactants like sulfates if you have scalp folliculitis, but make sure the shampoo is a clarifying one.
These shampoos remove excess sebum and product build up on scalp, which can lead to a bacterial or fungal infection.
Just make sure the shampoo you select has milder surfactants like coco betaine, a coconut derived surfactant instead of SLS or SLES.
Also make sure the shampoo has moisturizing ingredients incase you have a dry scalp. So it will keep your moisture levels on your hair intact.
Anti bacterial ingredients
The shampoo for treating folliculitis isn't just for cleansing your scalp, it's for suppressing the bacterial or fungal infection as well.
And for this, you'll need a shampoo with antibacterial and anti-fungal agents. The most common ones are essential oils like tea tree oil, lemon peel oil, eucalyptus oil, etc.
There are also several herbs like neem, rosemary, and ginseng, which perform the function well.
If you have severe folliculitis, you can choose OTC shampoos for dermatitis or dandruff that help manage similar symptoms as these have ingredients like zinc pyrithione and ketoconazole.
Here are the top shampoos for folliculitis at a glance!
| | | | | | | | | |
| --- | --- | --- | --- | --- | --- | --- | --- | --- |
| Top Shampoos For Folliculitis | CLn Shampoo For Folliculitis | SheaMoisture Jamaican Black Castor Oil Shampoo | Puriya Sulfate Free Tea Tree Oil Shampoo | Nizoral A-D Anti-Dandruff Shampoo | C2P Non-Comedogenic Hair Shampoo | Selsun Blue Moisturizing with Aloe Dandruff Shampoo | Brickell Men's Products Daily Strengthening Shampoo | Free and Clear Shampoo For Folliculitis |
| Images | | | | | | | | |
| Price | Very Expensive | Expensive | Slightly Expensive | Affordable | Affordable | Very Affordalbe | Affordable | Slightly Expensive |
| Ingredients | 4/5 | 4.5/5 | 4/5 | 5/5 | 4.5/5 | 4.5/5 | 4.5/5 | 4.5/5 |
| Strength of Formula | 4.5/5 | 5/5 | 5/5 | 4/5 | 3.5/5 | 4.5/5 | 3.5/5 | 4/5 |
| Ability To Cleanse | 4.5/5 | 4/5 | 5/5 | 5/5 | 4.5/5 | 3.5/5 | 4.5/5 | 3.5/5 |
| Moisturizing | 4.5/5 | 4/5 | 3.5/5 | 3.5/5 | 4.5/5 | 3.5/5 | 4.5/5 | 3.5/5 |
| Gentleness on Hair | 4.5/5 | 4.5/5 | 3.5/5 | 5/5 | 3/5 | 4.5/5 | 3/5 | 4.5/5 |
| Sulfate-Free | No | Yes | Yes | No | Yes | No | No | Yes |
| Suitable For Colored Hair | No | Yes | Yes | No | Yes | No | No | Yes |
FAQs about the Shampoos For Folliculitis
How do I get rid of folliculitis in hair fast?
If you want to get relieve from folliculitis instantly, here are some home remedies you can try:
Try applying aloe vera gel to soothe inflamed scalp area
Apply a warm compress. Just make sure you are using a brand new washcloth or one that is washed with hot water and soap.
Do not cover your head with a scarf, hats, wigs, etc. for some time to prevent sweat and oil from making things worse.
Avoid shaving your head at this point as the friction can make folliculitis worse
A hydrogen peroxide wash might help. But use a cotton swab to apply it only to infected areas. Using it on healthy skin can kill the cells.
Some essential oils like lemon peel oil, lavender oil, chamomile oil, eucalyptus oil, and tea tree oil are good for treating folliculitis.
You can also try shampoos with
selenium sulfide
or
zinc pyrithione
which are available over the counter.
What causes scalp folliculitis?
Folliculitis is basically the inflammation of your hair follicles that is a result of bacterial or fungal infection. This happens when the follicles are damaged leaving them vulnerable to infection. Some of the reasons for damage are:
Tight hairstyles that tug and pull at hair
Scratching hair constantly
Wearing hats, caps or scarves all the time
Shaving head with blunt razor or very often
Using a lot of hairstyling products, which cause product buildup
A few other reasons for infection also includes:
Already having scalp acne or
seborrheic dermatitis
A weak immune system that leaves you prone to frequent infections
Certain steroid creams, antibiotics and acne medications
What are the symptoms of scalp folliculitis?
The first and foremost symptom of scalp folliculitis is the appearance of tiny red bumps on the scalp that resemble acne. These bumps get larger over time and spread to other hair follicles. Then, you might notice other symptoms such as:
Burning sensation
Itching
Pain and tenderness
Small clusters of red bumps with white tips
Formation of sores with scabs
Sores that leak pus
How often should you wash your hair with folliculitis?
According to some experts using folliculitis shampoo thrice a week can make your scalp clean and pure. It reduces itching and gives your lesser dandruff and allows you to flaunt your hair without having to worry about the consequences.
Also read: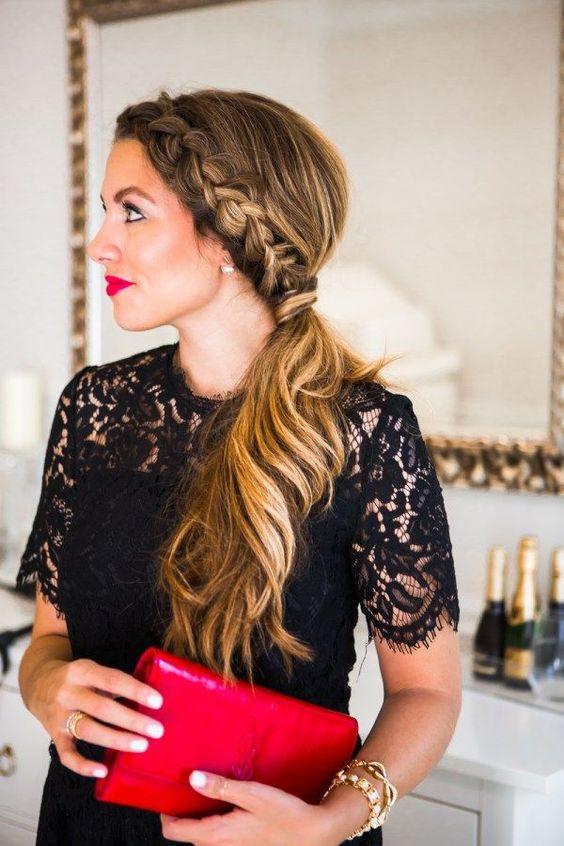 From hair care to soaring hair trends, we cover it all. We make sure you nurture your hair and stay on board with hairstyles and new hair trends. So hop on and make every day count with some of our creative and sassy hair trends.