Most shampoos contain harsh chemicals, so here's a list of the best herbal shampoos for hair fall and dandruff for you!
Since the break of dawn, people have depended on herbs, leaves, barks and roots to treat various health conditions, including dandruff and hair fall.
So why stop? While modern, chemical shampoos promise a load of benefits like thorough cleansing, silky smooth hair and more, these benefits are short-lived. Plus, the ingredients in them often do more harm than good in the long run. 
Commonly-used shampoo ingredients, like silicones, alcohol, sulphates and more, can strip hair of its protective barrier and cause damage to the strands.
And if you're already prone to hair loss and dandruff, such chemical shampoos can be a disaster. That's why we've got this list of the best herbal shampoo for hair loss and dandruff. 
Top Herbal Shampoos For Hair Fall 2021
Khadi Satreetha Herbal Shampoo
What makes the Khadi Satreetha one of the best herbal shampoo for hair loss and dandruff is the fact that it is completely natural and free of chemicals.
My hair is very damaged, so I needed something that won't hurt it further. And this shampoo is just the thing! You won't find any sulphates or parabens here, only the goodness of organic ingredients. There's satreetha, a natural hair cleanser that removes any white flakes.
I also liked that there's antifungal neem that controls infection and inflammation. And vitamin-rich shikakai that nourishes hair, preventing hair loss.
Besides controlling hair loss and dandruff, this shampoo also helps bring shine to hair and repair split ends. My tresses seemed shinier after just a weeks of use.
The Ayurvedic formulation helps stimulate hair growth too. This is considered one of the best shampoos for hair loss in females. But honestly I couldn't find see difference. I mean, it will control existing hair fall but it didn't do much for promoting hair growth.
Patanjali Kesh Kanti Anti-Dandruff Hair Cleanser
I also have a bit of a dandruff problem but I didn't want to a medicated shampoo and was looking for something natural. That's when I came across this Patanjali.
Also, if your scalp tends to get sensitive, the Patanjali Kesh Kanti is one of the best products to use. This gentle hair cleanser contains a mix of nourishing herbal ingredients like reetha, neem, turmeric, shikakai, Indian valerian, myrtle and bhringraj.
After use I could see that the shampoo helps reduce inflammation, cleanse the hair of dandruff flakes and prevent it from recurring. 
Milk protein is also an active component in the shampoo and helps strengthen hair, reducing hair fall. And my hair breakage was under control while using this product.
This Patanjali Kesh Kanti cleanses hair and leaves behind a pleasant scent. I also liked that the shampoo is very affordable.
However, I have just one complaint. My hair felt a bit dry after using this shampoo even after using conditioner. It also has sulfates, which is very disappointing for a "herbal". This means I can't use this shampoo on colour-treated hair as it will strip the hair dye.
Maple Holistics Tea Tree Oil Shampoo
I was excited to use this shampoo as the major ingredient in this shampoo is tea tree oil, a miracle worker for dandruff and itchy scalps. And I was not disappointed!
The antifungal, antibacterial and anti-inflammatory formula reduces scalp acne, controls white flakes and manages itchiness. It also cleared my scalp of oil and debris without drying it out. So win-win!
Regular use of the tea tree oil shampoo by Maple Holistics reduces dandruff considerably. And as its components include vitamin-rich argan oil, this product nourishes hair, reducing hair fall as well.
The fact that it is paraben-free and cruelty-free firmly puts this tea tree oil shampoo in the list of best herbal shampoo for hair loss and dandruff.
Avalon Organics Strengthening Peppermint Shampoo
Peppermint essential oil is another ingredient that is super-helpful when it comes to dandruff. So, this
Avalon Organics shampoo is one of the best products to help you treat that condition. It is also rich in nourishing ingredients like aloe vera, calendula and wheat protein that repair brittle hair and increase hair elasticity. And improved hair health equals less hair loss. 
What we liked about this strengthening shampoo is that it is 100 percent vegetarian. Avalon Organics are cruelty-free and do not test on animals either.
Plus, the shampoo does not contain any harsh ingredient that can threaten your hair's beauty. So no sulphates, parabens, synthetic colours, preservatives, or fragrances. 
Mama Earth Onion Shampoo
This herbal shampoo by Mama Earth is full of antioxidant-rich ingredients like holy basil, patchouli and lemongrass.
Not only do these herbs treat most ailments of the scalp, but they stimulate your hair follicles too. So regular use of this shampoo cleanses the tresses of dandruff and prevents further hair loss. 
It's suitable for every hair type and texture – oily hair, dry hair, curly, wavy or straight. If you're looking for an eco-friendly shampoo, this might be the one.
The bottles the shampoo and conditioner come in are 100 percent recyclable. They also refrain from testing on animals. Good for hair, good for the earth!
It costs a lot and is pretty expensive.
Trichup Hair Fall Control Herbal Shampoo
One of the most common causes of dandruff is a dry scalp. So, this herbal shampoo strives to maintain a moisture balance on your hair.
It contains ingredients like aloe vera, amla and henna that are known for their nourishing and hydrating properties. And since they are nutrient-rich, they also stimulate the hair follicles, reducing breakage. 
If you have a sensitive scalp or coloured hair, the Trichup herbal shampoo is a great choice. It leaves you hair soft, healthy-looking and lightly-fragranced with a pleasant scent. 
Ayur Herbal Amla And Shikakai Shampoo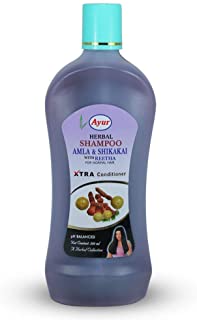 Another cause for dandruff is pH imbalance on the scalp. But regular use of this Ayur Herbal shampoo keeps it in check.
Its nourishing ingredients like amla, shikakai and reetha cleanse hair without drying them out. They also stimulate the scalp and hair follicles which results in soft, thick and dandruff-free hair with regular use.
We especially trust this since it is a dermatologist recommended shampoo for hair loss.
Kama Ayurveda Cypress Orange Hair Cleanser
All ingredients in this Kama Ayurveda shampoo are perfectly suited to combat dandruff and hair loss.
The essential oils of orange and cypress reduce inflammation, excessive oiliness and itchiness on the scalp. And it also contains neem, which is one of the best herbal ingredients to fight dandruff. 
This mild cleanser gently rids the scalp of white flakes, debris, sebum and other impurities while not drying it out. Its Chinese rose formulation strengthens hair, reducing hair fall as well.
Maple Holistics Sage Shampoo for Dandruff and Dry Scalp
If allergies or fungal infections are the cause of your dandruff, then try out this sage shampoo from Maple Holistics.
As the name suggests, this product contains sage essential oil, along with tea tree and rosemary oils as chief ingredients. Together, they have a clarifying effect on the scalp, reducing dandruff flakes. 
And if you're worried about hair loss, the peach kernel oil and jojoba oil in the shampoo take care of that. These nourishing oils strengthen the hair follicles and moisturise the hair.
Honeydew Lemon Sage Shampoo for Oily Hair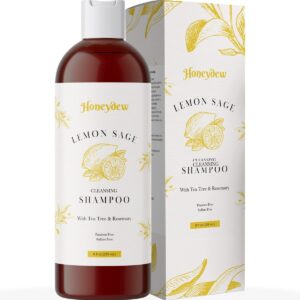 The Otaci shampoo contains the two most powerful ingredients for dandruff control – lemon and tea tree oil .
Its gentle formulation not just cleanses the scalp of oil and white flakes, the tea tree prevents dandruff from recurring. The keratin in the shampoo help nourish the hair too. 
There's no SLES, parabens or silicones in the formulation either. It's super mild and excellent for everyday use. And guess what? It's completely cruelty-free too.
Most people pride themselves on having a head full of healthy-looking hair, so it's natural to be anxious about what product goes on them. And if you're prone to hair loss and dandruff, this concern is magnified. So we thought of finding answers to your most frequently asked questions about hair care and shampoos.
Are herbal shampoos better than chemical shampoos?
Chemical shampoos often contain ingredients like sulphates, silicones and alcohol, all of which contribute to drying out the hair strands.
Herbal shampoos are gentler, milder and can be used every day without hesitation. And even if you find a mild chemical shampoo, the product focuses on cleansing the hair of oil and debris only. 
With herbal shampoos, the hair gets a dose of active ingredients that provide nutrients into the hair. Another point where herbal shampoos score over chemical ones is that the effects of regular, chemical shampoos (especially anti-hair loss and anti-dandruff ones) are short-lived.
Having thick, strong and healthy-looking hair has always been one of the hallmarks of good looks. So, conditions like dandruff and excessive hair loss can put a dent on a person's confidence.
And to treat these problems, the first step is to choose the correct products to use on them. That's why we turned to nature to find a solution with this list of herbal shampoos. After all, your hair is your crowning glory. 
Also read
Here are shampoos for relaxed hair that are effective
Best shampoos for oily hair for men to cleanse the scalp
Use these shampoos to maintain balayage hair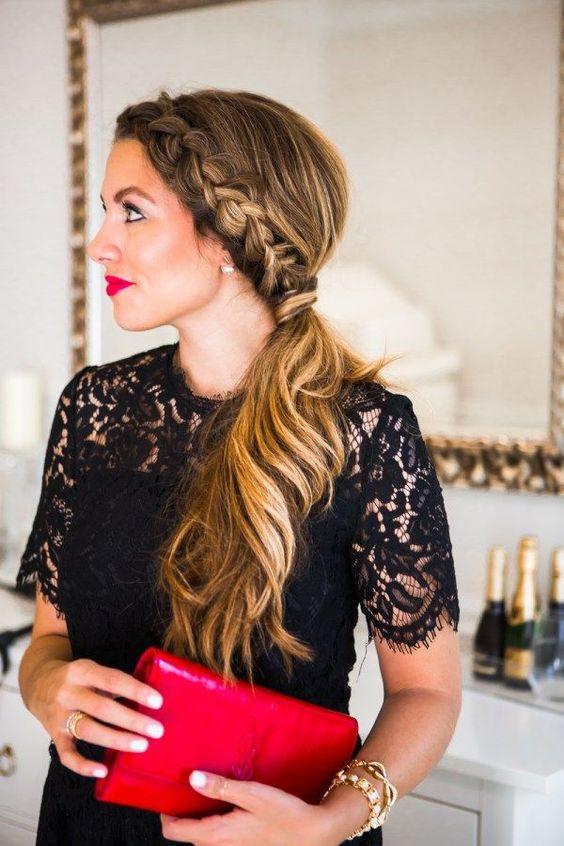 From hair care to soaring hair trends, we cover it all. We make sure you nurture your hair and stay on board with hairstyles and new hair trends. So hop on and make every day count with some of our creative and sassy hair trends.