Grey hair might be sexy these days, but for a lot of guys, it's still a sign of ageing. So I've got this list of the best beard dye for black men to help you turn back the clock.
Black men's hair is especially prone to damage due to the chemicals in the dyes. African American hair texture is coarser and more fragile.
Related: Best beard growth oils
Related: Best beard shaping tools
A lot of harsh chemicals like ammonia and peroxide found in hair dyes can strip what remaining moisture is there on your strands and leave them weaker and prone to damage.
So finding a suitable beard dye for black men was a challenge. But I managed to round up a few popular beard dyeing products that suit coily, Black facial hair. 
There are a lot of safe and organic options in the market today that are free of harmful chemicals like ammonia, parabens, silicones etc.
And it's not just for covering your greys, you can instantly change up your look by dyeing your beard to match your changing hair colors. 
I've reviewed some of the different safe beard dyes available in the market. Follow this guide to know more about the right product for you!
Top Beard Dye For Black Men 2021
The Henna Guys Hair and Beard Dye
I was really excited to use the Henna guys hair and beard dye because it is completely natural and is made up of Henna Powder and Indigo powder.
The practice of applying henna on your hair is very ancient and is still very common in India and other tropical countries.
I reviewed this one first as this henna powder provides numerous benefits to your hair. The most important one, of course, is its ability to cover grey hair.
Henna contains dense keratinised cells that penetrate deep into your cuticles to deliver a rich colour.
This henna hair dye also includes a plethora of other natural ingredients like amla powder, indigo powder, Eclipta Prostata (commonly called bhringraj or False Daisy), and neem powder. 
Indigo powder also helps in delivering a rich colour, thanks to the presence of the natural Indigo dye in it.
If you are looking for a safe option that is chemical-free, you should definitely try out this product. It is also cruelty-free, organic and vegan.
I was also amazed how it is free of harmful ingredients like fillers, dilutions, alcohol, parabens, gluten, fragrance and other additives usually found in beard dyes.
I am definitely going to try this again because the colour lasted long on my facial hair.
Also, I also noticed that my beard had become much smoother and manageable after applying this hair colour. So it works as a conditioner too!
Pros:
Natural
Organic
Vegan
Cruelty-free
Alcohol-free
Paraben-free
Gluten-free
The dye does not bleed
affordable
Cons:
Not easy to apply
Strong smell
Godefroy Professional Hair Colour Tint Kit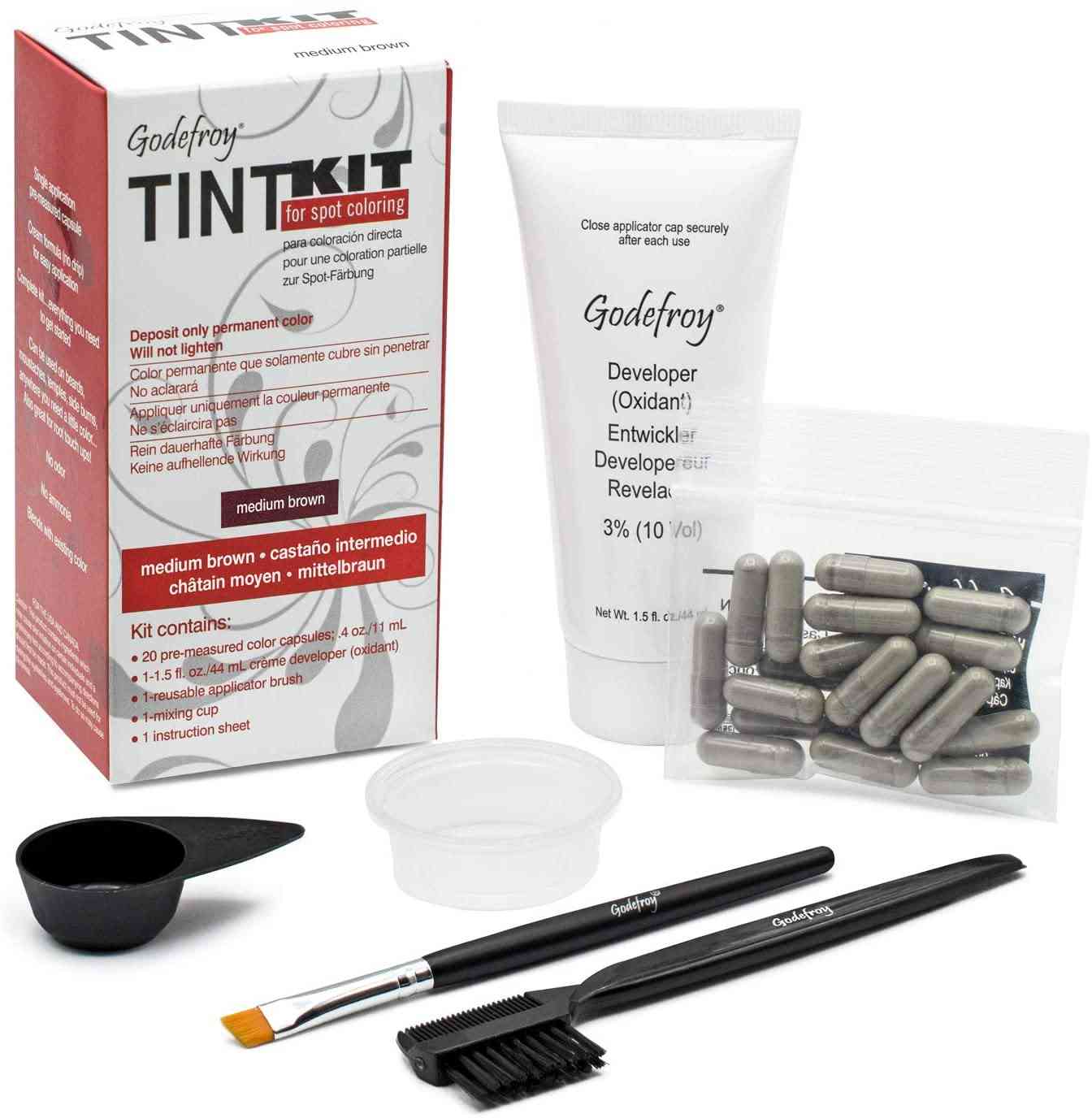 This is a great beard dyeing kit for beginners. The Godefroy Professional Hair Colour tint kit came with everything I needed to dye my beard.
The package came with a colour developer, a small mixing dish, a large mixing dish, 20 colour capsules, a brush/ comb applicator and a precision applicator brush.
My favourite part of this kit is the capsule tint. This is a great alternative for the colour tube which can lead to a lot of spillage and wastage of the product.
With the pre-measured colour capsules, you can always be assured that you do not waste the colour. Sometimes I end up taking an excessive amount of cream in the mixing dish.
It also comes sealed so you do not have to worry about the product getting oxidised.
I was expecting the product to drip off my beard since it had a loose consistency but to my surprise, it didn't drip after application.
This product also combined well with my natural hair colour to deliver a beautiful shade on my beard.
The product is free of odour, ammonia and parabens. It also promised to cover even the most stubborn greys for over six weeks.
In my case, it didn't last for six weeks but I still loved the coverage it offered.
Pros:
Creamy formula
Includes, applicator comb, brush and mixing dishes
paraben free
Includes colour capsules
Available in four colour options
Blends well with natural hair
Does not bleed on the skin
Cons:
Might cause an allergic reaction
Expensive
Clairol Natural Instincts Semi-permanent hair colour
The Clairol Natural Instincts semi-permanent hair colour for men contains a colourant, developing lotion and a colour conditioning treatment.
It's a very affordable product, so I was happy with the results I got from this one.
I was worried about root lines when I colour my beard, but thankfully this semi-permanent dye faded away naturally. It also guarantees to last for over 28 shampoos!
This hair colour covered my greys from root to tip and it also has a colour conditioning treatment that helps in refreshing your coloured hair.
I really liked the inclusion of nourishing ingredients like Aloe Vera and antioxidants that helped in smoothening and hydrating my hair.
But things can't be perfect. And one drawback of this beard dye is that it stained my skin in the process.
So you should make sure to apply petroleum jelly on your hairline and forehead to protect your skin from getting stained.
Pros:
Easy to use
Quick results
Contains aloe vera
Contains antioxidants
Ammonia-free
Lasts 28 shampoo washes
Contains a colour conditioning treatment
Cons:
Might stain your skin
Might cause allergic reactions
Expensive
SURYA Brasil Henna Cream
If you are on the lookout for hair dyes that are natural, The SURYA Brasil henna cream is a great option.
I found that this semi-permanent hair colour is rich in antioxidants that help in reducing damage.
It contains a wide array of natural ingredients like Acai, which fight damage from free radicals, which actually left my facial hair feeling smoother after use.
There's also aloe vera which hydrates your hair and improves shine, Babacu that makes your hair silky and brazil nut which improves the softness of your hair.
This product made my hair super soft and manageable in a single application.
The concoction of vegetable extracts, herbs and fruits which are extracted from Brazil and India makes this product a really great investment for your beard.
The best part about this is that it doubles as a deep conditioning treatment or a hair mask.
My beard was really dry and needed that extra kick of moisture, so this one was really helpful.
This is a very safe product that is hypoallergenic and dermatologically tested.
I have sensitive skin and found this to be perfectly gentle on my face.
It is also free of harmful ingredients like ammonia, parabens, mineral oil, silicone, heavy metals, GMO's, synthetic fragrance etc.
Pros:
Contains natural ingredients
Can be used as a hair treatment
Makes your hair soft and shiny
Natural-looking colours
Ammonia-free
Silicone-free
Paraben-free
Contains antioxidants
Vegan
Hypoallergenic
Cons:
RefectoCil Cream Hair Dye 
I bought this product as it is a multi-purpose hair tint. The Refectocil 3 can be used on your eyebrows and eyelashes too! 
I was a bit sceptical before using these on my beard since it is formulated for eyelash and eyebrow hair, but it got me awestruck with the results.
The results are also long-lasting when you compare them to the rest of the products on the list as this one actually stayed on my beard for six weeks.
If you engage in a lot of physical activities like exercising or sports, this would be a great option since it is waterproof and smudge-proof.
However, it is recommended to do an allergy test before using this product to make sure that you do not face any harmful reactions or side effects.
I found one drawback with this product. I had to spend extra money on buying a developer since it does not come with the product.
Although this product is recommended for professional use, It was relatively easy to use at home and gave me a natural look.
Pros:
Easy to apply
Natural look
Can be used on eyebrows and eyelash
Long-lasting
Waterproof
Smudge-proof
Cons:
Does not come with a developer
Small tube
Blackbeard for Men
I was so excited to get my hands on this one as it promised me absolutely no work! Sometimes you just don't feel like taking up the hassle of colouring your beard.
The side effects can also be pretty scary, especially if you use chemical dyes. I have found the perfect alternative for all the lazy bums out there.
This brush-on hair colour is a quick fix to your grey hair. If you have sensitive skin or have experienced allergic reactions to hair dye, this would make a great alternative. 
You no longer have to worry about the tedious process of applying it or the strong smell of chemicals.
The Blackbeard for Men has a liquid consistency and comes in a bottle with a mascara wand.
This helped me instantly cover my greys. I just had to run the wand soaked in tint over my grey hair.
When I first used this product, I was expecting some amount of smudging but that wasn't the case.
This product is smudge-proof and water-proof so you do not have to worry about embarrassing yourself with the tint all over your skin, even on hot sweaty days.
You can choose from five different shades which include Light/Medium Brown, Brown, Dark Brown, BrownBlack and Black.
I could apply this dye in no time. It is also easy to wipe from your skin. It comes really handy when I'm travelling.
This product works on all beard lengths including stubbles. It did not cause any skin irritations like itching or rashes after use.
Pros:
Instant results
Can be used on eyebrows and sideburns
Waterproof
Smudge Proof
Comes in five shades
Easy application
Does not cause skin irritations
Hypoallergenic
Cons:
The dark brown shade has a red tint
Temporary solution
Grizzly Mountain Organic and Natural Dark brown
If you are looking for a vegan option in beard dyes, this would be a great pick.
I was intrigued by Grizzly Mountain beard dye as it claims to contain plants and herbs that nourish your beard while colouring.
It has a powder-based formula that should be mixed with warm water to get a ketchup-like consistency.
The ingredients list also boasts of a blend of herbs like Henna, Indigo, False Daisy, Neem and Phyllanthus Emblica that helps in giving you the natural tint.
Since the colour is derived from natural components, it acts differently with different hair shades. It gave my hair a beautiful and natural looking dark brown shade.
I suggest mixing different colours with the Grizzly Mountain organic base to find the right shade for you.
The product did not work well on my coarse hair on the first try, so I used the organic base which came with it.
It is useful if you have coarse hair that does not absorb the colour well.
Simply apply the organic base mixed with warm water and leave it on for 30 minutes before applying the beard dye.
I loved the organic, raw smell of the product that quickly went away after washing the colour off.
Pros:
Organic
Chemical-free
Hypoallergenic
Natural-looking results
Does not have a chemical smell
Waterproof
Does not stain the skin
Cons:
Messy to apply
Overpowering smell
Buying Guide – How to select the best beard dye for Black Men
There are so many beard dyes available in the market that have different properties.
Sometimes it might get difficult to choose a single product for you from the numerous options available.
We have put together a list of things you should consider before purchasing a suitable beard dye. 
Colour- This is the most important factor you should consider before buying a beard dye. The colour of the beard dye plays a huge role in the quality of the outcome.
You should always choose a beard dye that will look natural on your face. So go for colours that are closest to your original hair colour.
People with black hair can opt for dark brown shades which will give you a natural look.
The outcome of the colour also depends on the ingredients in the beard dye.
If you are using a beard dye made up of botanical ingredients like henna, indigo etc the outcome will vary from person to person.
In the case of chemical dyes, the outcomes are usually similar irrespective of your natural hair colour and texture. 
Ingredients- The ingredients in your beard dye can have an impact on your hair and your overall health.
This is because harmful (and very common) ingredients like ammonia can cause skin and eye irritations. 
So it is always ideal to look out for beard dyes that contain organic and natural ingredients like henna, indigo etc. 
Permanent/ Temporary Formula– Depending on how long you want the results to last, you can choose from permanent and temporary beard dyes.
If you are a beginner, it is best to start with temporary beard dyes to find the right shade for you.
Permanent hair dyes save you the hassle of constant reapplication so it is a time-saving option. 
Ease of application– Beard dyes are usually very messy and it takes a lot of work to apply it neatly on your beard without bringing it to contact with your skin.
It is best to check the instructions guide that is written on the packaging or user manual of the product to know more about the application process.
Some beard dyes come with a developer while you might have to buy a separate developer for others. 
Natural beard dyes usually require mixing them in water to create a semi-liquid solution before applying it to your hair. And this can get messy. So pick wisely!
Dyeing your beard can be a rewarding process that can boost your confidence. 
For black men with coarse hair, it might be a little difficult to find the right product that will work for your high porosity coily hair, but there are a lot of options!
The most important thing is to make sure that it looks natural on your complexion and goes well with your existing hair color.
It should also be free of chemical ingredients that might cause harmful reactions.
If you've got these things right you can color away with gusto!
Also Read:
Best hair clippers for black men
How to prevent hair loss for black men
How to get curly hair for black men
Do you use shaving cream with electric razor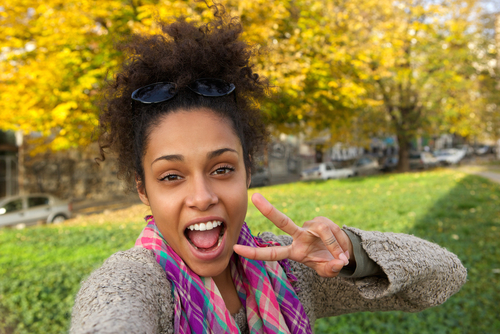 Helen is committed to bringing you the latest popular hairstyles, hair care tips, and hair-related products. You can check more of her work on besthairlooks to find fashion inspiration, product reviews, tutorials and more!